Scores stay tight through round two.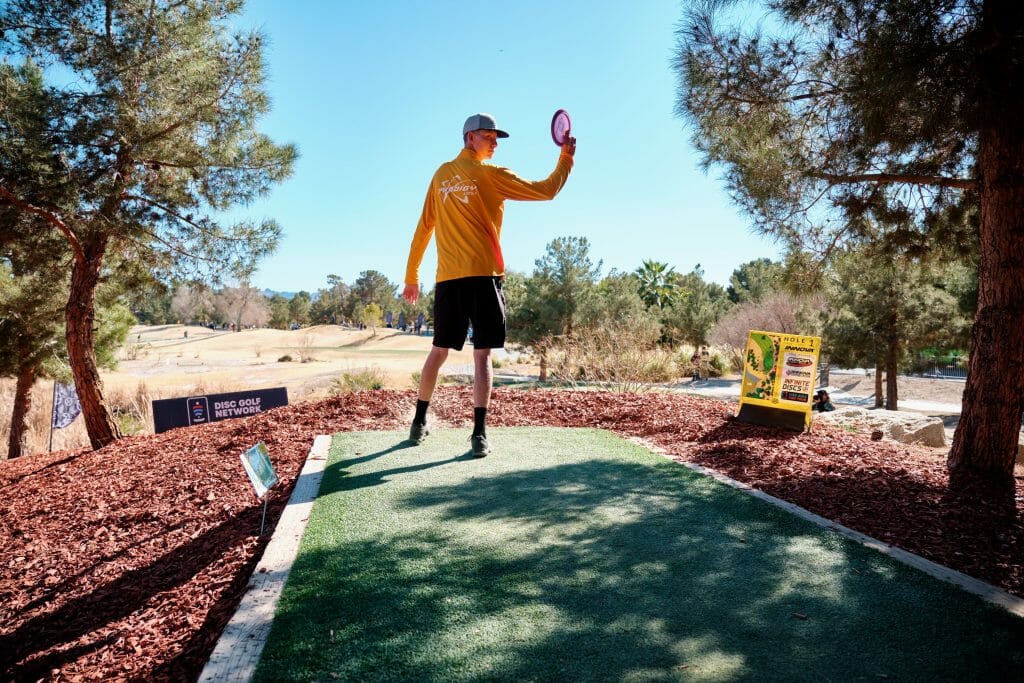 The cream rose to the top on Friday at the Las Vegas Challenge, as four players with bogey-free rounds ascended to the lead card with two rounds to play. Not only were the top four playing clean golf, they were playing exciting golf, with no player shooting less than a 9-under on the day. Calvin Heimburg and Gannon Buhr are tied at the top at 19-under with Drew Gibson and Anthony Barela one stroke back, rounding out the lead card.
Gannon Buhr may be the story of the tournament thus far, carrying his 2021 Rookie of the Year campaign momentum into the new year. Buhr has been a sniper thus far from range, converting 57% of his attempts from outside the circle on day 2, and 50% on the weekend thus far. Combine that with his incredible power upside and a clearly improved scramble ability (100% scramble today), and you get one of the most threatening players in the division. Gannon Buhr was the only survivor from the Round 2 lead card; as his cardmates dropped around him, he stayed resolute and is poised to challenge for the first title of his career.
#ContractYearCalvin is also in full effect, and it's not hard to see why. It's not that Heimburg is succeeding solely due to the wide open space afforded to him by the golf courses in Vegas — he's still throwing the pinpoint, frozen rope drives that he's known for, just out in the open. The open air may reduce the spectacle of an Eagle making a beeline toward the basket, but what Heimburg is doing remains impressive. His up-and-down putting continues to be a factor. He was 0/5 on C2 tries on Friday and had two misses inside the circle, but Heimburg's play away from the green is so strong that he can stay in the hunt. If the putter ever reaches the highs of the late 2020/early 2021 range for Calvin, look out.
Hot Round
Drew Gibson fought his way onto the lead card with a stellar 13-under effort. It was a flash of Gibson's best potential on Friday, as he paired his typical ridiculous driving accuracy and power with a great putting day. However, some of his most impressive shots were between the tee and the green: his upshot on the 14th may have looked routine, but putting his shots under the basket consistently will alleviate the pressure Gibson can face on the green. This style, of course, benefits a bomber, but Gibson's whole game looked amazing on Friday, trees or not.
Time Flies
It's been a whole offseason since we saw Drew Gibson call a rare time violation on Gannon Buhr at the Pro Tour Championship, and now they're back on a card together. Buhr was clearly rattled last time the topic came up during a round, wavering in his mental game after taking too much time on his putts. He has reportedly been working on playing faster over the offseason, and Gibson clearly has shown he will stick to the letter of the law during a round if he feels something is amiss. Something to keep an eye on as we enter moving day.
Innova Too Easy?
During the middle of coverage, Philo Braithwaite noted that hole 8 on the Innova course barely squeaked over par on average, the only hole to be playing over par at the time. This didn't hold true, with the highest, Hole 18, coming in at +0.3 on average, a far cry from the toughest challenges the pros will face on tour. It isn't solely a byproduct of golf course-based tracks: the OTB Open manages to be a tough hill to climb with largely wide open airspace. And the weather wasn't incredibly still on Friday, providing at least some resistance in the way of disc selection.
While watching the pros card birdie after impressive birdie is certainly good television, there's something to be said for the tougher courses later in the tour that require more shot shaping.
Statline
Drew Gibson's 1091 rated round is the 3rd highest rated round of his career and his best since the 2017 Memorial final

— PDGA Stats (@PDGAStats) February 26, 2022
Additionally, if Drew had converted near-miss putts on Holes 16 and 18, he would have reached the 1100 mark.
Shot of the Day
Drew Gibson's drive on the 457 foot par three 17th:
Round Two Full Highlights
Overheard
"I was two shots away from 10-under yesterday. I had a three putt bogey from a 20 foot birdie putt, and on the triple island hole, I threw my first drive almost perfect and was out of bounds long. So I ended up double bogey, bogey there, so that's five strokes. So I wasn't playing bad yesterday. So I wouldn't say anything changed, I just didn't catch some bad breaks or have some unfortunate things happen. I've been playing good all week." – Drew Gibson on the difference between Round 1 and Round 2
What to Watch For
Drew Gibson has fond memories of the Factory Course from his 2021 tournament, nearly shooting the hot round last year, setting him up for a great opportunity to take down the LVC crown this year, especially with another round on the Innova course coming up on Sunday. Gibson hasn't seemed to slow down a step since his surge in the back half of 2021; starting his season with perhaps his biggest tour win would set the tenor for his 2022 campaign and the next phase of his career.