The newly minted Discraft star starts hot; McMahon, Buhr, many others are close behind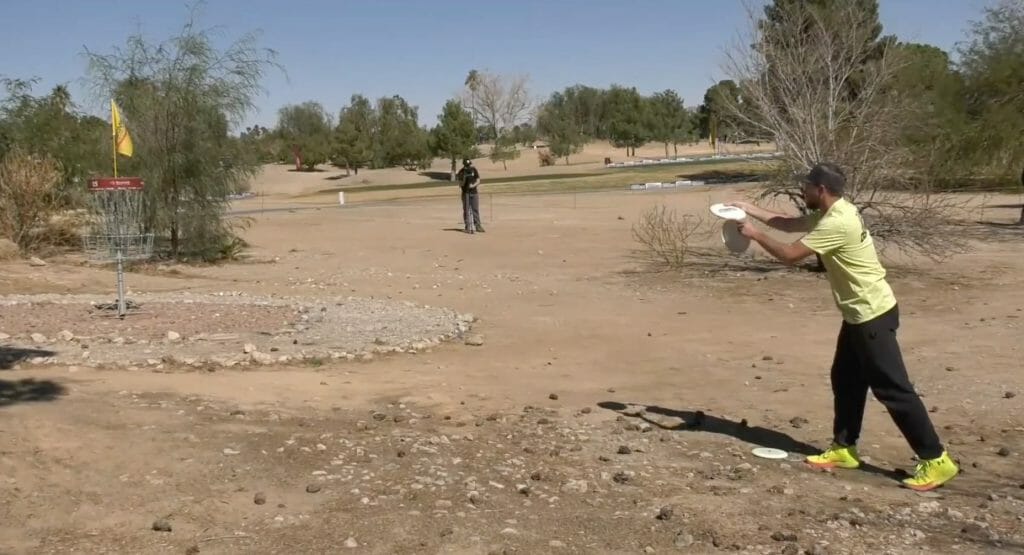 LAS VEGAS — It was a day prime for scoring with the wind low at the Las Vegas Challenge, but the Wild Horse Infinite course showed some teeth with plenty of OB and challenging greens (and its par reduced by two). No player was able to generate significant separation, but Chris Dickerson, rocking a yellow shirt and sneakers that DGN commentator Philo Brathwaite said had him "looking like a tennis ball," is alone in first place after shooting an 11-under par 46. Gannon Buhr and Eagle McMahon are one back at -10, and 11 players finished at -9, with the lead card honors for Friday going to Seppu Paju.
Paju, playing in the US for the first time since February 2020, played some of his best golf in years. He shares his score with the likes of Ricky Wysocki, Kevin Jones, Calvin Heimburg, Adam Hammes, Peter Lunde, Nathan Queen, Chris Pinegar, Dan Brooks-Wells, Tristan Tanner, and Brodie Smith, who improved on his solid performance from last year's LVC round one.
Dickerson flashed his typical well-rounded game, hitting 89% of fairways, sinking 100% of his C1X putts (11/11), making 16 out of 18 greens in regulation, and conceding no bogeys on the day. He looked supremely comfortable on the green and showed no signs of being slowed down by a bag changeover from Prodigy to Discraft.
Round One Takeaways
Don't Look Now, but Gannon Buhr Is Here To Stay
Gannon Buhr continues his quick ascent in the pro scene by shooting just one off the hot round to begin his 2022 campaign. It's been a meteoric rise for the young pro, from making lead card out of nowhere at Waco 2021, to being in the mix to make the final day at the Pro Tour Championship, and now coming out of the gates strong after his first real offseason as a touring pro. With power to match the best on tour and deadeye putting (43% from C2 today), the future is now.
Internationals Impress So Far
The general theme going into the 2022 season is centered around the return of the rest of the world to the U.S. leg of the pro tour. While the international MPO players may not be as much of the historical heavyweights as their FPO counterparts, they are showing the strength of the youth movement across the globe. The veteran Seppo Paju and Peter Lunde sit at -9 going into Day 2, firmly in the hunt, and Jacky Chen (-5) and Linus Carlsson (-6) looked comfortable and well worthy of their feature card spots. Chen's score may not look great, but some unfortunate rollaways on treacherous greens kept him from staying clean and scoring higher. As for Carlsson, it was a frustrating day from range, leaving himself with long looks, resulting in long par droughts throughout the round after going 0/7 from Circle 2.
Is Eagle McMahon a Top 5 Player in the World…Without a Forehand?
After Eagle McMahon's shoulder injury that knocked him out of the DGPT finale last season, he is defending his title at the Las Vegas Challenge without one of his greatest weapons: an elite power forehand. With Vegas's wide open fairways, he felt he could compete without it, and compete he has. He did look at times like he chose awkward turnover backhands instead of the more natural forehand lines, which may have cost him a stroke here and there, but he was so sharp with his backhands that he was still one of the most impressive players on the day.
Statline
– Lead Card average age for Round 2: 24.25, largely thanks to the wunderkind Gannon Buhr and the face of the youth movement, Eagle McMahon. More than ever, disc golf is getting younger.
– Last year, players stepped up to the 16th tee at Wild Horse and licked their lips, as it came in as the 2nd easiest hole on the course with a -0.58 average compared to par. This year, it has been wreaking its revenge. The hole was shortened, but the difficulty comes from its rebrand from a par 4 in 2021 to a 533 foot par 3 in 2022. Only three players carded birdies the entire day on 16: Eagle McMahon, James Proctor, and Jacob Courtis, who all found Circle 1 from the tee. Check out Eagle's picture-perfect drive:
Preview Check-Ins
Let's take a look at some of the notes from our preview and what we saw today.
"How will Eagle McMahon fare?"
Quite well it turns out! We didn't expect any different: McMahon may just be the best all-around player in the game, and even with an important facet of his game taken out of his toolbelt, he dominated on Thursday and came up just shy of the outright lead.
"Getting off the tee effectively is paramount"
With the generous fairways and balmy conditions, driving can feel even less important at a golf-course style track; however, the constant OB and creative greens made for a more technical experience than meets the eye. Of the players tied for fourth or better, 71% had fairway hit numbers of 83% or higher. Easier upshots, fewer OB strokes, and better looks on the green all stem from effectiveness off the tee, and the results bore that out on Thursday.
Full Round Highlights
Overheard
"It was one of those rounds where everything was kinda clicking, and I could have put up a really good score. Unfortunately Hole 3, Hole 8, two of the really easy birdies on the front nine, wasn't able to get birdies there with some errant drives, had some step putts that just kind of hit the basket, so it was one of those rounds that could have been really special, but it's close, it's really close…At Innova, obviously there are going to be some situations where if I don't get as close to the basket on these upshots or tee shots, you kind of have to putt differently, because a lot of these pins are in spots now where rollaways are pretty likely, so that's going to be changing a little bit just on the aggressiveness of certain putts, but as far as tee shots go, I'm approaching every hole trying to birdie it, because out here, we know that 40+ (under par) is going to win the tournament." – Brodie Smith, on his hot shooting on Round 1, and his strategy going into Round 2
Calvin Heimburg calls it like he sees it (via DGN) pic.twitter.com/75hgm7E15f

— Ultiworld Disc Golf (@UltiworldDG) February 25, 2022
What To Watch For
The players play the Innova Course at LVC for the first of two rounds tomorrow. It's the hardest of the three courses at the tournament, and it treated Ezra Aderhold very well last year. Aderhold shot a 16-under, 1099-rated Round 2 in 2022, and while he currently sits back (-4) from the top contenders, he flashed some brilliance during round 1. If the field falters, that could be the opening a player like Aderhold needs. On these power-friendly courses, don't count out the bombers from posting hot rounds and jumping back up the leaderboard.