It's go time.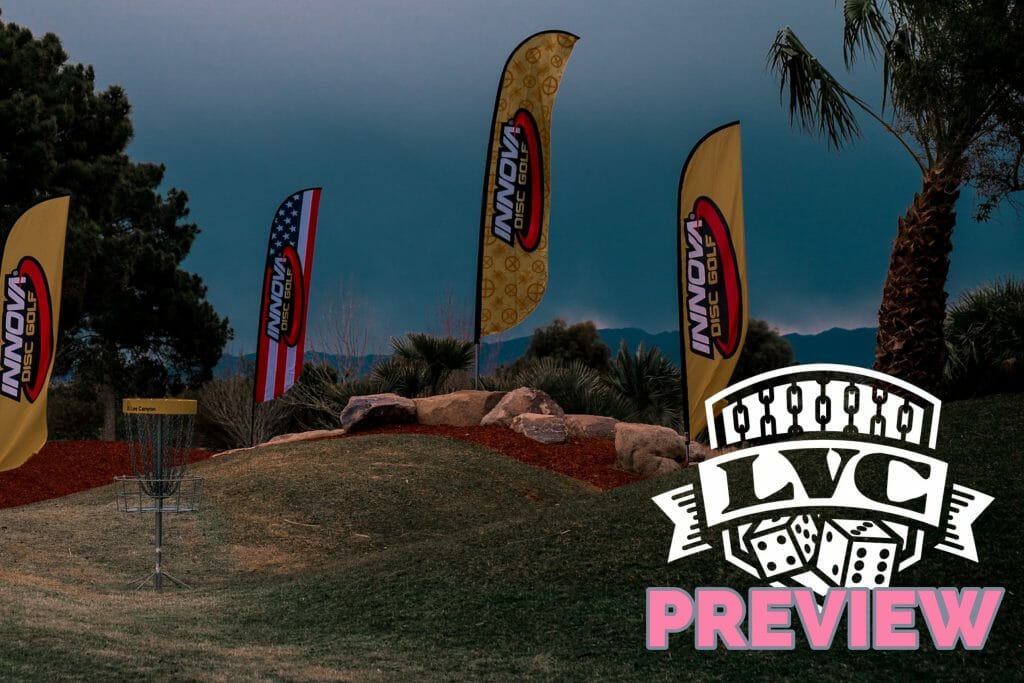 Shovel the driveway, scrape the windshields, and grab your sunglasses: we're saying goodbye to winter and heading to the desert.
The start of the 2022 Disc Golf Pro Tour is upon us with the 22nd running of the Las Vegas Challenge in its fifth appearance as an Elite Series event. It's notable not just because it opens the season calendar but because it is a four round event (rare) with three different courses (unheard of). Built on the golf courses at the Wildhorse Golf Club just south of Las Vegas, the tracks put distance throwing at a premium.
Even as many players reach for their distance driver on a majority of the holes, the courses aren't the longest on tour, coming in between 7,000 and 9,000 feet. Multiple DGPT courses later this season will crack the 10K mark.
This year's event is also important because it marks the start of a new era in professional disc golf, with the Disc Golf Pro Tour taking up the mantle of operating the overall tour after folding in the PDGA National Tour over the offseason as a part of a bigger partnership.
RELATED: The 2022 Disc Golf Season Mega-Preview
We're here to get you ready for the 2022 Las Vegas Challenge.
Past Winners
| | PDGA Tier | Open | Open Women |
| --- | --- | --- | --- |
| 2021 | DGPT | Eagle McMahon | Paige Pierce |
| 2020 | A-Tier | Nate Sexton | Catrina Allen |
| 2019 | National Tour | Calvin Heimburg | Paige Bjerkaas (Shue) |
| 2018 | National Tour | Eagle McMahon | Paige Pierce |
| 2017 | National Tour | Ricky Wysocki | Paige Pierce |
| 2016 | A-Tier | Philo Brathwaite | Jessica Weese |
| 2015 | A-Tier | Paul McBeth | Paige Pierce |
| 2014 | A-Tier | Nikko Locastro | Catrina Allen |
| 2013 | A-Tier | Dave Feldberg | Catrina Allen |
| 2012 | A-Tier | Nikko Locastro | Valarie Jenkins |
Five Things We'll Be Watching
1. The FPO Round 1 Feature Card! The four highest-rated women in the world — Paige Pierce, Kristin Tattar, Eveliina Salonen, and Henna Blomroos — are together on one card. It's the highest-rated card ever in FPO. The players talked in the press conference about how excited they are to be back out competing against one another all together after nearly two years of being mostly split between the continents. The odds of one of these four players winning the tournament has to be north of 50%, so the first round could really set the tone. You'll have to catch the action on the Disc Golf Network, as it won't be covered by a post-production team.
Not only is this card phenomenal, but the entire FPO field is the best ever:
This is the first time in 10 years that there have been more than six players rated higher than Catrina Allen in a tournament field. And there's more parity than ever too: the top seven highest-rated FPO players have never been so tightly bunched together.
2. How does Eagle McMahon fare? He won this tournament a year ago, and in comfortable fashion, taking down Calvin Heimburg and Ezra Aderhold by eight strokes and averaging 1077 golf. But he's got a limited forehand right now (he says he'll use it but only for low power shots) and might have to turn to the lefty backhand at times, as he did at the All-Star Weekend. He feels confident enough in the backhand — and the high number of backhand drives — to come to LVC before taking about a month off. So this will be a key tournament for him in the first leg of the tour as one of the few he will attend before Champions Cup.
3. Who is getting off the tee effectively? 8 of the 10 players in the top 10 of the leaderboard in MPO last year were in the top 10 on the weekend in Strokes Gained from tee to green, despite wide variance in their putting performances. It can be fairly easy to make up for OB strokes as well, given the open layouts: Paige Pierce won last year despite going OB 11 more times than did Catrina Allen, who finished in second by a stroke.
4. Which international player makes the biggest splash? Somebody is going to go off this weekend — it's just a matter of who. The Europeans might need a little time to adjust to the wide-open fairways that aren't so common across the pond. And don't forget about Jacky Chen, who's making his DGPT debut after making a splash at the 2020 Asia Open where he defeated James Conrad, Philo Brathwaite, and Nate Perkins in his second-ever PDGA sanctioned event.
5. Well, not Paul McBeth. He's not in the field this weekend, opting to start his season at The Memorial. He talked with us on The Upshot podcast about why he's skipping LVC: he's unhappy about having to practice and play three courses. He's one of the only notable names not playing besides Matt Orum, who had to drop out after getting his appendix removed this week.
GRIP6 Pick6 Locks Of The Week
This year's lock is Calvin Heimburg. His low golf line distance is perfect for windy fairways, he finished second here last year and won it in 2019, he looked like the best player at the All-Star Weekend, and it feels a touch risky to pick Eagle. Easy choice.
Catrina Allen, even with a new bag, has to be in your picks. She looked sharp at the All-Star Weekend, and, if you can believe this, hasn't missed the top 2 at LVC in her last nine starts. If you feel confident about which European player to pick, you can roll those dice (it is Vegas, after all), but we need to see more data first.
Courses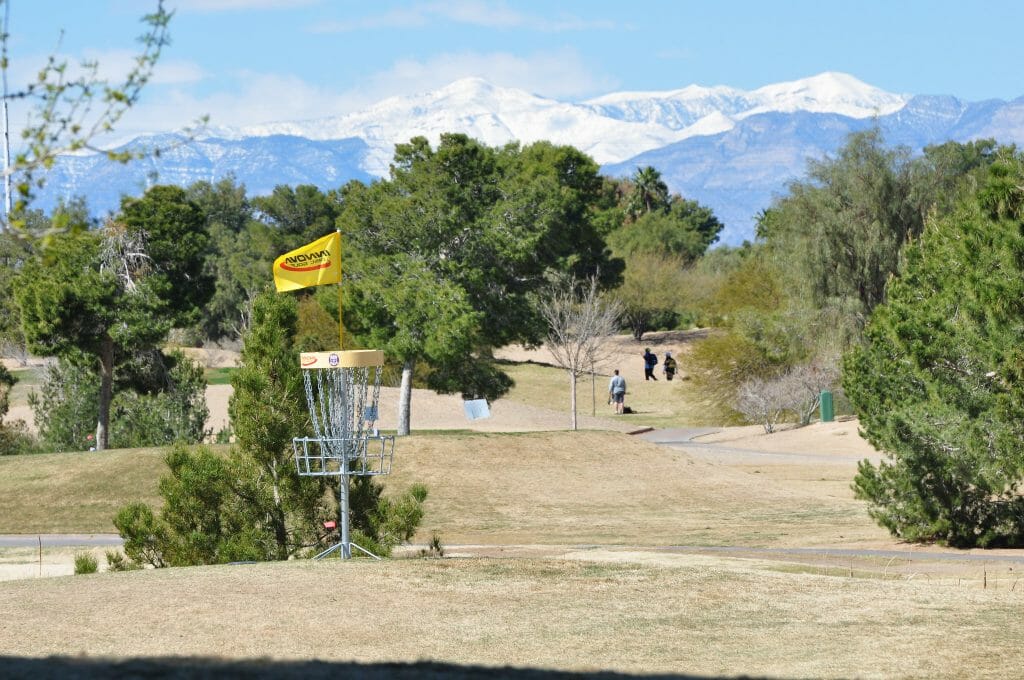 The Wildhorse Golf Club has three courses, with every layout utilizing hazards such as greens and sand traps.
Infinite Discs Course: round 1; 7,115 feet; MPO – par 57; FPO – par 61
After being stretched out in 2021, the shortest of the three courses has been shortened by about 300′ in 2022. Par is reduced by two for MPO and one for FPO. Some holes have been shortened or turned into par 3s in order to improve the pace of play. The infamous 294-foot triple island hole 6 awaits the pros in round 1 with a $500 bounty available.
Innova Course: rounds 2 and 4; 8,823 feet; MPO – par 61; FPO – par 69
The hardest of the three courses, the Innova track will be again featured on both Friday and Sunday. The course is little changed, although it's 10 feet longer, the MPO par has been reduced by one stroke, and the FPO par has been increased by a stroke. OB has been added along the edges of more fairways to create spectator viewing areas If there are any holes you picture in Vegas, it's probably from the Innova Course. 
Factory Store Course: round 3; 9,000 feet; MPO – par 61; FPO – par 68
The longest of the courses, just a touch longer than last year. Most of the course changes are added OB, primarily to increase spectator viewing areas. The FPO par has been increased by one.
Extended Forecast
The Disc Golf Pro Tour kicks off at the Wildhorse Golf Club in Las Vegas. This track features a lot of open holes where wind can be a major factor and has been throughout the practice rounds this week, with intense 30-40 mph winds buffetting fairways at times. However, a lot of the worst wind appears to be over, although some of the later afternoon MPO tee times could be dealing with wind.
Thursday: Temperatures in the low 30s will rise to the low 50s by the afternoon. Sunny, not much wind.

Friday: Temperatures will be warmer across the board, reaching highs in the upper 50s. Sunny. Wind could pick up into the 10-20mph range.

Saturday: Very similar weather to Friday, sunshine, highs near 60. Wind near 10mph in the afternoon.

Sunday: Mixed sun and clouds, slightly warmer. Moderate wind.
How To Follow
UDisc Live will have livescoring available all weekend. For video coverage, see our How To Watch post.
Read on for PrizePicks Lines & Best Bets…
Bonus Content for 2022 Las Vegas Challenge Preview: The Start of a New Era is only available to Ultiworld Subscribers
Already have a subscription? Log in
Whether you visit Ultiworld for our reporting, our podcasts, or our video coverage, you can help us continue to provide high quality content with a subscription. By becoming a subscriber, not only do you receive benefits like bonus content and full article RSS feeds, you also help fund all of Ultiworld's coverage in general. We appreciate your support!