The 2021 European champion is making his US debut.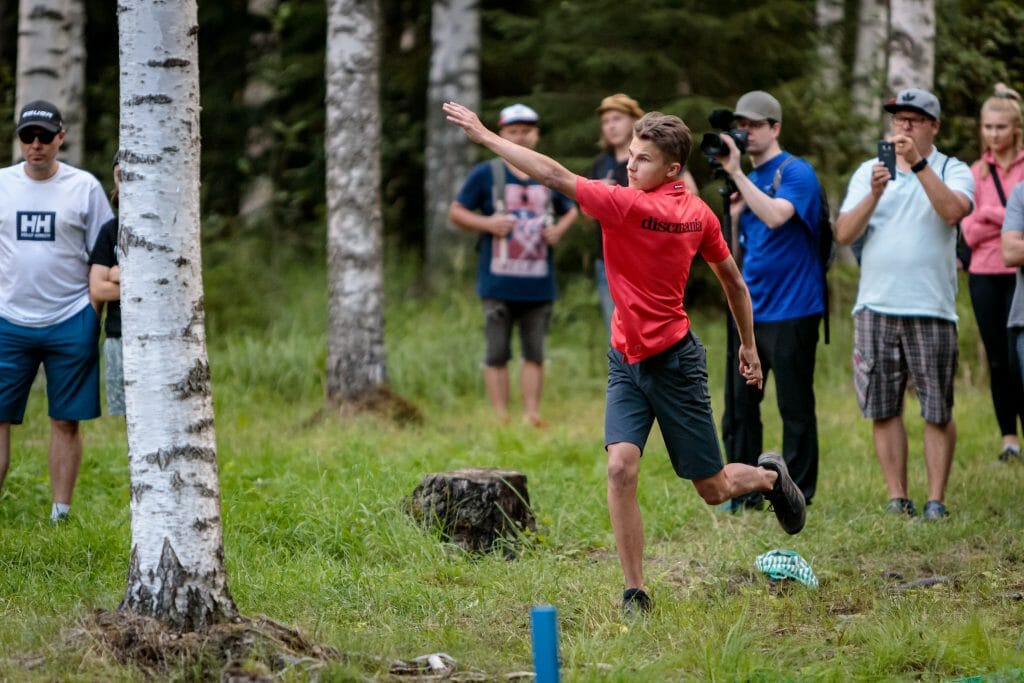 This is the the second of our Q&A interviews in our European Re-Open series that highlights European disc golfers as international travel reopens in 2022.
The Finns can be a hard bunch to follow. Whenever you think you've made sense of who the top crusher du jour is, another wunderkind will break through the 1030 barrier while cruising to a win in an event you thought Simon Lizotte would have on lockdown.
The latest such breakout to take a seat in the pantheon of Paju-Makela-Vikström is the kid from Kuipio: Niklas Anttila. The 1032-rated reigning European champion, who came eerily close to nabbing a six digit PDGA number, has spent more time in the last year on the shooting range of the Finnish military than on the driving range of his home course. He is set to compete in the US starting at the Texas State Championships through the Dynamic Discs Open. Expect him to be back for Worlds and more later in the year.
Read on for a refreshing breath of youthful exuberance; how, despite the odds, Anttila plays the opposite of Army Golf; and a subtle reminder that American disc golfers should be losing their damn minds right about now.
Ultiworld Disc Golf: If you have toured the US before, are there any lessons that you learned that will help prepare you for this year? How is it different from playing in Europe?
Anttila: I haven't been to the US before. So I'm going there with a humble mindset. I think the biggest difference is that the field is bigger and better than in Europe. There are more players who can win every weekend.
Which event are you most excited about?
I'm most excited about the PDGA Champions Cup. The WR Jackson course suits me well and I am excited to show my accuracy in the woods. Plus, a Major is always huge.
Who are you touring with? How will you get around and what will your accommodation be like?
I am coming with my brothers (basically :D). I think we have seven guys coming from Finland in our company: Väinö Mäkelä, Niko Rättyä, Luukas Rokkanen, Lauri Lehtinen, Ville Ahokas, Mikael Häme.
How are you funding this tour?
Thanks to Discmania, I am able to call disc golf my job. Discmania makes this kind of tour possible!
What would you need to accomplish on this tour for you to consider it a success?
As the level of players increases, I need to have different kinds of goals. Top 10 finishes would be nice and even a top 3 is possible. I just want to be happy with my game, and everything else is extra.
What has been the most difficult aspect of preparing for this tour?
My offseason was pretty short because of my military service which ended in December. Also the cold winter in Finland makes training a bit harder but it won't stop me. I will be spending about 10 days in Spain before leaving for the US to throw in warmer weather.
Of the three tours this year (DGPT, European Pro Tour, PDGA Euro Tour), which are you most focused on?
Easy. DGPT for sure. I will be playing the European Pro Tour when I am in Europe but my focus is in the US, Majors, and National Titles.
Outside of disc golf, are there places or sights in the US you plan on visiting?
Haven't planned yet. I think just the fact that everything is so big for a boy like me will be an experience. Hope to see some nice sights and places!
With the amount of young talent coming out of Finland in the past few years you really feel that anyone out of 10 different names could pop off at any given tournament. You were certainly one of the players to watch coming into EDGC Konopiste, but out of a short list of names with similar ratings as you, was there something specific that fueled your break-out performance?
I was coming into that event with high confidence. I had a win streak of three before that event. I just believed in myself and knew that it was possible for me to win.
After witnessing you slice up Franz Ferdinand like a supple side of venison, we're particularly looking forward to seeing you tackle the Disc Side of Heaven at Jonesboro. It's notable that your short spring run of US events centers around a series of bomber courses in very windy locales. Is that a deliberate choice, or is it simply the way the stars lined up?
That is just how stars lined up. I am definitely not a bomber. Franz Ferdinand was a course where I shouldn't have been winning. I think my strength is accuracy and placing my shots on the fairway. I am still excited for the spring.
Given the massive improvement to your game during the COVID-induced split of the continents, you must be chomping at the bit to test your mettle against some North American super stars on their home turf. Is there anyone in particular who you'd like to see joining you on your first round card, and if so, at which event?
Doesn't really matter. I want to challenge all of them. But if I have to say one name it would be Paul McBeth. I was his big fan growing up and he is still the guy to beat.
Is there any European player, male or female, you are expecting to have a break-out season in the US this year?
I think all of us. Americans will be out of their mind when we get there. Because of COVID, we couldn't have done it [last year]. I am impressed with the amount of great players we have in Europe nowadays. Now we only have to perform.
Finally; will we see another Linus Carlsson vs. Niklas Anttila battle go down this year? Maybe those will be the Paul vs. Ricky battles of the 2020s?
I really hope so! I am sure Linus and I will push each other to be better in the US too. Can't wait.