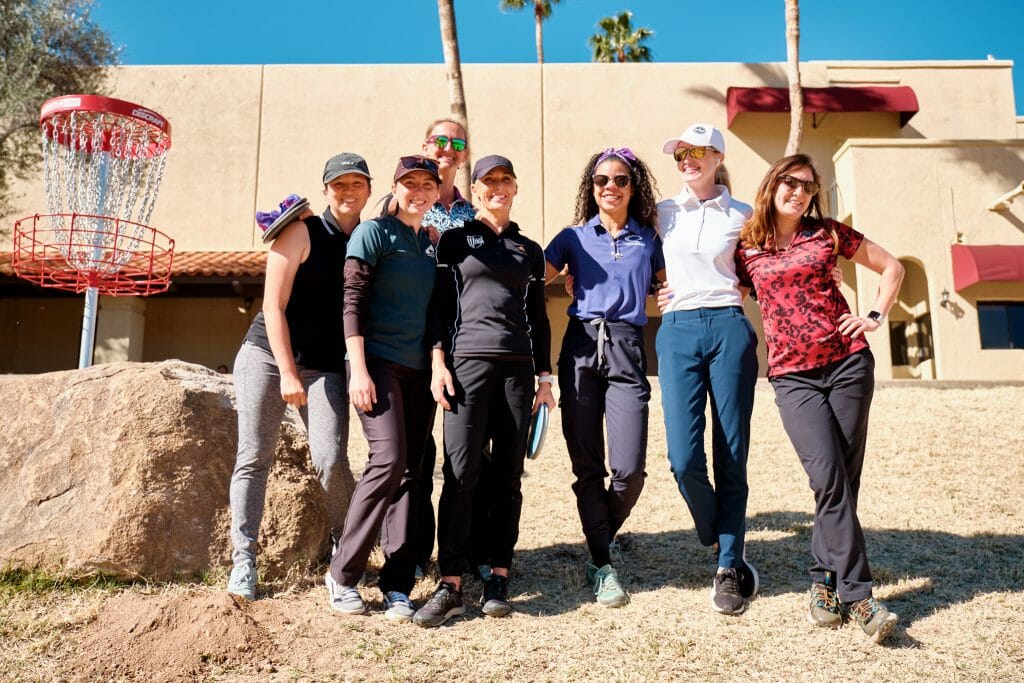 TUCSON — Who said an exhibition event couldn't deliver high drama?
Calvin Heimburg's final uphill pressure putt on Sunday sealed his team's victory over Team Eagle McMahon at the 2022 Disc Golf Pro Tour All-Star Weekend just moments after McMahon buried an obstructed putt from outside Circle 2 that could have forced a playoff:
Heimburg's one-stroke win over McMahon scored the decisive point in the All-Star contest, giving Team Calvin a 7-6 win over Team Eagle. Heimburg shot Sunday's best singles round, a 1090-rated 13-under par. Team Eagle had been the favorite heading into the competition.
In FPO, Team Catrina stunned Team Paige 7-6, climbing out of a one point deficit in singles on Sunday. Catrina Allen's 1015-rated 7-under par easily bested Paige Pierce's 4-under, Sarah Hokom beat Missy Gannon, Lisa Fajkus topped Kona Panis, and Deann Carey eked by Heather Young to score enough final day points to push Team Catrina ahead. Their win was widely viewed as a big upset: before the event, more than 90% of people in an UWDG Twitter poll picked Team Paige to win.
The highlight of the weekend was a stunning 536′ ace from Nikko Locastro on Sunday that helped catapult him to a win in his matchup with Matt Orum:
No team established a large lead early in the competition. Team Eagle went up 2-1 during the Skills competition before Team Calvin tied it up during Doubles on Saturday. Team Calvin won four out of the seven matchups on Sunday to win.
Team Paige had a one point lead after the Skills competition and maintained that through Doubles. Team Catrina won four of the matchups on Saturday, lost two, and tied one.
Here's a look at the results from each day of the action.
Distance
Paige Pierce + Kona Panis's combined 866′ outdid Catrina Allen + Jessica Weese 830′ in the FPO distance competition.
Best Drives
Pierce: 442′
Allen: 439′
Panis: 424′
Weese: 391′
In MPO, Calvin Heimburg and Ezra Aderhold shocked Drew Gibson and Garrett Gurthie with a 1280′ to 1262′ win. Calvin's drive, especially, was impressive. The narrow fairway with OB on both sides made it difficult for Gurthie and Gibson to maximize the distance they typically flash in such contests.
Best Drives
Gurthie: 661′
Heimburg: 654′
Aderhold: 626′
Gibson: 601′
Accuracy
Team Catrina's Sarah Hokom + Rebecca Cox outscored Team Paige's Hailey King + Madison Walker 24-13 in the accuracy competition.
Team Eagle's Kevin Jones and Nikko Locastro beat out Team Calvin's Kyle Klein and Matt Orum 38-33 in accuracy.
Putting
Missy Gannon, Heather Young, and Ohn Scoggins dominated for Team Paige, with a 90-56 win over Team Catrina's Holly Finley, Lisa Fajkus, and Deann Carey. Young was the top individual performer.
Team Eagle's Eagle McMahon, Chris Dickerson, and Gannon Buhr defeated Team Calvin's Adam Hammes, James Conrad, and Paul Ulibarri 115-93.
Coverage is available on Disc Golf Network.
In FPO, the teams split the points 1.5 apiece.
Team Catrina's Allen/Carey (-8) defeat Gannon/Panis (-4)
Team Paige's Hailey King/Ohn Scoggins (-9) defeat Cox/Hokom (-5)
Team Paige's Young/Pierce (-9) tie Fajkus/Weese (-9)
In MPO, Team Calvin outscored Team Eagle 2-1.
Team Eagle's McMahon/Jones (-14) tie Hammes/Klein (-14)
Team Calvin's Heimburg/Orum (-14) tie Dickerson/Gibson (-14)
Team Calvin's Conrad/Aderhold (-14) defeat Buhr/Locastro (-13)
Coverage is available on Disc Golf Network.
In FPO, Team Catrina outscored Team Paige 4.5-2.5.
Catrina Allen (-7) beat Paige Pierce (-4)
Sarah Hokom (-3) beat Missy Gannon (-1)
Hailey King and Jessica Weese tied at (+1)
Lisa Fajkus (+1) beat Kona Panis (+4)
Deann Carey (+1) beat Heather Young (+2)
Rebecca Cox (-1) lost to Ohn Scoggins (-3)
Holly Finley (+9) lost to Madison Walker (+1)
In MPO, Team Calvin outscored Team Eagle 4-3.
Calvin Heimburg (-13) beat Eagle McMahon (-12)
Kyle Klein (-8) beat Chris Dickerson (-2)
James Conrad (-9) beat Drew Gibson (-7)
Adam Hammes (-3) lost to Kevin Jones (-5)
Ezra Aderhold (-8) beat Gannon Buhr (-5)
Matt Orum (-6) lost to Nikko Locastro (-7)
Paul Ulibarri (-1) lost to Garrett Gurthie (-9)
The 2022 Disc Golf Pro Tour starts on February 24th at the Las Vegas Challenge.