It matches the largest ever announced FPO sponsorship deal.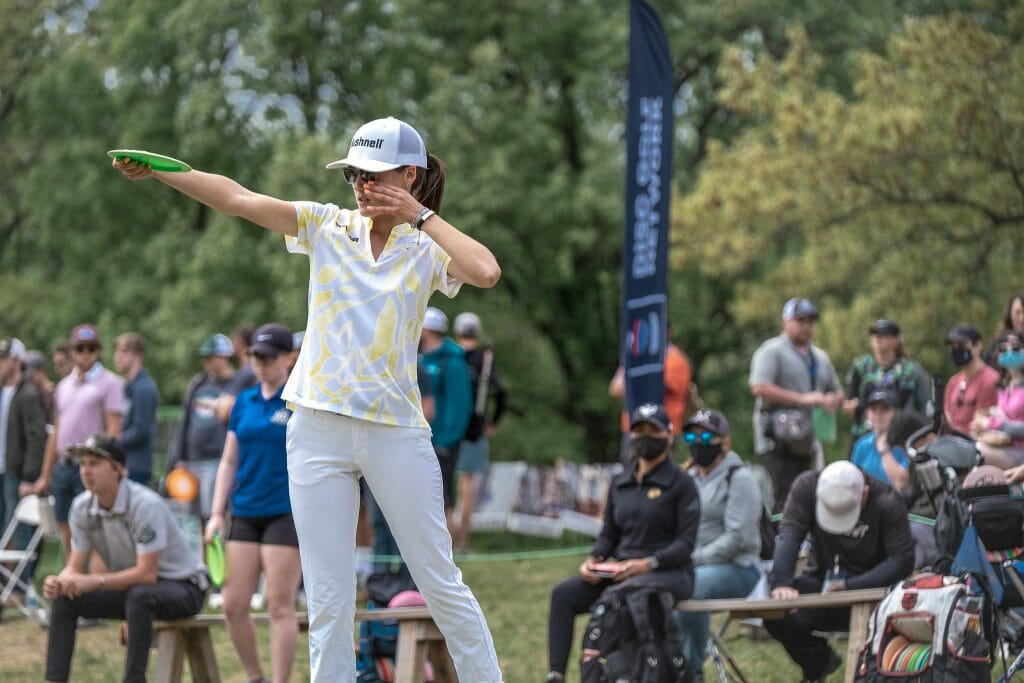 Kona Panis has signed a four-year, $500,000 endorsement deal with Dynamic Discs, matching Kristin Tattar's deal with DD manufacturing partner Latitude 64 as the largest announced FPO contract in the sport's history.
Panis's contract includes multiple tour series discs, a signature disc that will launch in 2023, a signature bag, and an incentive structure tied to tournament finishes and milestones.
"She'll make more than [$500,000], based on performance bonuses, social media bonuses," said DD Team Manager Eric McCabe. The $500,000 announced contract is guaranteed.
McCabe said that Dynamic Discs has been trying to get Panis onto their team for a "couple years." There were some overtures last offseason as well, when DD missed out on top 'free agents.'
"Last year, he asked if [Discmania-sponsored] Colten [Montgomery] and I could both come to the team," Panis, who counts McCabe as a personal friend, told Ultiworld Disc Golf. She declined, happy with her sponsorship with Innova.
"This year, Innova sent me a contract that was very similar to a year before with just a few things different," she said. "I just felt like the conversations were a little off."
The conversation with Dynamic Discs was rekindled, as Panis felt that Innova wasn't offering sufficient promotion after her breakthrough 2021 season in which she won the DGPT All-Stars event and her first Elite Series tournament, the Waco Annual Charity Open.
"I asked Eric, 'I just saw Kristin Tattar's offer. Is that in the ballpark of what DD can offer?'" said Panis. It was.
"To commit to a female with big money for four years, that's a partnership and that's a company really seeing my value," she said. "It's going to show younger women that you can do this sport professionally and really make money out of this."
Dynamic Discs has committed to helping Panis work on growing youth disc golf as well as flying her out to Sweden to work on plastics and molds for her eventual signature disc. They also plan to work with her on creating social media content, a long-time area of strength for both parties.
"She is second to none as far as social media game goes," said McCabe.
Panis said that she is excited about DD's commitment to transparency and communication, areas in which she said Innova struggled. She also said that she will be working with DD to come out with custom stamps and work on developing appealing art for her tour series discs.
She also says she's ready to take on the tour in 2022. "I'm feeling super confident," she said. "Super confident in my putt, which is awesome for me personally.
"This year, 2022, is a year of confidence for me."
Panis will speak at a Dynamic Discs press conference on Tuesday, January 4th, at 12 PM Central time. It will be streamed live on the Dynamic Discs YouTube page.