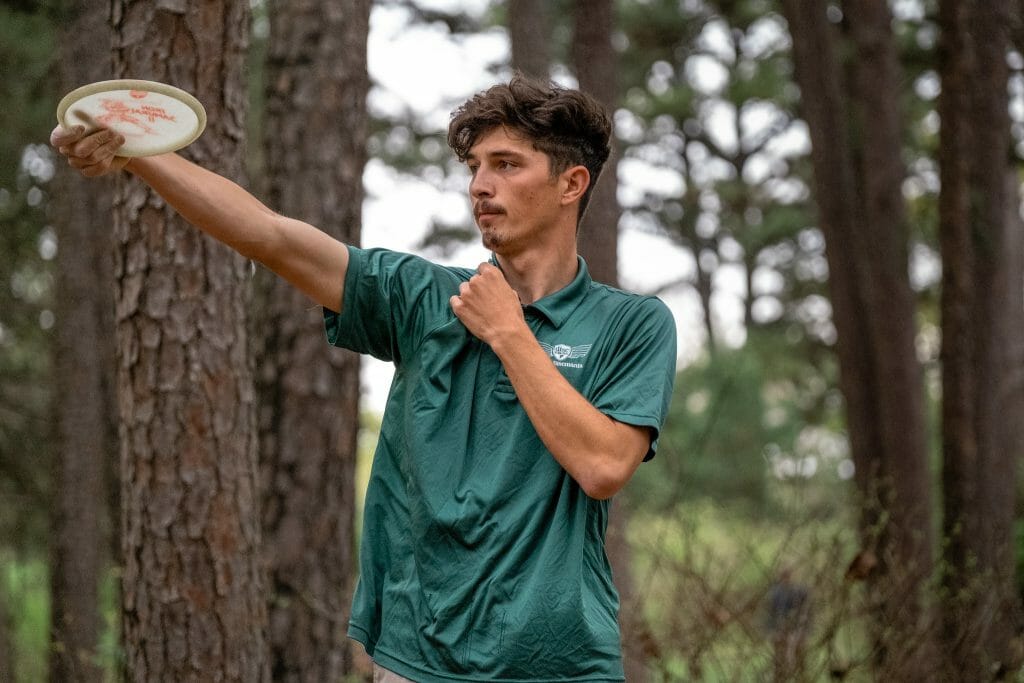 Gavin Rathbun has signed a one-year sponsorship deal with Dynamic Discs for 2022, the Emporia-based manufacturer announced today.
The terms of the deal were not disclosed, but Dynamic Discs Tour Manager Eric McCabe said that it includes a Tour Series disc, monthly stipend, a "big" bonus structure, and a plan to do a lot of media around him.
"It's a pretty solid deal for him with room to grow, and obviously we firmly believe that he's going to be very happy here," said McCabe. "And at the end of the year, we'll work on a longer-term deal."
Rathbun, who announced on social media last week that he was leaving his 2021 sponsor Discmania, had a breakout 2021 season with three top 10 finishes at Elite Series events, including a third place podium finish at the Des Moines Challenge on the Disc Golf Pro Tour. He was frequently on the lead card and getting air time on live and post-production media coverage of tournaments.
McCabe said he started thinking about Rathbun as a potential 2022 sponsorship target back in March at WACO, where Rathbun finished seventh. After conversations in the late summer, they had a sit-down zoom meeting to discuss in more detial. "I got to know him more as a person and what he needs to be out on the road and his aspirations," said McCabe. The two sides quickly came to terms on a contract.
Rathbun was the 2016 US Amateur champion and started full-time touring in 2020 with Discmania as his sponsor. He recently underwent shoulder surgery to repair a torn labrum and is in physical therapy rehabbing the shoulder to prepare for next season. He didn't compete in any Elite Series events or Majors after Ledgestone in early August and was clearly not at 100% for the Match Play Championship, his last competitive disc golf of the season. Torn labrum recovery in athletes usually takes three to four months, which sets Rathbun up for a potential return for the start of the 2022 season. He couldn't be reached for comment by press time.
He immediately becomes one of DD's top MPO players alongside Chris Clemons. The company parted ways last week with Eric Oakley and has been under scrutiny from fans for their lack of top sponsored pros. McCabe said that the company is thrilled to sign Rathbun and has more in the works after offering contracts to Calvin Heimburg and Eagle McMahon last offseason but missing out on signing them.
Dynamic Discs recently opened a new 80,000 square foot warehouse in Emporia, quadrupling their footprint. "I think you're going to see some changes in the next couple of years with us being in the new warehouse and a close relationship with Latitude 64," said McCabe.