Key tips for less experienced players.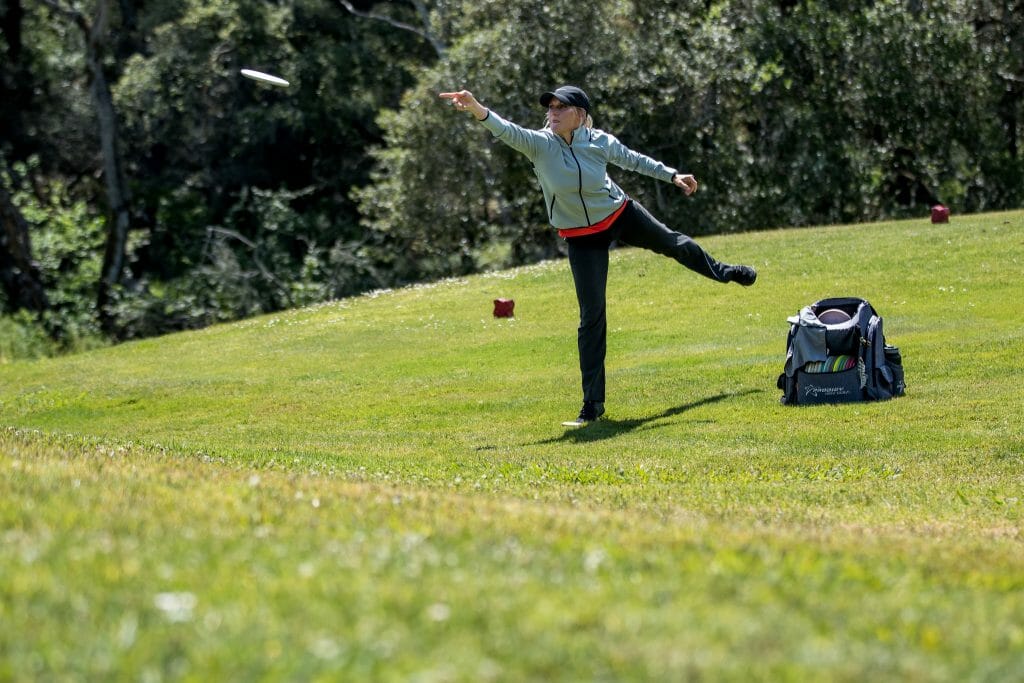 Course management can be a revelation for players who are new to the game. There is lot to learn about the throw, the discs, and the rules, but none of that is actually "playing golf."
Playing golf is a mindset, an approach to the game that involves the tactical, the strategic, and the psychological. It involves always thinking a throw (or two!) ahead and being honest about your game and how it matches up against the challenge of the course. It is what transforms golf from a physical exercise of hucking discs into a chess match. None of this is to take away from the fun of playing disc golf, but it adds an entirely new element.
This is especially true when you are new. When you embrace course management, your scores will drop. If this is something you care about – and not all players do – then the fastest way to see lower numbers is to approach your game honestly. Once you focus on managing your game, you can reach new scoring milestones. With just a few key shots – if a player can throw a disc fairly straight and about 200 feet, make a 20-foot putt, and has a manageable upshot from within about 90 feet, then they can shoot par on most regular parkland courses. Most 850-rated players could add 30 points or more to their rating just by thinking more about course management and making better decisions.
Managing Inconsistency
It is tough to use course management when everything in your game is inconsistent. It is hard to put yourself in the position to throw the shots you are best at when every shot has an equal chance of being good or awful. This is the first stage of getting better – selecting a few shots and really getting them to a place where you can depend on them. Once you do, you can make decisions that put you in a place to use your best weapons. You build your game shot by shot.
It doesn't matter what these shots are. For me, my scoring breakthrough came by grinding on a 90-foot anhyzer shot with a Harp. Once I had that, I knew that I could lock in a par nearly every time I was 100 feet out. It revolutionized my game. For you, that foundational shot may be a 120-foot forehand approach with a Zone, a 180-foot flex backhand with a Firebird, or a dead straight 210-foot drive with an EMac Truth. As a beginner, you should work on all aspects of your game but really focus on a few shots that you will lean on during your scoring rounds. As you play more, you will expand the number of dependable shots until you have a full arsenal.
It's fine not to have every shot. Most pro players seldom throw a grenade; some great players only have a utility forehand. Build your game. Don't spend your time trying to add 80 feet to your drive or throw long rollers when you regularly three-putt and can't throw your approaches within 40 feet. It's a sucker play. Distance can be important (and it's fun to stretch your drives), but getting better at the things easily within your physical abilities will result in lower scores faster than throwing flex shots with a Corvette from the top of a hill so you can record your longest throws on UDisc.
Build the Floor Before the Ceiling
The key to scoring as a beginner is usually not making tons of birdies. The first step is to build your floor by reducing OB penalties and careless bogeys. Many new players are not going to make enough birdies to offset mistakes, so you need to avoid big numbers. This means recognizing that par is your friend and that it is okay to accept a bogey when the alternative is risking a triple.
And, if you are a beginning player with lots of arm speed and good scoring instincts who already gets a lot of looks at birdie, you will gain even more by eliminating the doubles or triples that blow up your scorecard.
The Basket is Not the Target
This is the hardest lesson for many beginning disc golfers to learn. It seems natural – throw at the basket. But that is often a mistake.
A disc coming in at speed basket-high is often going 40 feet long. And most beginning golfers are not making 40-foot putts consistently. The goal is not to throw in from 210 feet; it is to throw a shot that will set up a makeable putt. Also – a softer approach shot that stops 15 feet past the basket has just as good (and maybe better) chance of going in than a line drive. And will almost always result in an easier putt.
Now for a more controversial take – the same goes for putting. One of the biggest mistakes I see beginning players make is running putts from 60 feet that become missed 30-foot comebackers. Particularly if you spin putt, running long putts often results in score-wrecking three-putts. This is especially true on elevated baskets, downhill putts, or putts near water. You need to find a "half-go" putt, a spin putt thrown lower so it can't sail far past or a push putt that, at worst, hits the cage and drops down. Yes, it is fun to nail a 50-foot jumper, but you need to recognize how many times those runs leave you with putts you won't make. If you make 1% of your 70-footers and 20% of your 30 footers, then dead aim at downhill basket from 70 feet is just not playing to score. Be warned, the first time you lay up your playing partners might give you a hard time. But trust me – anyone who makes fun of you for laying up was hoping you were going to make triple-bogey.
This isn't forever. As your putting gets stronger, you can become more aggressive. The important thing is whether you can make the comeback putts from your long runs at the basket. If you can dependably make the 30-footer if you miss, then feel free to run your putts from 70 feet. But if 25 or 30-foot putts are dicey, then it is not worth running a putt you are going to make once every 10 rounds.
The Shots You Need
For beginners, there are a few key shots that can help you to develop the ability to manage your game. Once you have shots that you can depend on, you can maneuver yourself to have the opportunity to throw them as often as possible.
This list is based on what has helped me and other beginners who I have seen improve quickly. You may have a completely different list. That's great. If you can build your game around thumbers, rollers, and grenades, then that's awesome (and you will be fun to watch!). The important thing is that you are building your arsenal by developing shots you can use in common scoring situations.
In earlier articles, we discussed utilizing footwork to hit precise distances and building your bag around shots you will need on the course. Both of those articles would be great to revisit as you work on course management.
The keys to scoring:
20-foot putt
The 60-foot half go
The 100-foot upshot
The touch forehand
The 150-foot placement shot
The 250-foot drive
You may already have these, that's great. Or you may be already much better than this and have shots out to 250, 300 or 330 feet that you can depend on. If you do and you are still shooting way higher than you want, then you definitely need to take a closer look at your course management.
These shots will allow you to build a solid floor under your score. For beginners, a general rule when throwing (not putting) is to use more stability when you are trying to have more consistency and less stability when you are trying to get more distance. As a beginner, you are going to have very inconsistent releases and less power. Starting your short game with overstable discs like Zones, Harps, and Pigs will overcome your sometimes wonky release angles and give you consistent flights. Yes, turnovers and understable discs are crucial scoring weapons and having a soft turnover approach shot will be important to add. But it is fine to start with discs that will help you learn to score before adding more options.
Understable discs will give you more distance with lower arm speeds but are more sensitive to release angles so they are, by their nature, more inconsistent. The upside of greater distance can make this trade off worth it. If you are throwing a drive to the center of the fairway, twenty feet left or right may not make much of a difference in your next shot. But missing an upshot by 20 feet turns a 15-foot near tap-in into a 35-foot pressure putt.
Remember – if you are within 100 feet, throwing an upshot that doesn't give you a makeable putt is essentially taking a one-shot penalty. That's the same cost as throwing your driver OB. Pay as much attention to preventing bad upshots as you do to making sure your drives don't go into the road.
The 20-foot putt. This is crucial building block of scoring. Your putting needs to be solid at 20 feet because it is hard to get all your upshots closer than that. As you improve, stretch your effective putting out to 25 feet or further. This is, by far, the biggest factor in lowering your score.
The 60-foot half go. This is a shot from 60 feet that is not meant to go in the basket. It needs to always leave an easy putt. Some of these "half-go" shots will go in, which is nice, but job one is making sure none of them are going more than 20 feet past. In traditional golf, this is called "lag putting" and it is a skill that separates great putters from the rest. You need to know that you are not going to take three throws to get it in once you are inside 60-70 feet. Throwing a disc into a basket from 60 feet is hard; making sure your disc lands in a 40-foot diameter circle is easy. Do the easy thing.
This may be a jump putt or a soft throw, whatever is most consistent and comfortable. Try making your regular putting motion with a neutral midrange like a Truth or a Mako3. The extra speed will get you to basket without having to change your stroke. The key is repeatability.
The 100-foot upshot. Again, like the half-go, the target is not the chains. You need to have a shot that will end up inside 20 feet. This can be an anhyzer upshot with a Harp, Zone, or Pig. It can be a forehand with the same discs. This is a shot that will save you strokes every round and massively reduce the stress of putting. It's a cheat code.
The touch forehand. You need a forehand. There are just too many times that you need to move the disc the other way. You may not need a distance forehand (yet) but you have to have a chip forehand that you can use out to about 80-100 feet. This allows you to approach the basket from an open side or throw approaches into a hill rather than down a slope. They can be ugly; they just need to work. Again, overstable putters and mids are the perfect tools to get you started. Trust them, they know what to do.
The 150-foot placement shot. You need a shot you can throw 150 feet dead straight. This can be used as an approach shot, of course, but it is also a key weapon in the woods. There may be wooded holes that are asking you to throw something you just can't throw – a 275-foot flex forehand, a 320-foot low hyzer-flip with late fade – where the cost of missing left or right is massive. Don't take the bait. Being able to throw a shot 150 feet straight can turn these potential blow-up holes into easy pars.
The 250-foot drive. This could just as easily be a 225-foot drive or, if you have more power, a 300-foot drive. It is a shot you know you can count on to get some distance and not go far wrong left or right. It can be any disc or any shot shape, but you know you can put it in the middle of an average fairway.
The real strength is how these shots can be combined. Your 250-foot reliable drive with your 150-foot placement shot means every fairly open 400-foot hole can be a safe par. A reliable drive paired with a 100-foot upshot can par any hole out to about 350 feet. As the holes get shorter, these shots will lock in pars and offer upside birdies.
Now, it isn't this simple. There are trees, doglegs, hazards, crosswinds, and all kinds of things that make golf holes more difficult than their raw distance. But as you develop these shots, you can break holes down into makeable throws. A 400-foot hole does not mean you have to rip over on an inconsistent distance driver that can't get there and can get you in trouble – you can throw a safe drive, a dependable approach, and a makeable putt.
This isn't to say you can't throw faster discs or other shots when you have an open fairway. These shots are there to backstop your scoring. If you can throw 320 feet on a good day and you are on a 340-foot hole with no major dangers (like lots of OB), take a rip at it. If you park it, great! If you come up 60 feet short, you know what to do.
Some readers will undoubtedly disagree with this list. While I have advised leaning on overstable discs as you build your short game, others will suggest that using overstable discs when starting the game will cover up swing flaws and lead to bad habits. Instead, many of these folks suggest, players should start with understable discs and learn to control their angles. There is always a balance between these two approaches and learning the "right" way may be better but take more time than some players can to devote to the game at the outset. Yes, it is important for players to practice with understable discs in their field work to help clean up their form, but overstable discs will help players score and keep them coming out to play.
***
Embracing course management can shake up your regular group, especially if you are usually near the bottom of the pack. Some players respond with shock the first time they see a buddy pull out a Leopard3 on a long hole or lay up from 60 feet. There may be people in your group for whom your three-putts are a key part of their comfort zone. Too bad for them: now you're here to score.