Round 3 Recap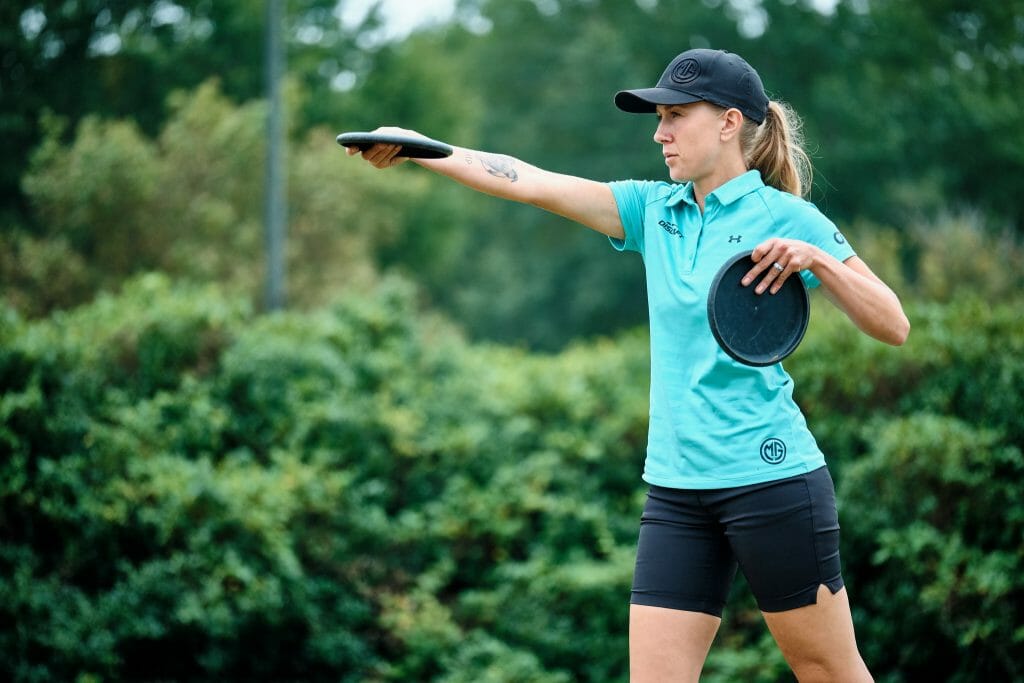 Ultiworld Disc Golf's coverage of the 2021 United States Disc Golf Championship and Throw Pink Women's Disc Golf Championship is presented by Skybreed Discs, a top online retailer and preferred vendor of the 2021 Ledgestone Insurance Open.
Moving day out at Winthrop Arena was every bit as advertised because every bit of the Throw Pink Women's Championship was on the move. A near total shake up in the lead card occurred with some familiar faces resurfacing and some big names taking a plunge. Day three shook out to be extremely tight at the top, awaiting a nail biter finish on Championship Saturday.  
Missy Gannon claims sole possession of the top spot at 2-under par total after a sneaky moving effort shooting 4-under par on a stormy day. Her round saw only one bogey on hole 8 with five total birdies. She was automatic off the tee, leading the field in fairway hits at 95%. Her dominance off the tee led to no scrambling on the day and set her up for some clean putting looks where she converted 89% from Circle 1X. 

Accompanying Gannon on the lead card is her Discraft teammate, and I do not mean Paige Pierce. Hailey King currently sits tied in second at 1-under par total. After an uneventful front 9, she carded three birdies and two bogeys on the back with a 77-foot throw in on 15. Her putting clocked in at 77% C1X with two two-putts during a 2-under par round. 

Valerie Mandujano returns as the only player of the field to stay on the lead card after the arduous moving day.  Mandujano truly road the roller coaster during her round finishing 1-under par on Friday with six OB strokes. After four birdies during her first five holes, she alternated bogey and birdie throughout the back 9, closing out the round with a double-bogey on hole 18 after taking the outright lead with a parked birdie on the island hole 17. She led the field in strokes gained tee to green at 6.74 while hitting 82% of the fairways. She is tied with King for 1-under par on the week.

Rounding out the lead card is Ohn Scoggins whose 2-under on the day moved her up two spots into fourth place. A very consistent round saw little action until the final three holes where she shot birdie-bogey-birdie. Scoggins led the field in strokes gained putting at 3.85 and had a C1X percentage of 88%. She sits just one pack from the podium and two back from the leader at even par on the week.

The moment everyone has been waiting for…where is Paige Pierce. Entering the day with a five-stroke lead and sitting at 7-under par, the wheels absolutely fell off. The conditions out at Winthrop were unfavorable, but like Pierce's game today, when it rains it pours. There is just no sugar coating her round where she shot 18-over par, the third worst score on the day, or 23 strokes worse than Macie Velediaz's (5th) 5-under par hot round. Two quadruple-bogeys, one triple-bogey, three double-bogeys, and two bogeys were a result of 14 OB strokes. Nothing seemed to go right for her on the day putting 46% from C1X and hitting only 50% of fairways. She currently sits in 17

th

place at 11-over on the week.
Statline
Missy Gannon had an incredible round and now claims the top spot in the tournament. The stat line of the day comes from the fact that Gannon did not card a single OB. With a course that saw 223 OB strokes on the round, she was the only female player to not have one OB stroke on the round. This consistency is why she remains the top of the pack.
Heard
"I didn't have expectations to be in the lead, but I know that there can be huge scoring swings on this course, so the fact that I finally put a round together that I was proud of and that I knew I could do, anything was possible at that point." – Missy Gannon, on her moving day performance.