Round 1 Recap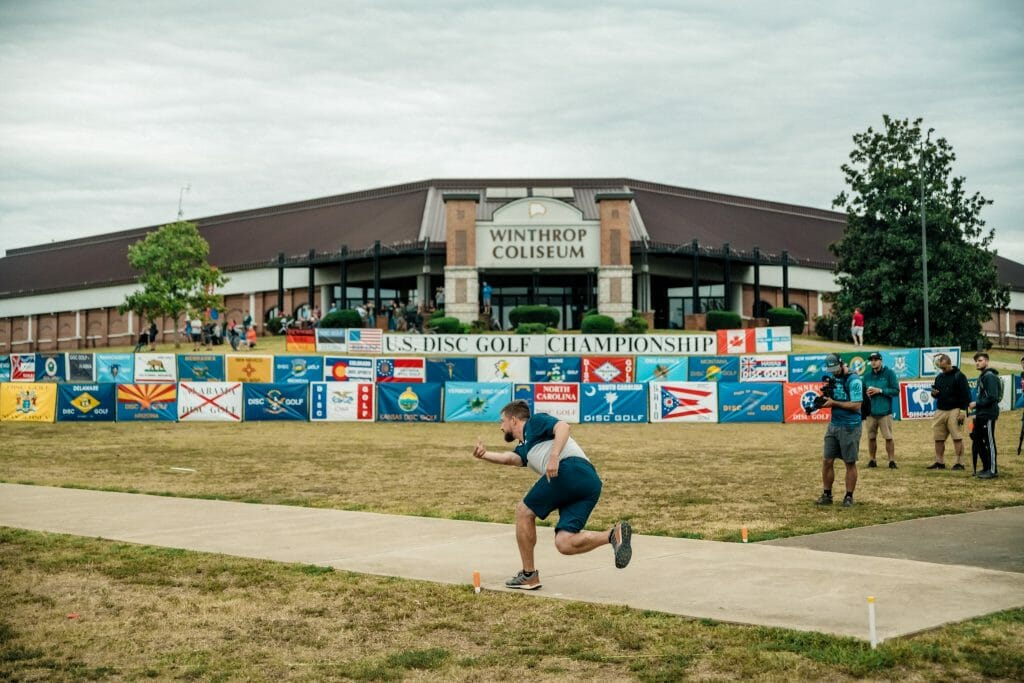 Ultiworld Disc Golf's coverage of the 2021 United States Disc Golf Championship and Throw Pink Women's Disc Golf Championship is presented by Skybreed Discs, a top online retailer and preferred vendor of the 2021 Ledgestone Insurance Open.
In Rock Hill, the rain stayed away, wind snuck in, and scores over-par were taken. Let's take a look at what we learned from Day 1 at the U.S. Championships.
Your 2017 champ, Nate Sexton, is co-leader after one day of play, submitting a bogey-free 10-under par that will be tough to beat throughout the entire tournament. After missing one of the softest holes to par out of the gate, hole 1, Sexton put the jitters aside and began carding birdies at a torrid pace. Winthrop is often looked at as a RHFH/LHBH course, and Sexton's legendary forehand was on display throughout the day to the tune of 90% fairway hits and zero OB strokes.

After his round, Sexton noted that there may have been holes where he was holding back, citing the wind as a factor in changing his game plan. We may see him get more aggressive if conditions change throughout the weekend.

The other co-leader going into Thursday is a fellow practitioner of the power forehand in Terry Rothlisberger. He was the talk of the tournament after going 7-for-7 on birdies to start the day, before cooling off considerably through the back 9. Early on, Rothlisberger showed 100 percent in every category aside from C1 in regulation, and while that impossible standard of course fell off, it was a snapshot of his flawless play through nearly half the course. He's still boasting 100% fairway hits through the round, dodging OB and cashing in the opportunities he created for himself.
Is that good? pic.twitter.com/1CBT4Q0G5P

— PDGA Stats (@PDGAStats) October 6, 2021
Clearly, he has the ability to get each of the front 9, now it's time for Terry to prove he can get the tough holes on the back as well.

Gregg Barsby also added a bogey-free round of 9-under, good for solo second place, and another blueprint for how to perform well on Winthrop. Great stats hitting fairways, scrambling, and putting from outside the circle spurred Barsby to a great position to keep in contention. There are still holes to add on to his great day, hole 1 comes to mind, as does 10, and even 5 should be in play for a forehand like Barsby's. Staying clean is clearly the way to success at USDGC, but adding on a few gettable birdies wouldn't hurt Barsby's attack.

An 8-under par round from Joel Freeman, hot off a win at last week's Carolina Clash, was good enough for solo fourth, but ending his round on a double-bogey kept Freeman from rising higher. He had a rough stretch in the middle of his round, going OB on three consecutive holes, and despite saving birdies on two of the three, it certainly hamstrung his excellent birdie percentage from going higher. It's a great position for Freeman to begin his chase from, knowing that even four strokes against his score in the round were not insurmountable, and he'll look to clean those numbers up for the rest of the week.
A 16-year-old from nearby Spartenburg who finished second to Freeman last week, earned major props for turning in a 7-under par round that has him tied in fifth with Barry Schultz, JohnE McCray, and Adam Hammes and playing on the chase card. Evan Scott won this season's PDGA Amateur World Championship in August, and qualified for USDGC last season on Monday, but still showed maturity beyond his years while playing on the feature live card during round 1 with James Conrad, Chris Dickerson, and Mason Ford, and turning in the best card of the bunch. 
One last shoutout to Kevin Jones' throw-in eagle from 384 feet on hole 5.
Statline
Hole 10 is a quintessentially USDGC hole, tempting players with the tough eagle while presenting a seemingly routine birdie in return. Expectations based on a variety of practice rounds were for pros to try to attack, at least this early in the week, but between jitters and wind, the eagle conversions were not there. Only 3% of players eagled on Wednesday, 46% birdied, 34% parred, and 16% succumbed to out-of-bounds. We will have to keep an eye on that birdie number shrinking, leading to more eagles and above pars.

Heard
"I was definitely a little bit nervous at the beginning, calmed down fairly quickly, but it was it was a lot of fun having a gallery follow us. I definitely enjoyed it," – Evan Scott, on his opening round at the 2021 USDGC and having to hit a C2 comeback putt for par on hole 1.