Round 2 Recap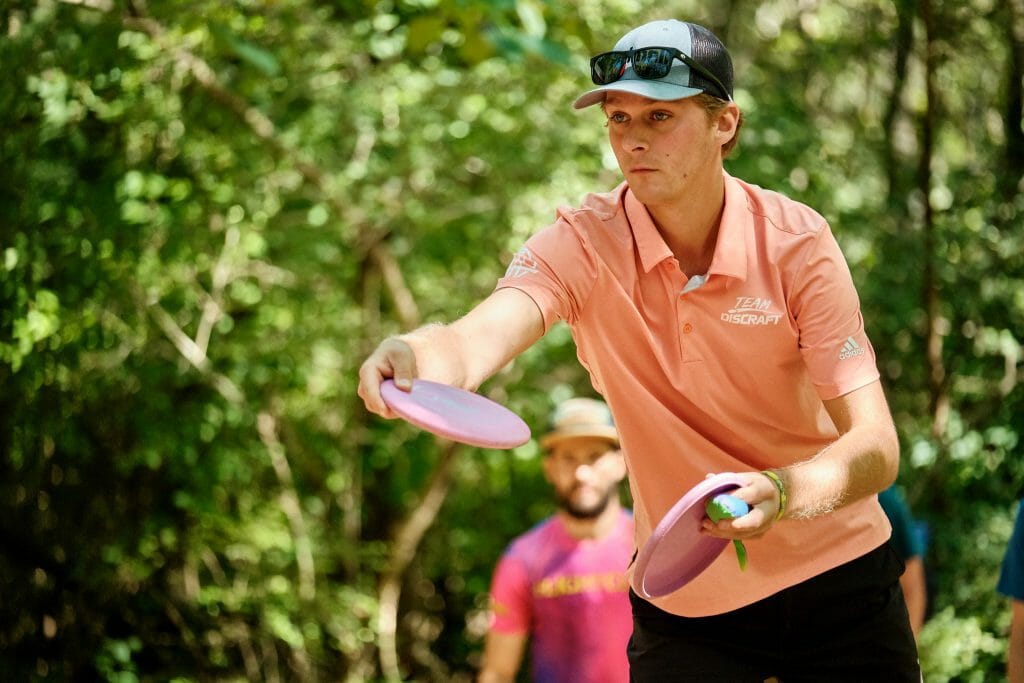 With a couple of players making the needed corrections on Cedar Hill for the second round of the Music City Open, the top 10 got a pretty good shuffle. Day 1's leader is still in control though.
Hole 18 may have had Mason Ford's number, serving the Texan a bogey on consecutive rounds, but those remain his only two bogeys through 36 holes. A 7-under par day on Friday keeps Ford in the lead by a stroke at 17-under par total. The start was slow, as Ford two-putted on holes 1 and 6 for par and was just 2-down, yet he got back on the scoring horse with easy birdies on five of the next seven holes. He leads the division in finding Circle 1 in regulation, 56%, and strokes gained from tee-to-green, 11.61, or almost half a stroke better than the next closest player.
Jumping three spots on the leaderboard into second place at 16-under par is Adam Hammes, who tied for the hot round with a 1057-rated, 9-under par. Hammes only had to attempt three putts from C1X, as he was tied for second best in the round at parking holes and finding C2 in regulation, making 3-of-6 putts from outside 10 meters. He did not have at scramble once on Friday.
Kevin Jones tied Hammes at 9-under par during round 2 and moved up 11 spots into fourth in the process. He cleaned up his C1X putting from round 1, going 100% on Friday compared to missing three chances Thursday, and closed out his run at Cedar Hill with back-to-back birdies on holes 17 and 18. Jones is at 14-under par total.
Staying in third place is Chris Dickerson at 15-under par total. A 7-under par, bogey-free round 2 only required him to attempt two C1X putts, both of which he made, and scramble twice, both of which he converted. He was only able to find C2 in regulation twice over the final seven holes, a stretch where he went only 1-down compared to Jones' 4-down.
Last year's MCO champ, Alden Harris, is back into the top five, tied with Corey Ellis in fifth at 13-under par. His highlight of round 2 came via a 70-foot birdie on hole 15.
Statline
Hole 2 at Cedar Hill played as the second most difficult hole to par during both rounds 1 and 2, and no player was able to birdie the 618-foot par 4 on day two, with only three players even finding C2 in regulation. The most difficult hole, hole 18, was birdied died six times on Friday.