Round 2 Recap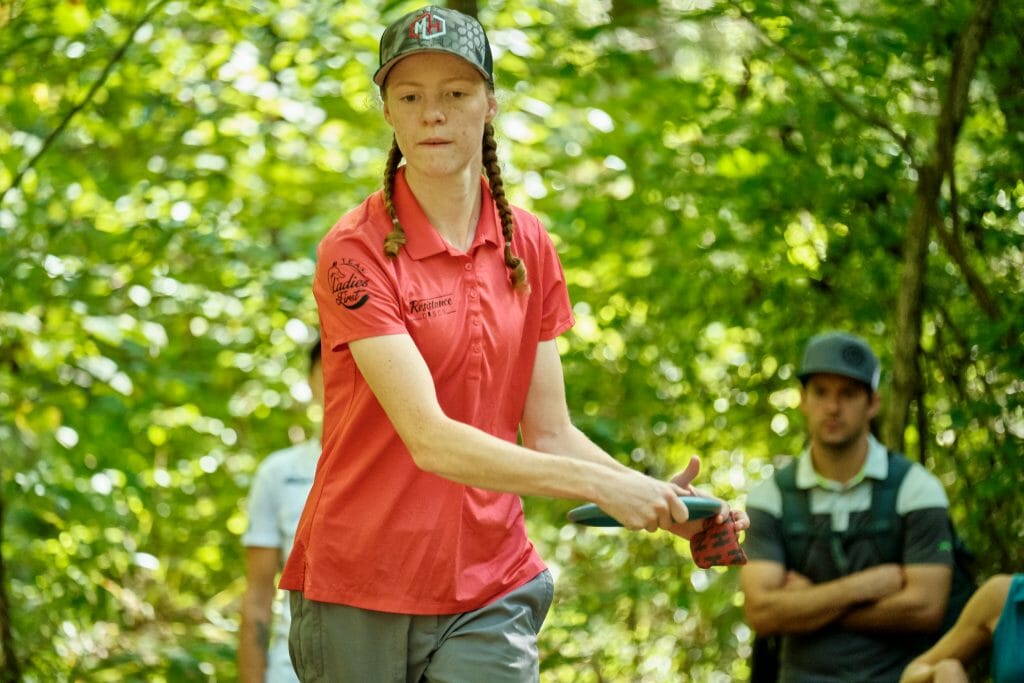 The round scores got even lower with the Open Women's second go at Cedar Hill, but we've still got a deadlock at the top through 36 holes at the Music City Open.
Hailey King redeemed herself in a big way on hole 18, responding to a round 1 triple-bogey with a round 2 eagle, the only eagle on the hole for the tournament. Going 2-down on the final hole also gave King the hot round at 6-under par and a share of the lead at 7-under par total. So far, King's abilities off the tee have saved some substandard Circle 1X putting. She is first in finding C2 in regulation, 67%, and second in fairway hits, 69%, C1 in regulation, 36%, and strokes gained from tee-to-green, 8.62.
Remaining in a tie for first is Sarah Hokom, whose 4-under par Friday only saw one bogey. Hokom's success so far has come from her stability. She's top three in the division in only three categories — fairway hits, scramble rate, birdies — but they are quite important categories when you've played the opening two rounds in the woods.
Four players threw 5-under par rounds and it has them in a tie for either third place at 5-under par total, or sixth place at 4-under par total. Juliana Korver and Valerie Mandujano are two of three players in third, and Korver has been lacing lines to pick up her strokes, as she also missed five C1X attempts during round 2. Korver leads the tournament in strokes gained from tee-to-green at 12.06, 3.5 strokes better than the next closest player, but also gives up just as many strokes on the putting green, currently settling for a -3.34 strokes gained (or lost in this case) total. Catrina Allen and Macie Velediaz are in sixth and both eagled the par 5 hole 15. Allen made a tester from the edge of the circle while Velediaz had a tap-in.
Natalie Ryan joins Korver and Mandujano in third place and is looking for a career-best Elite Series finish. She had a throw-in from 131 feet for birdie on hole 7. Heather Young dropped five spots from a tie for first into a tie for sixth with Allen and Velediaz despite going 11-for-11 from C1X.