Final Round Recap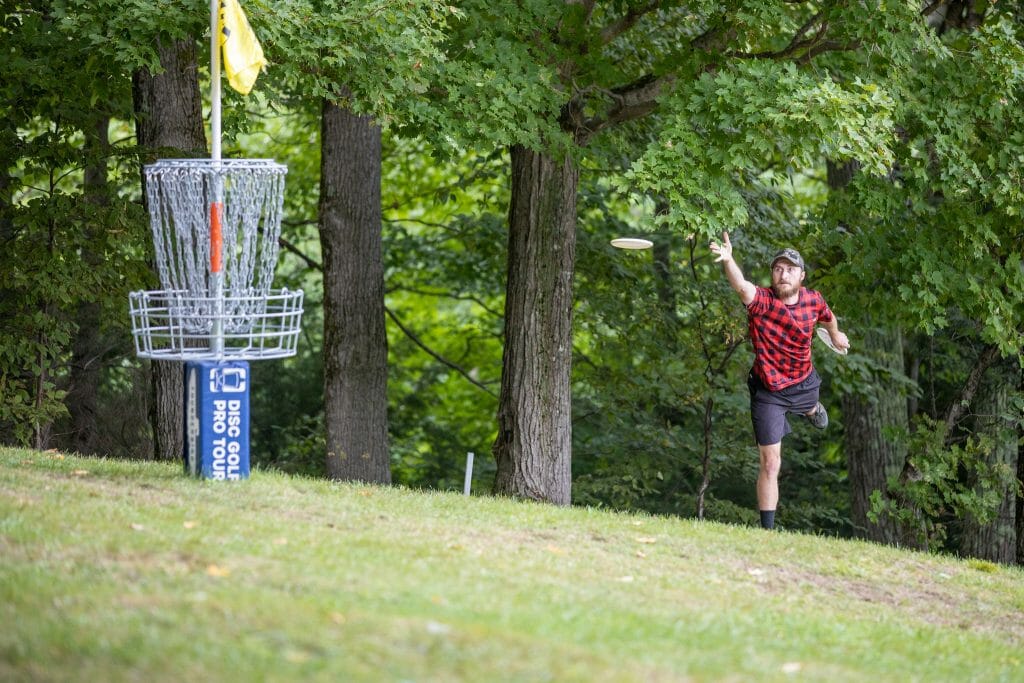 When the winds are up at Smugglers' Notch, Fox Run Meadows is quick to punish an errant throw and every 20-foot putt takes a mental toll.
Chris Dickerson came into the final round with a five stroke lead and wouldn't have to match his course record 12-under par from round 2 to take home a win at the Green Mountain Championship. He would still, however, need to fend off breezy conditions and a former world champion who had been hot on his heels all weekend. Dickerson finished his round at 7-under to push his final tally to 41-under par, good for a three stroke victory, but it did not come easy.
"I know at one point, I think I had a seven stroke lead," said Dickerson. "Ricky worked his way back, he played great. And I had a few holes where I just messed up, basically."
Ricky Wysocki started the day in second place and ended it that way too at 38-under par total, and had in fact clawed back at Dickerson. Early on, both Wysocki and Dickerson were matching each other stroke for stroke by going 6-under par on the first seven holes. A yanked forehand approach on hole 8 for Wysocki was followed by a turned over drive on hole 9, each leading to bogeys, and Dickerson was gifted two strokes to lead by seven making the turn to the back 9.
Shaking off the back-to-back bogeys, Wysocki would put the screws to Dickerson. Wysocki's five hole birdie streak from holes 10 to 14 would trim the lead back to three strokes as Dickerson could only muster a 1-under score on the same stretch. Dickerson gave up a two stroke swing on hole 11, the same hole he had a throw-in eagle on during round 2, by throwing OB twice and carding a bogey.
Teeing first on the left-to-right turning hole 15, Wysocki sawed off a forehand drive to the right side rough where his first attempt at getting out of the woods also failed. A bogey for Wysocki put the advantage back to four in Dickerson's favor with three holes to play. Albeit three difficult holes.
As Wysocki got down the tunnel fairway and into Circle 1 in regulation on the 700-foot par 4 hole 16, tricky footing on Dickerson's second shot caused a low left release into OB. A short upshot meant a double-bogey for Dickerson to Wysocki's birdie. A three stroke swing making it a one stroke margin with two to play.
After Wysocki put another drive into C1 on hole 17, Dickerson responded by putting his disc even closer in. Push.
A safe drive thrown over the right side OB on hole 18 had Wysocki again put the pressure on Dickerson. Dickerson, who took an 8 on hole 18 during round 2 of last year's event, was looking for a similar result to Wysocki's.
"It landed probably 10 feet in — I threw it kinda high hoping it would spike — and then it tried to roll out," said Dickerson of his drive that flirted dangerously close to going OB on the left side parking lot. "Yeah, 18 makes for some good drama."
Dickerson threw his approach first and chipped a forehand softly and safely into Circle 1. Needing magic now, Wysocki went OB on the back side of the green trying to throw it in. The late two-stroke swing pushed the final difference to three strokes.
It's a big win," said Dickerson. "I won the Pro Tour [Championship] twice and the USDGC, those are postseason. So yeah, regular season, feels great to finally get one."
For the event, Dickerson was first in strokes gained from tee-to-green (24.27), fairway hits (91%), and finding C2 in regulation (86%), and top three in finding C1 in regulation (58%), parked (21%), and strokes gained in C1X (5.56). He averaged 1071-rated golf over four rounds.
Paul McBeth made a last day move to catch Andrew Presnell to tie for third at 30-under par total. McBeth started the round trailing Presnell by seven strokes before throwing a 9-under par final round. Eagle McMahon threw the hot round 10-under and jumped up 19 spots into a tie for seventh with Calvin Heimburg at 24-under par total. Andrew Marwede and Matt Orum were fifth and sixth, respectively.