Round 2 Recap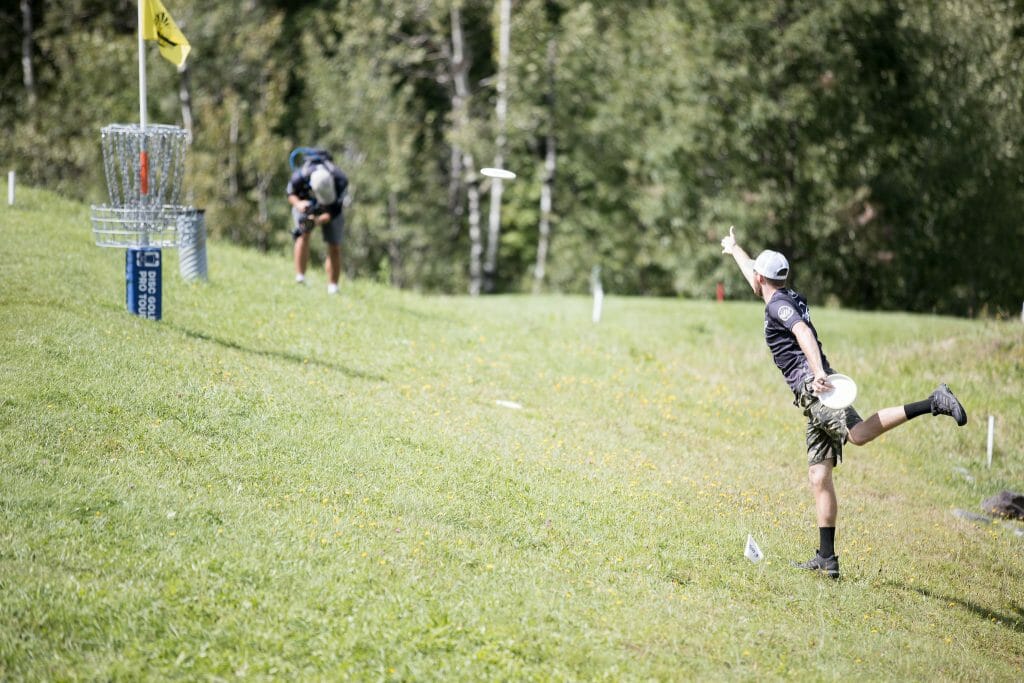 When the Open division moved over the Fox Run Meadows for the second round of the Green Mountain Championship, players got aggressive to pick up extra strokes before ducking back into the woods.
A good way to get a lead at a tournament is to shoot a course record, and that's just what Chris Dickerson did with a 12-under par round on Friday. The bogey-free effort's difference maker between past 11-under rounds was a throw-in from the fairway on hole 11 for eagle, but Dickerson was feeling it all day. The Tennessean only needed to attempt eight Circle 1X putts, making all of them, and led the division in strokes gained from tee-to-green at 7.21. Dickerson never went under par on more than four consecutive holes, and only missed two greens in regulation, holes 7 and 17. He moved up two spots from third to sit in first place by two strokes at 21-under par total.
Ricky Wysocki is in second at 19-under par and actually recorded more holes under par than did Dickerson in an equally impressive 11-under par round 2. Wysocki's first par didn't come until hole 13 but he offset two of his gains with bogeys on holes 5 and 9 having gone OB on both. He reached C1 in regulation on 72% of the course, five percentage points better than the next best players. Wysocki moved up seven spots on Friday.
Staying put with a 9-under par round in third place is Andrew Presnell at  18-under par total. He shook off a missed scramble and two-putt on hole 1 to finish his round cleanly, even though he added two more two-putts throughout the day. Simon Lizotte got back into top 10 contention by jumping 51 spots into a tie for 16th at 11-under par total with a 9-under par round of his own.
Day one leader Chandler Fry momentarilly looked like he was going to be able to shake off a quadruple-bogey 7 on hole 3 to salvage his round, until another double-bogey on hole 16 dropped his birdies he clawed back. Fry is in a tie for ninth at 12-under par total.
Paul McBeth, Paul Ulibarri, Matt Bell, and Dylan Capaccioli are all tied in fifth at 13-under par total after all four players shot matching 5-under par rounds. Of the grouping, Capaccioli actually had the highest birdie rate at 56%.
Andrew Marwede remains on the lead card in fourth at 15-under par with a bogey-free 6-under round 2. He was top five in strokes gained putting at 3.53 and made three 50-footers on the round to go with a perfect 100% rate from C1X.