Final Round Recap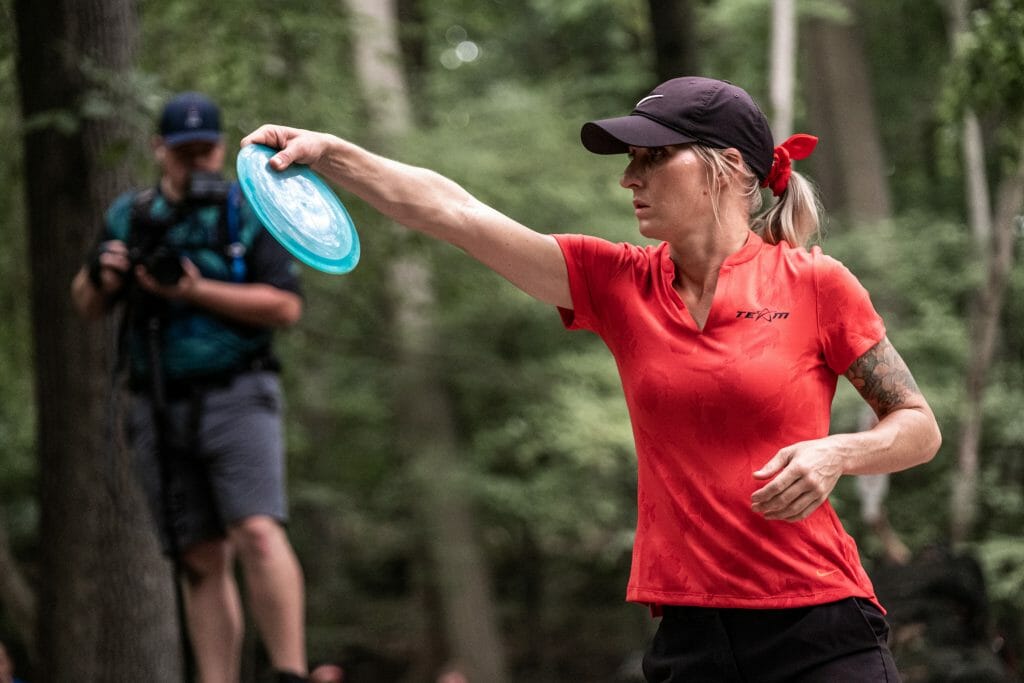 After yet another hot round on Championship Sunday, Catrina Allen is leaving the world's top-rated course with a W­. This win gives Allen her third Elite Series win of the year to go along with the Pro Worlds title, and now makes her a two-time champion at Maple Hill.
"Amazing, after nine years I have finally figured out that it's a battle out here and it's not going to be perfect," said Allen. "You might kick where you don't want but you must persevere and look just in the moment and stay calm. That was what helped me the most was just not getting too far ahead of myself or getting mad."
Staying in the moment was the name of the game for Allen as she held the lead for the final two rounds of the tournament. Being the only player amongst the field to not have a round over par is truly a testament to her mental toughness and consistency.
"I'm just in that really good mental space where, I wouldn't say easy," said Allen. She did, however, admit there were some lingering thoughts on Sunday. "Today was very difficult to quiet the mind. There were a lot of 20-footers where some thoughts came — I was just sticking to my routine."
Her routine kept her in the correct mindset putting 74% from C1X and finishing top five in C2 putting at 20%, where she has struggled in the past. She was able to show off her impressive arm speed leading the field in parked percentage at 13% which resulted in a 26% birdie percentage on the weekend, tops in the division.
Allen's performance comes off an impressive win at Delaware and now tallies back-to-back Elite Series wins for the first time this year, and first time since 2019.
"I'm going to get up there, get a game plan, and continue to work on the tee boxes to make sure that I have the right disc and angle," said Allen. "Let all that come through and I feel like if I focus on those things that's what is putting me at the level of golf that I'm playing. Focusing on myself and what I can do."
Allen's dominance put her as the only FPO competitor to finish under par on the weekend. With a 1-under par final round, she finished 4-under par which was seven strokes better than the next closest competitor.
Kona Star Panis capped her weekend in second place with a score of 3-over par. After what seemed like a steady weekend, her 4-over par final round put her out of striking distance from Allen. Her final round she couldn't find her way on the greens where she was 31% from C1X. It's Panis' third Elite Series top three.
Rounding out the podium was Paige Pierce. Not the typical performance from Pierce that we see week in and week out. After a strong performance on moving day, her 2-over par final round tallied 4-over on the weekend. Even though she led the field in fairway hits at 67%, she found a triple-bogey and double-bogey that put her out of reach from the top spot.
The players now have a quick turnaround where they will make their next stop on tour this upcoming weekend, September 9-12, at the Green Mountain Championships.