The next big thing is already here.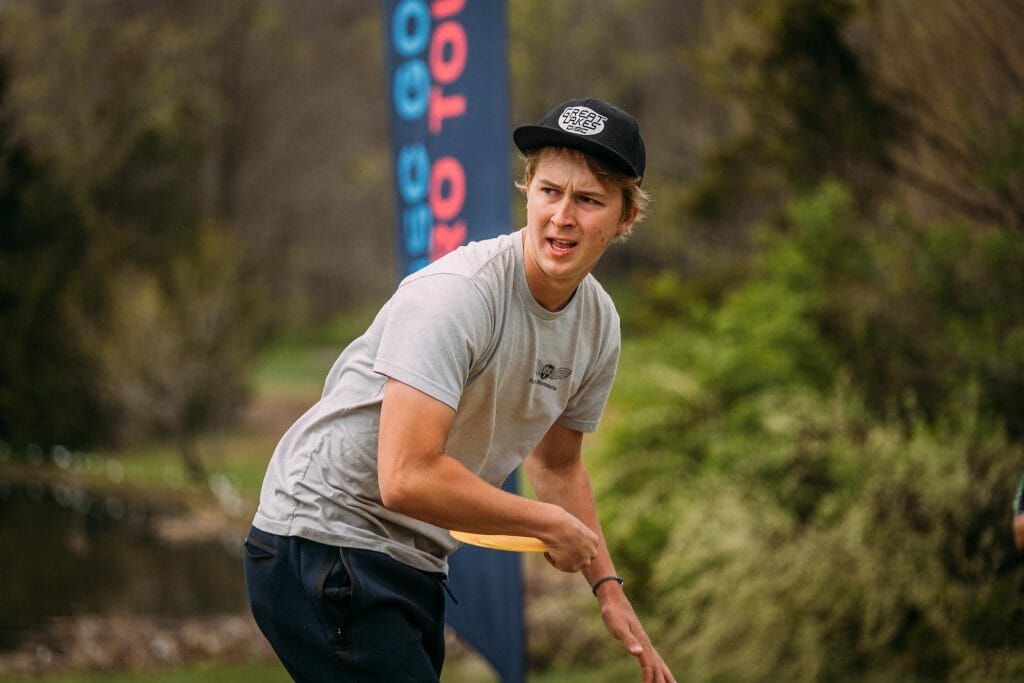 At just 19 years of age, Kyle Klein has developed a reputation as the "third Crush Boy" alongside fellow Discmania sponsored pros Eagle McMahon and Simon Lizotte. Like his powerhouse teammates have done in the past, Klein has shown that youth does not always equate to growing pains.
Since the Disc Golf Pro Tour's MVP Open in 2020, Klein, last year's PDGA Rookie of the Year and the 2019 US Amateur Champion, has finished in the top 10 at nine Elite Series events and Majors, including a 5th place finish at the 2020 United States Disc Golf Championship and an 8th place showing at the 2021 World Championships, along with his recent win at the 2021 Idlewild Open on the Disc Golf Pro Tour.
"[USDGC] really taught me how to be patient on the course," said Klein about his breakthrough showing last year. "I learned how to take the birdies when I can get them and not get too aggressive."
When asked about what has led to his recent high finishes, Klein pointed to his Circle 2 putting. "I've been making those putts when I need to. I'm trying to develop a higher spin rate, get it in the air, and do it more often," he said. For Klein, it's the reps that give him confidence.
Klein nearly had two Pro Tour wins in a row, as the 2021 Ledgestone Insurance Open saw him rattle off five birdies through five holes in a final round that was ultimately cancelled, nullifying his hot start.
"I wasn't necessarily robbed," said Klein when asked about the way the weekend shook out. "I didn't even know exactly what was going to happen. The staff made the right call by cancelling the final round, and I respect that choice."
Despite the minor setback, Klein remains very confident about his game. "I've been in the zone since Pro Worlds, and even at the OTB Open I felt like I was playing my best golf," he said.
It is uncommon to see someone so new into their professional sports career have so much composure. Klein's display of maturity has elevated him to the status of a top-tier pro in just his second season on tour. "Many have said I actually went pro a little too soon," he said. "But I think it's been beneficial to my mental game."
Klein's abilities are also on display in his statistics. Klein has the following credentials:
#4 in the Ultiworld Disc Golf Power Rankings
#5 ranked MPO player in the world by UDisc
5th in the 2021 DGPT points standings
12th in Parked Percentage
84% from Circle 1X putting (31st among qualifying players)
43.5% birdie rate (13th)
Although Klein is among the top of the "new order" MPO players, he knows that he will have stiff competition for the rest of his career. "It's definitely a 'thing' that's happening (on tour)," he said. "I mean I've even heard Eagle (McMahon) being referenced as a young gun, and he's the number one player in the world. We also got Cole (Redalen) and Gannon (Buhr) coming strong."
Living "the dream" on the road, nothing stands between Kyle Klein and disc golf stardom. Once just a kid from Michigan, Klein has already found his place at the top of the world's fastest growing sports. You can follow Klein on instagram @kyle.klein.dg. He is competing this weekend at the MVP Open, a Disc Golf Pro Tour event.