Final Round Recap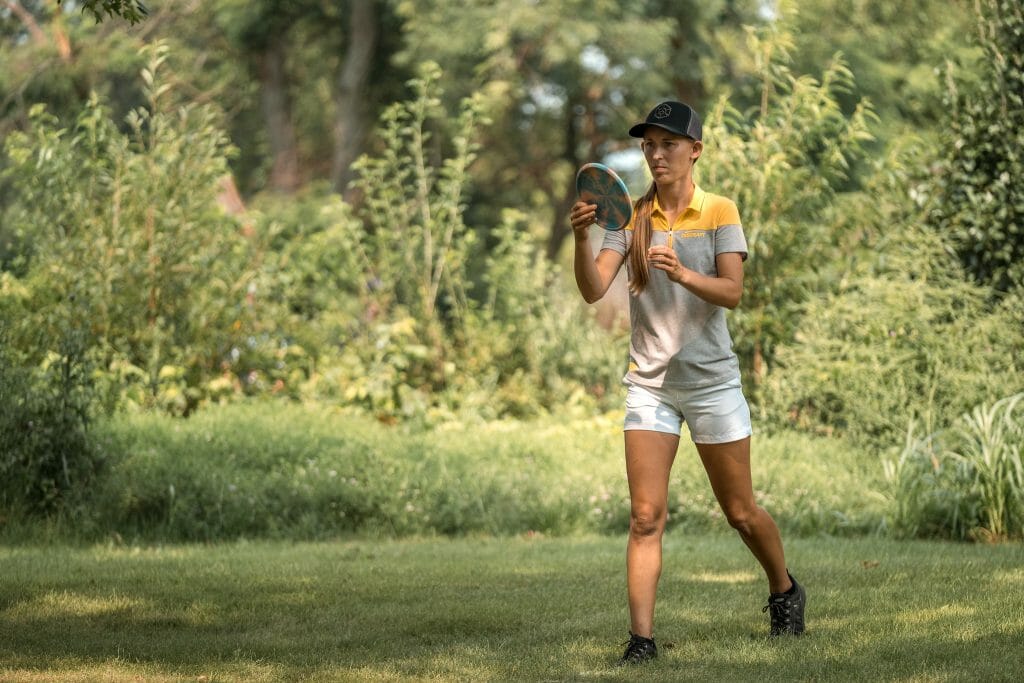 Paige Pierce has been on an uncharacteristic streak, having not won an Elite Series event in two months despite playing in four. A wire-to-wire victory at the 2021 Ledgestone Insurance Open solves that problem and gives the no. 1 ranked Open Women's player in the world an extra level on confidence heading into the most tree-heavy stretch of golf the tour sees annually.
"Feels good to have a trophy in my hand again, and my game felt really good this week," said Pierce. "I think it's probably statistically one of my best tournaments off the tee. My drives, especially on wooded courses, kind of get me all over the place. It felt really good to hit the fairways."
Three safe bogeys to close out the final round on Northwood Black did nothing to diminish Pierce's dominance over four rounds in Illinois. She was the only player to finish under par on Sunday, 1-under, and she grew her final advantage by two strokes to 11 with a total 72-hole score of 19-under par.
"My last practice round I was telling Nate [Perkins] and James [Conrad] I'm not going to shoot under par. I was not feeling any sort of confidence, my driver wasn't coming out of my hand correctly," said Pierce. "I started the event with three bogeys, and then after that eagle on six my whole demeanor changed. Like, I'm capable of anything, I know I am. It was cool to find that confidence again and keep it all weekend long. Hopefully I can hold onto that going into Idlewild."
At 29.26 strokes gained, Pierce had 11 more strokes gained from tee-to-green than the next closest player, Sarah Hokom. Her dominance wasn't only off the tee; Pierce was fourth in Circle 1X putting percentage and led the division in strokes gained from C1X at 9.81, hitting 43-of-50 attempts.
While Pierce's lead was never in question on the final round, it was a dogfight for the other two podium positions as at least six women were viable options to grab a trophy.
Missy Gannon and Hokom started the day in second and third, respectively, separated by one stroke, with Maria Oliva and Catrina Allen one behind Hokom, and Hailey King and Valerie Mandujano on their tails. The front 9 was relatively calm with no player making up major ground, though Allen did get hit hard on holes 7 and 8 to drop back, but after the turn things ratcheted up quickly.
Playing on the chase card, Oliva caught Gannon and Hokom in a tie for second place at 8-under par overall after connecting on a C2 putt from the woods that ramped off a tree branch and into the basket for birdie. She'd also birdie hole 11 to keep up the pressure.
Hokom found C1 in regulation on both holes 10 and 11 and did not make the birdie putts. Meanwhile, Gannon also reached C1 and converted to regain solo second by the tee of hole 12. The next four holes would really decide the podium. Gannon stayed even par over the stretch with a single bogey and birdie, as Hokom saw three bogeys to go 3-up, and Oliva succumbed to the rough and went 5-up on the section.
Gannon held onto second place to finish at 8-under par overall with a final round 1-over par. It's her second Elite Series podium in 2021 having won in Des Moines last month. Hokom's third place finish at 5-under par total is her third DGPT podium this season. Oliva dropped one spot into a tie for fifth with Hailey King, and it's Oliva's best career Elite Series finish.
Mandujano was able to edge her way into solo fourth at 4-under total by going 3-down over the final six holes with zero bogeys. She was the only player in the division to not bogey over this stretch of holes on Sunday, and hit five straight C1X putts in the process.