Round 3 Recap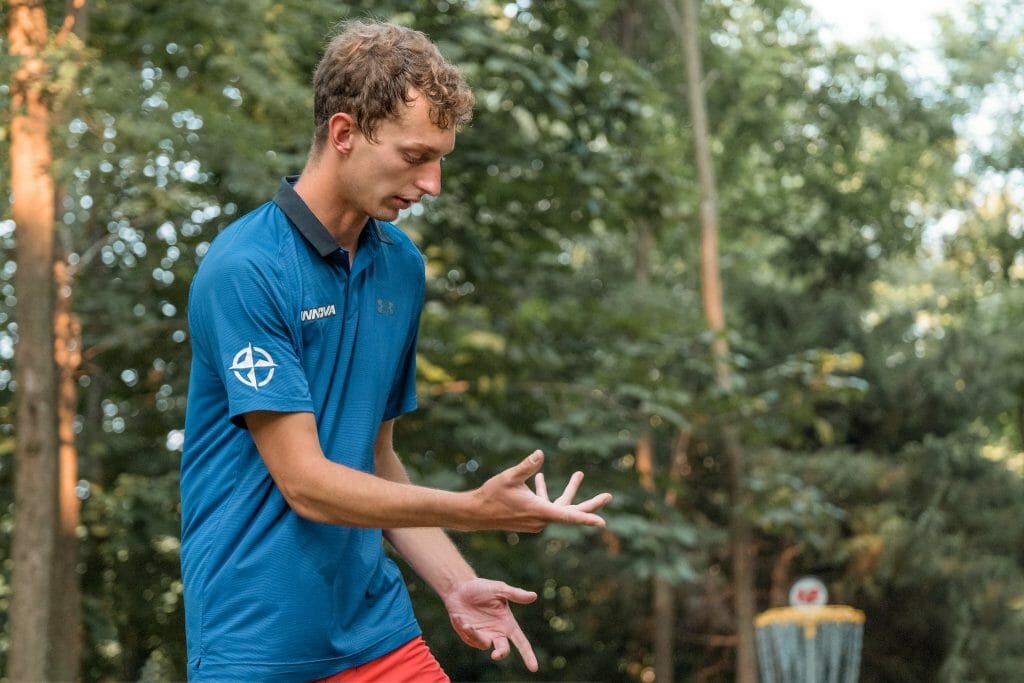 Moving day on Northwood Black didn't see the leaders separating as they would have liked at the Ledgestone Open.
After a monstrous second round, Calvin Heimburg came into the third round with the lead and kept it, but now shares first place with Ricky Wysocki. Heimburg could only muster a 1-under par round and is sitting at 17-under par total. He was tested early on the putting green Saturday and converted, hitting five Circle 1X and a C2 attempt on the first six holes. Sitting 3-down at the turn, Heimburg started scrambling to start the back 9, with a turkey of bogeys erasing his gains. He made good with a birdie on hole 16, the second easiest hole to par, to finish the day with a negative score.
While Heimburg struggled on the treacherous stretch to start the back 9, Wysocki made up ground with a string of pars. An eight hole par streak between holes 8 and 15 gave Wysocki a two-stroke advantage over his co-leader and was the difference in his final round score of 3-under par. Wysocki was able to save a scramble for par on hole 17, but could have had the outright lead after 54 holes if not for a missed scramble bogey on hole 18.
Drew Gibson fell off the pace a bit, even after throwing in for eagle on hole 2 to start the day 3-down including a birdie on hole 1. Like Heimburg, the back 9 was unwelcoming and going 4-over par between holes 11 and 14. He's three strokes behind in fourth at 14-under par.
Still in spitting distance of the lead at 16-under par is Eagle McMahon. He climbed up to a final 4-under par round with a turkey to finish the round going 3-down on holes 16, 17, and 18. Like Wysocki, McMahon was 100% from C1X (11-for-11) and added two makes from C2, one a big 50-footer to save par on the par 5 hole 12 to pick up strokes on Heimburg and Wysocki.
Congrats to Andrew Presnell for acing the 320-foot hole 17.