The event has already got new tricks in year two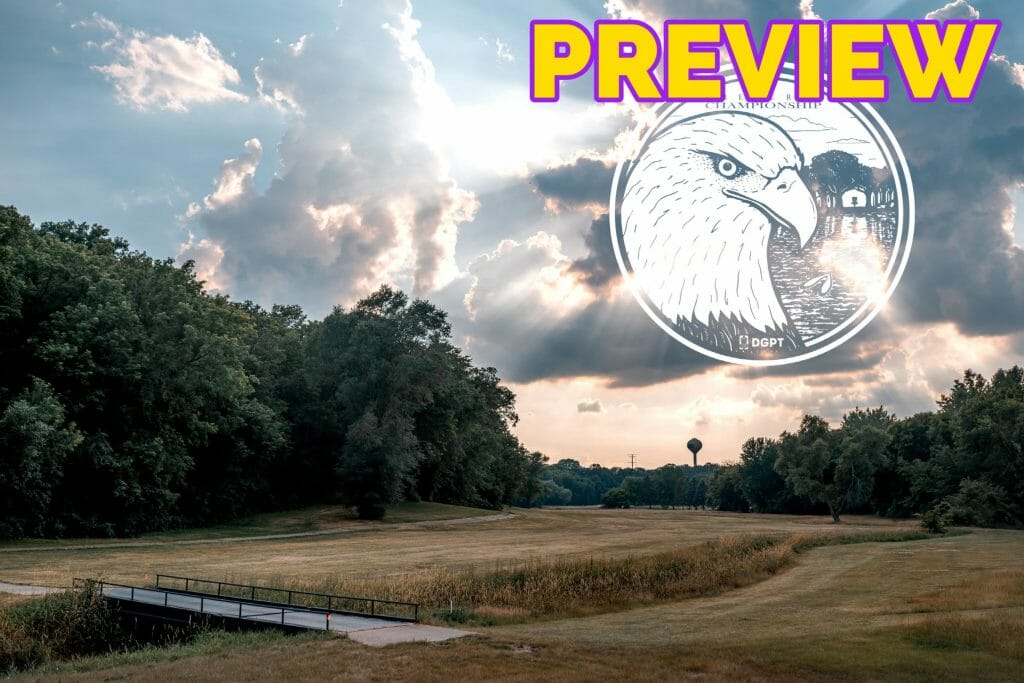 As wildfires filled the Minnesota skies with smoke in the buildup to The Preserve Championship, the pros prepared to air out their discs on the tree-lined fairways of Cale Leiviska's northern oasis.
The Disc Golf Pro Tour added this event to the 2020 schedule last minute, and it definitely felt like the tournament was still in a break-in phase. With an entire year to prepare and experiment, the revamped property is ready for a true test of the top-tier talent.
It should be fun to watch a full-field with half a season's worth of competition behind them attack this course. Last year rewarded a lot of the the big throwers, so with more added wooded features this season, the ability to throw an extra hundred feet over a competitor may not be as big of a separator. Until you hit the par 5s, of course.
Kristin Tattar will be playing her final event in the U.S. this weekend in Clearwater, and should have a good chance to repeat as a DGPT winner after getting her first tour victory last weekend. Shot-for-shot she matches up with the best of the American players, and now there's a little less pressure weighing over her. If Tattar is trying to defend her first DGPT trophy from last week, Nikko Locastro will be looking to defend his first DGPT trophy from last year's Preserve Championship. Locastro started 2021 with a bang at Waco and a couple of of solid top 10s but hasn't been hitting since Worlds.
Past Winners
| Year | Tier | MPO | FPO |
| --- | --- | --- | --- |
| 2022 | DGPT | Bradley Williams | Paige Pierce |
| 2021 | DGPT | Ricky Wysocki | Kristin Tattar |
| 2020 | DGPT | Nikko Locastro | Paige Pierce |
What We're Watching
It's probably time to announce that Emerson Keith is back. An up-and-down finish to 2020 at elite events carried over into 2021, but since the Utah stretch Keith has been on a hot streak. His fourth place finish at DGLO last week was his best at an Elite Series event since last year's Preserve Championship.
With a redesigned layout, will the Black Bear course give away birdies as easily as it did in 2020? Paige Pierce was averaging almost double-digits under par per round, and several MPO players approached "perfection."
Two potential favorites to take home wins this weekend are also playing the course for the first time. Neither Paul McBeth nor Hailey King played the Preserve Championship last season and both should be expecting the podium.
GRIP6 Pick 6 Locks Of The Week
Calvin Heimburg was near untouchable to start the season, finishing top five in his first eight events. The Preserve played to his advantage last season, as Heimburg was able to throw a lot of high-power, direct shots across the course, and it's hard to see him outside the top 5 here, despite last week's 13th place finish. Simon Lizotte should also thrive again in Minnesota, as The Preserve gives amble opportunities to throw aggressive lines.
Paige Pierce is in the middle of another streak of 3+ events without a win this season. Completely uncharacteristic of her. She won big here last year and this will be her last chance to battle with Tattar, something Pierce says she really enjoys.
The Course
Airborn Disc Golf Preserve, Black Bear: MPO – 10,775 feet, par 65; FPO – 9,958 feet, par 66
Cale Leiviska's Airborn Disc Golf Preserve was an excellent fill-in venue last year as the season was restarted after the intial COVID-19 break, but it played a bit… soft. Leiviska, who only opened Airborn in 2020, has been busy on the property redesigning a lot of the layout on the Black Bear course, extending it by several hundred feet for each division, including an extra par 5 that measures 1,500 feet for the MPOs. Par was only raised a single stroke, so there may not be those 17- and 16-unders we saw in 2020.
Extended Forecast
High pressure has settled into the northern United States, bringing calm conditions across the region. Wildfire smoke is still filling the air across Minnesota, despite improvement in near-surface smoke from yesterday. Smoke will remain in the area through Saturday. Expect dramatic improvements to air quality on Sunday.
Friday: Foggy conditions early give way to smoky conditions in the late morning and afternoon. Highs will top out near 82°. Southwest wind of 5 mph expected.
Saturday: Smoke remains in the area. Afternoon highs top out in the mid 80s. That southwest wind will intensify some to 5 to 15 mph as it shifts out of the northwest.
Sunday: Smoke will be clear of the area. Highs top out around 80°. Northerly wind of 5 to 10 mph expected.
How To Watch