Final Round Recap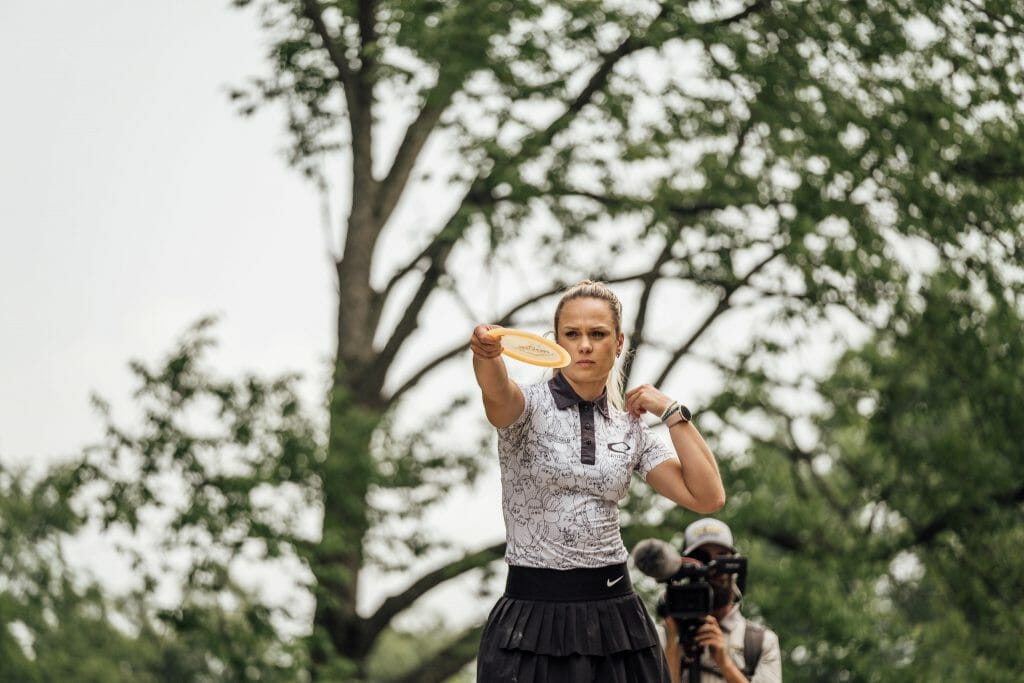 Kristin Tattar always wants to compete with the best. She made the difficult decision to quarantine away from her family so that she would be able to travel into the United States from her native Estonia and compete at Pro Worlds and a mini stateside tour.
On Sunday, off the back of one of the biggest putts of her career, Tattar collected her first Disc Golf Pro Tour win at the Great Lakes Open, and her third W since arriving in the country just over a month ago.
"I've been waiting for this for one and a half years and I've been training almost every day, dreaming about coming here and competing," said the 2019 US Women's Disc Golf Champion Tattar. "Now I'm finally here, it's a dream come true."
Paige Pierce held a two stroke lead over Tattar heading into the final round after a late bogey on hole 17 during round 2 from Tattar gave Pierce the advantage. Pierce immediately returned the favor to Tattar on Sunday, shanking her drive on hole 1 before two-putting to a triple-bogey giving Tattar a one stroke lead.
The two were heads-down battling from there, trading birdies and the lead back-and-forth over the front 9 until Pierce caught Tattar at 15-under par on hole 9 when Tattar flinched, her birdie putt falling out of the chains for an eventual par.
After the turn, Tattar was first to take advantage again, tapping-in a parked birdie on hole 13 after Pierce missed a 15-foot birdie chance of her own. As was the trend on Sunday, Pierce would immediately rectify her mistake by sticking her approach on the par4 hole 14 inside the circle to clean-up a birdie she left on the green of the previous hole. It was still tied with two holes to play.
Hole 17's green hurt Tattar on Saturday, but the score was knotted and Tattar and Pierce are two of only a handful of Open Women's players who can get a look for eagle on the 755-foot par 5. Both were going for it. After making it safely into the fairway off the tee, Tattar threw her approach first and landed inside Circle 2, but not quite up the front slope. She'd be able to see the top of the basket for an eagle look. Pierce was a little further up the fairway, and went full send toward the green, hitting a bit short but skipping up comfortable to about 30 feet from the basket and on the plateau.
Despite her roll-away 24 hours before, Tattar knew it was time to go for it.
"I was asking for scores from Silver [Latt], and he told me that we're tied. So, I just told him that I have to go for it," said Tattar. "This is the only way because I was so sure [Paige was] going to make it. When I saw the disc come out of my hand, I knew that it was going in. I was like, yes, I have a chance."
Tattar drilled the uphill 50-footer with a quick snap of her legs and pumped her fist after getting the first eagle on hole 17 of the weekend with Pierce cheering on behind her. Pierce had a tester, and had previously missed a good eagle chance on 17 earlier in the week. She would miss again and settle for a birdie giving a one stroke lead back to Tattar. Hole 18 had not been birdied all weekend, and it wasn't on Sunday either. Tattar forehanded her way up for an easy par and the victory at 20-under par total after a final round 9-under par hot round.
"Worlds was tough, and the following weeks were tough, and I just couldn't find myself on the course and didn't really recognize myself," said Tattar, holding back tears. "Now I'm really proud of myself that I kept fighting, no matter what."
Tattar's unofficially rated 1014 final round would tie for the highest in her career. She also held off Pierce during the final round of her win at the 2019 USWDGC. Tattar was first or second in every major driving category at the event, including strokes gained from tee-to-green at 21.26, more than two strokes better than the next best player, Pierce.
Pierce's second place finish at 19-under par is her sixth podium in seven DGPT events this season. Catrina Allen finished in a comfortable third at 11-under par, and Heather Young and Hailey King tied for fourth at 7-under par.