Final Round Recap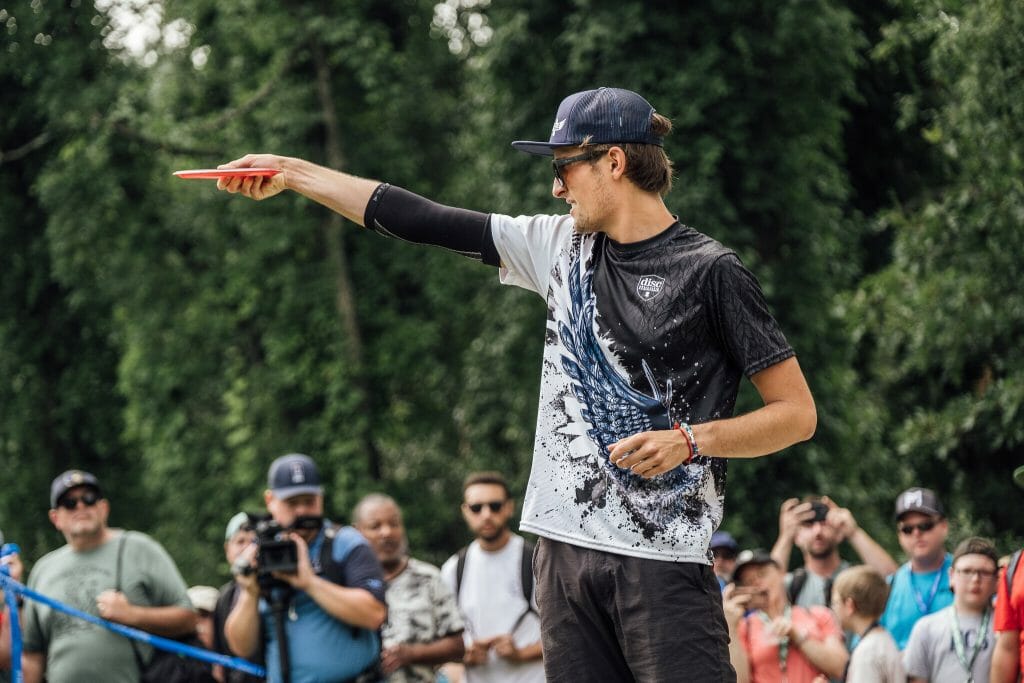 The Great Lakes Open has a history with "perfection." The 2021 edition didn't feature an 18-under, but the Open division final round had two players playing near the peak of their talents in a down-to-the-wire duel.
Discmania teammates Eagle McMahon and Kyle Klein entered the final round at Toboggan tied in in first place with Kevin Jones at 17-under par total, and quickly McMahon was out of the gate with four consecutive birdies to give himself some breathing room.
While McMahon would reel off another five straight birdies after missing hole 5 to go 9-down on the first 10 holes, Klein would put together a streak of his own as Jones would fall off the pace. Klein recorded six straight birds starting at hole 4, and was doing well to keep up with a surging McMahon. Klein even looked prepared to get a stroke on McMahon on hole 10 with McMahon off in the rough with a tough look for bird and himself looking up at the basket in C1. Instead McMahon made his birdie putt first from a knee, and Klein hit the chains a bit too high causing the disc to pop out, a similar miss Klein had on hole 8 during the opening round.
The two-stroke lead for McMahon would not last however. McMahon admitted things got a bit "stagnant," and Klein recovered from the two-putt on 10 with two consecutive birdies to McMahon pars and tied the score at 26-under par.
"I had an insane start… and I thought that was gonna be like enough to do it, but I couldn't keep Kyle off," said McMahon. "I put in so much work for him to be this close. I thought I was gonna run away with it."
McMahon made his first real mistake of the day with his tee shot on hole 13 finding the rough and not being able to salvage par, while Klein made a par look routine and easily took a one-stroke lead. On hole 14, however, it was Klein's turn to slip-up. In a bit better position on the right side after the tee shots, but still in the rough, Klein sawed off a backhand into the left side rough by the green meaning he'd have to settle for par. Over on the left side of the fairway, McMahon skipped an extreme hyzer around the corner for a parked birdie, tying it back up. McMahon would again fend off Klein with a C2 par save on hole 15, and he had his sights set on where to attack.
"I knew the last two holes, if I birdied them both, it's going to give me a really good chance to put the pressure on Kyle," said McMahon.
Hole 17 had caused both McMahon and Klein trouble off the tee in early rounds, and despite both players saving birdies from the right side road, it's a place you don't want your drive to land. On Sunday, Klein and McMahon played safe shots into the bottom of the bowl. Klein had another backhand approach from the fairway land a bit short of the circle and looking up at the basket from the top of the slope. McMahon's standstill forehand from the rough on the right side was flexed around a guardian tree and skipped atop the plateau near the green and into the woods in C2, level with the basket, but roll-away potential on the other side. With similar distances to the pin, Klein's birdie attempt appeared a bit more appealing, and McMahon was up first.
After a deep breath, a steely McMahon spun a 40-footer directly into the heart of the chains for a birdie, shifting the pressure onto Klein. His disc would never center onto the pole, skimming the chains off to the right side of the basket before a tap-in for par.
"It takes time to gain the confidence, it takes practice. It takes putting yourself in the position over and over again," said McMahon when asked what it took to make the death putt.
The final hole leaves nothing for granted, and McMahon and his newfound lead still needed to hold off Klein. Both players would stick forehands up the hill and to the edge of the circle. McMahon again was putting first, and with a similar distance putt to what he made to win the 2020 DGLO, he converted another C2 putt to secure the W with a final score of 28-under par with a final round 11-under par. Klein would also make his putt and finish in second at 27-under par total with a 10-under par final.
"It's honestly unreal how it shaped up. I can't believe I had the same putt to win the tournament," said McMahon. After congratulating Klein on a well-played tournament, McMahon did chide him for an interesting attire choice. "One thing I'll say is, Kyle, you need to get your own shirt because you're not winning when you're wearing mine."
McMahon led the division in strokes gained putting (9.23), and Michigan's Klein was tops in finding C1 in regulation (48%).
Corey Ellis jumped up two spots into solo third at 24-under par, and James Conrad, Adam Hammes, and Emerson Keith tied for fourth at 23-under par. Conrad made eight consecutive birdies to close out the front 9, including five makes from C2/Conrad Country. He'd add two more on the day to go 7-for-11 from long range.