Round 1 Recap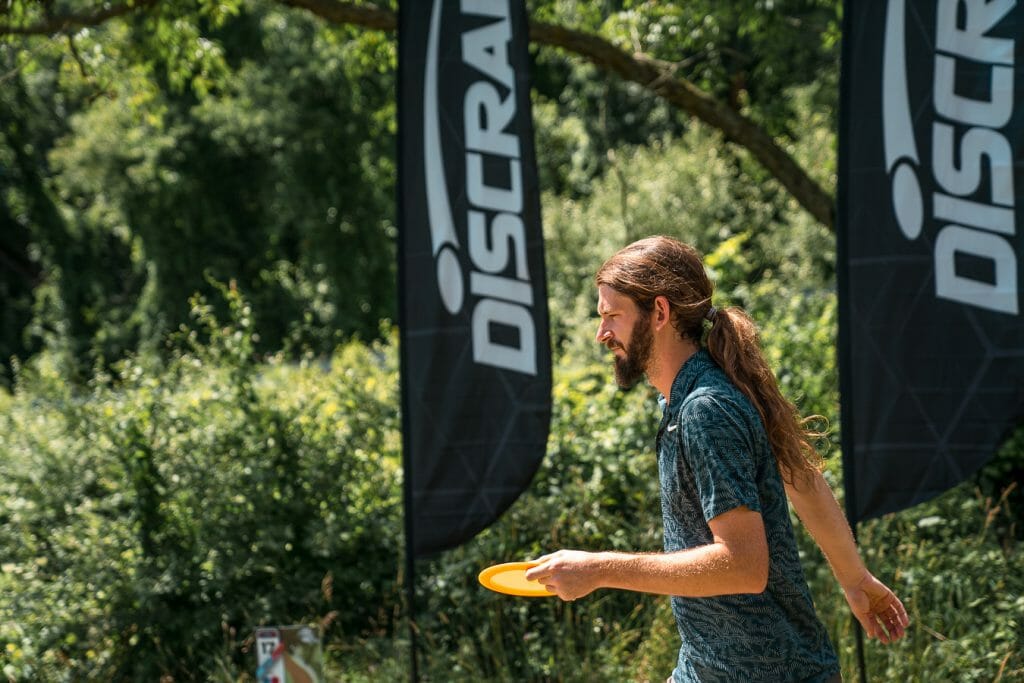 Rainy conditions on Friday caused another degree of difficulty to be added to the Toboggan track at the 2021 Great Lakes Open during round 1.
Emerson Keith led the field in birdies with 10 but offset it with the lone bogey in the top five. James Conrad is first in the division in finding Circle 1 and Circle 2 in regulation, as well as strokes gained from tee-to-green. Both Keith and Conrad were two of only three players in the field to birdie the final three holes, and the duo are tied in first place at 9-under par total, one stroke clear of a tight field.
Tied in third at 8-under par are Eagle McMahon, Ricky Wysocki, and Corey Ellis. If you are not as familiar with Ellis, the Discraft-sponsored pro from West Virginia has made past DGLO and Idlewild video coverage, and finished 15th here in 2020. McMahon was the only player of the three to miss inside C1X but made up for it with two C2 makes, both for birdie.
Of the five players tied in sixth at 7-under par — Garrett Gurthie, Paul McBeth, Silver Latt, Chris Dickerson, Albert Tamm — only Dickerson was able to shoot a better back 9 than front 9. Of the top 10, Dickerson, Conrad, and Keith were the only player to go lower on the more difficult half of the course after the turn. Gurthie was 5-down through five holes but shot himself out of the lead with two bogeys.
Ten players are three strokes off the lead and tied in 11th place at 6-under par. Simon Lizotte, Kyle Klein, and Ezra Aderhold each had three strokes over par on the day that held them back on a course where you can't afford to not save par. Klein did have an improbable birdie after shanking his drive on hole 17 onto the far right side road. The shot was not OB, and Klein put his approach inside Circle 1 with a huge hyzer.
Heard
"Putting was really difficult, especially on the wet slopes. I was literally only using my feet one at a time." – Gannon Buhr, tied in 11th at 6-under par.
"The new holes were pretty cool but the biggest change for me was the new tee pads. Those make a world of difference, especially in the wet conditions. I was still able to trust my feet on the new concrete pads and really commit to my shots and attack. Had we not had these tee pads I would not have shot nearly a 9-down." – James Conrad.