Round 1 Recap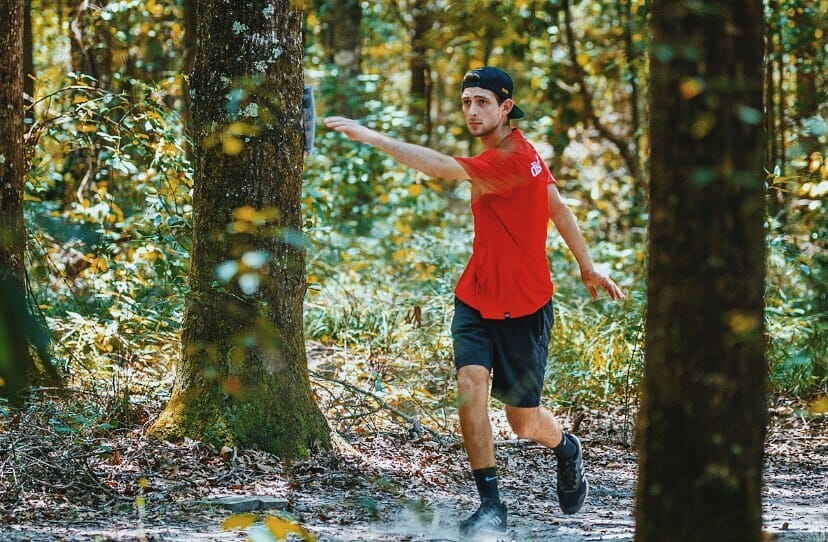 The weather that looked like it would threaten action over the weekend caused a number of hefty delays during round 1 of the Des Moines Challenge. At the end of the day it's a player at their first tour event of the year leading the pack by two strokes.
Silas Schultz comes from a disc golfing family in Louisiana, and he's won a brand new car playing the sport at the 2018 Next Generation Tour National Championship. With a 9-under par hot round, Schultz leads an Elite Series event for the first time in his young career. He leads the division in finding both Circle 1 and Circle 2 in regulation, as well as strokes gained from tee-to-green. Schultz's score could have even been a notch lower had it not been for three two-putts, but getting a birdie on the toughest hole on the course, the par 4 hole 11, definitely helped make up for the lost strokes.
Paul McBeth, past DMC champs Ben Callaway and Zackeriath Johnson, and Albert Tamm are tied in second place at 7-under par. Tamm was able to tie Schultz for the most birdies on the day at 10, McBeth had four two-putts, and Callaway's putter didn't hit the ground when he was in C1.
In the group of seven players tied in sixth at 6-under par, Jake Lauber was the only player in round 1 to finish bogey-free. Gavin Rathbun turned an over par front 9 into the negatives by birdieing six of the final seven holes.
Congrats to David O'Meara for getting the ace on the right turning, 320-foot hole 3. He's tied in 38th at 1-under par.
Tristan Tanner was 6-under par through 13 holes and looking good but had a tumultuous end to the day going double-bogey, bogey, double-bogey, triple-bogey. He's 2-over par and tied in 64th.
Statline
While hole 11 was the toughest hole to par, coming in 0.73 strokes over, three holes actually had a higher percentage of triple bogeys or worse — holes 2, 6, and 18. With 5% of players ruining their days with a triple-bogey or worse on hole 18, the final green also say two scores in the double-digits and could be a tournament decider if scores stay as tight as they are now.
Heard
"My plan going into this was top 20, and that's still my plan. I'm not trying to take this down. Obviously, I'm going to shoot as best as I can, but I'm not shooting for the stars. Top 10 would be fantastic." – Silas Schultz