Round 1 Recap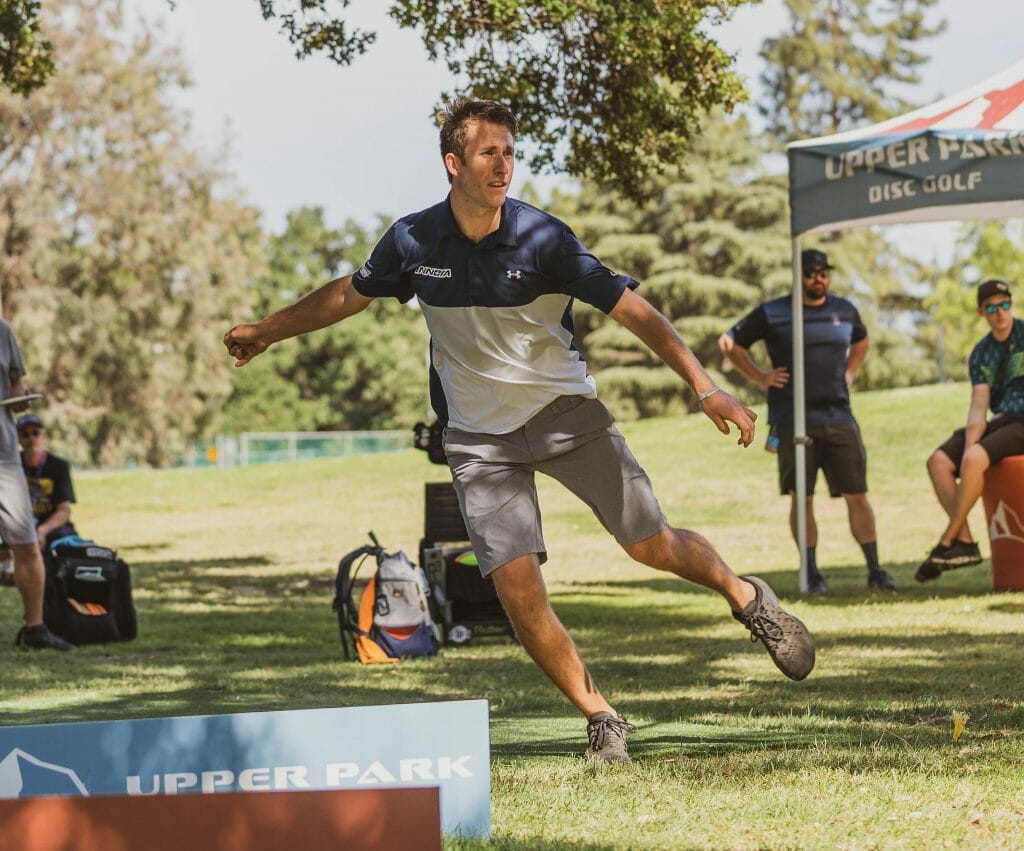 After a week of hand wringing over the new course for the Portland Open, we finally got our first true look at how the pros would play on the Glendoveer track. After hot starts for a number of players, the scores definitely slowed down as the field approached the turn.
The current top three players on the leaderboard combined for 17 birdies over the front 9 compared to nine on the back 9. Scorecards across the division looked similar, as white squares on UDisc Live were the most common color as the long par 3s proved difficult to get a scoring opportunity on.
Round 1 leader Ricky Wysocki was one of the few players to lower his score late in the round. He was the only player to birdie four of the final five holes, and one of only three players to birdie hole 14 — the 985-foot par 4. His only bogey of the round came via a rough spit-out on hole 10 that Wysocki seems to get more often than other players, where the chain-pole combination pushes his disc back out of the basket toward him. He leads the division in finding Circle 2 in regulation, parked percentage, and strokes gained from tee-to-green. Wysocki sits at 8-under par, an unofficially-rated 1058.
Tied in second, one stroke behind Wysocki at 7-under par, are Eagle McMahon and Paul McBeth. McBeth had six straight birdies from holes 2-7 and carried a 9-under score almost through the finish. A two-putt on hole 17, however, resulted in a double-bogey 5 on the 485-foot par 3. It was McBeth's second consecutive two-putt as he par'ed hole 16 with another just before. McMahon got his single bogey out of the way early with a two-putt on hole 3 and didn't miss a Circle 1X chance from there. He added back-to-back C2 putts on holes 11 and 12.
Scoring separation remains tight down the leaderboard, and the three players tied in fourth — Simon Lizotte, Nikko Locastro, Thomas Gilbert — are just two off the lead at 6-under par. Lizotte hopped off Tour following his first event of 2021 at the OTB Open yet looked sharp as ever. He was the only player in the top 10 to go bogey-free and one of only two players to do it on Friday, the other being Austin Hannum who is currently tied in 11th at 4-under par. Lizotte notched three straight C2 putts at one point midway through the day.
Course designer Dustin Keegan is tied in 44th at even par. His putting was solid — 12-of-13, 93% — but he found OB four times on three holes, including twice on the 1,300+ foot par 5 hole 9.
Heard
"We got through hole 12 and [we] were talking like, 'It feels like we got a whole round done already.' Lot of long holes out here, lot of uphill par 4s and par 5s. But I drank some green tea and kept energized and I was happy with how I dealt with the course today." — Ricky Wysocki, on the fatigue after 18 holes at Glendoveer.
Statline
Only one player, AJ Carey, was able to birdie the opening hole; he was one of only two players to reach C1 in regulation. Three other holes also had a birdie percentage at or below 4% — holes 8, 9, and 14. Hole 9 also had the highest over-par rate, with more than half of the 112 player field recording bogey or worse on the 1,342-foot par 5.