Final Round Recap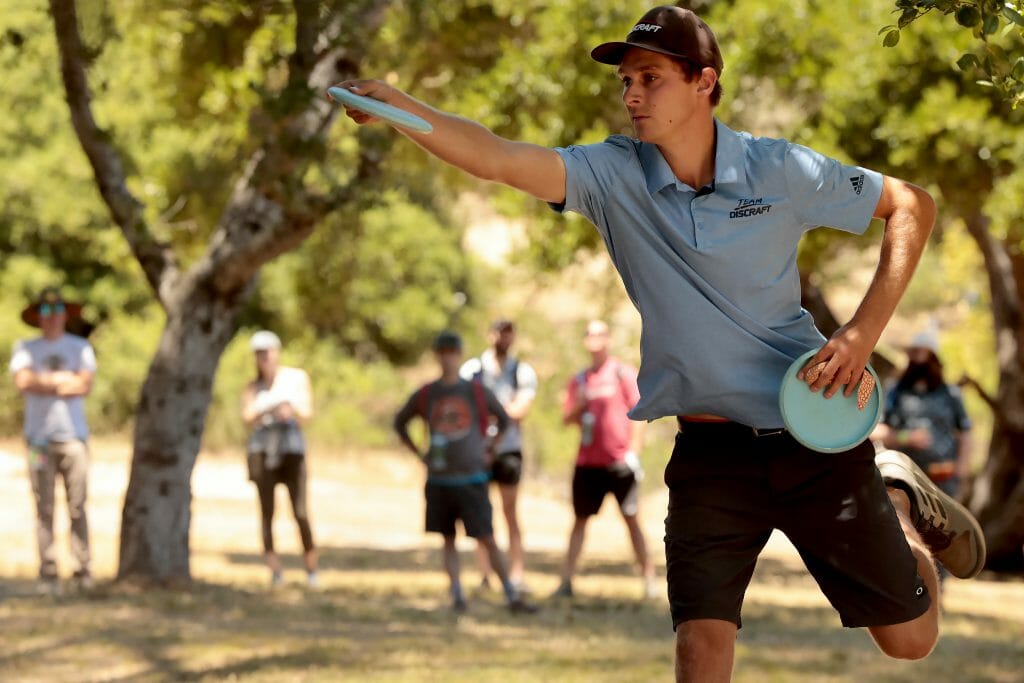 We're used to seeing an animated Adam Hammes on the course, but as he reflected on his first PGDA National Tour win at the 2021 Santa Cruz Masters Cup we saw an emotion that doesn't always come through.
"To have my name with the list of players and former past champions from this course, and everything that goes into this tournament… I can't even talk, sorry," said Hammes, holding back some tears of joy and relief. "It's unbelievable."
Hammes came into the final round Sunday tied with Kevin Jones for the lead at 25-under, six strokes clear of the field. It appeared to be a two-dog fight for the crown, and Hammes quickly asserted himself by gaining two strokes with birdies on holes 2 and 3 to Jones' pars. Both birdies were from Circle 2, a 60-footer on hole 2 and 50-footer on hole 3, and set the tone for Hammes' putter throughout the final 24 holes. He'd add four more C2 putts before the day was done, including important par saves on holes 20 and 21.
"I was trying to take it shot by shot," said Hammes. "Throw a bad tee shot, get to the lie then focus on the putt. Don't let it get in my head."
As Hammes kept Jones at bay, it was James Proctor, who started the day in third at 19-under par who was putting the pressure on. Proctor was playing on the chase card several holes ahead of Hammes and had come alive around hole 10. A 50-foot eagle on hole 14 capped off a 4-under par run through three holes, and he'd add five more birdies as part of a 13-under par, bogey-free hot round. A birdie on hole 24 for Proctor gave him a finishing total of 32-under par, and came right around the time as Hammes' big C2 par putts on holes 20 and 21 kept him at 32-under par total as well.
Hammes laced the high hyzer line over the root ball on hole 22 to give him an easy C1X birdie look he'd convert, and he'd play simple golf from there to secure the W at 33-under par total with an 8-under par final round.
"Being calm on the course, not being angry, because I know I've been known for that in the past," said Hammes of his plan for the weekend. "Just staying calm, and starting the round positive and finishing positive has been a big thing for me lately. That's what I wanted to come out here and do and I did it."
For the event, Hammes from tops in the division in strokes gained putting at 9.69, first in C1X putting at 92% — his only two misses over 72 holes were in the final round — and second in both fairway hits and C2 in regulation. Hammes previously lost an Elite Series playoff to Calvin Heimburg at the 2019 Hall of Fame Classic, and had two prior top 10 finishes at Elite Series events in 2021.
Proctor's previous best finish at the Masters Cup was a seventh place showing in 2015, the same year he won the National Collegiate Disc Golf Championship, and his best prior Elite Series finish was a fourth place effort at the 2017 Beaver State Fling.
Jones finished in third at 30-under par, and Paul McBeth moved up four spots into solo fourth at 29-under par with an 11-under par final round. Gregg Barsby (12-under par final), Drew Gibson, and Kyle Klein (who stayed in the top five all three rounds), tied for fifth at 27-under par total.
Calvin Heimburg's 33rd place finish is his first outside the top five in 2021.