Round 2 Recap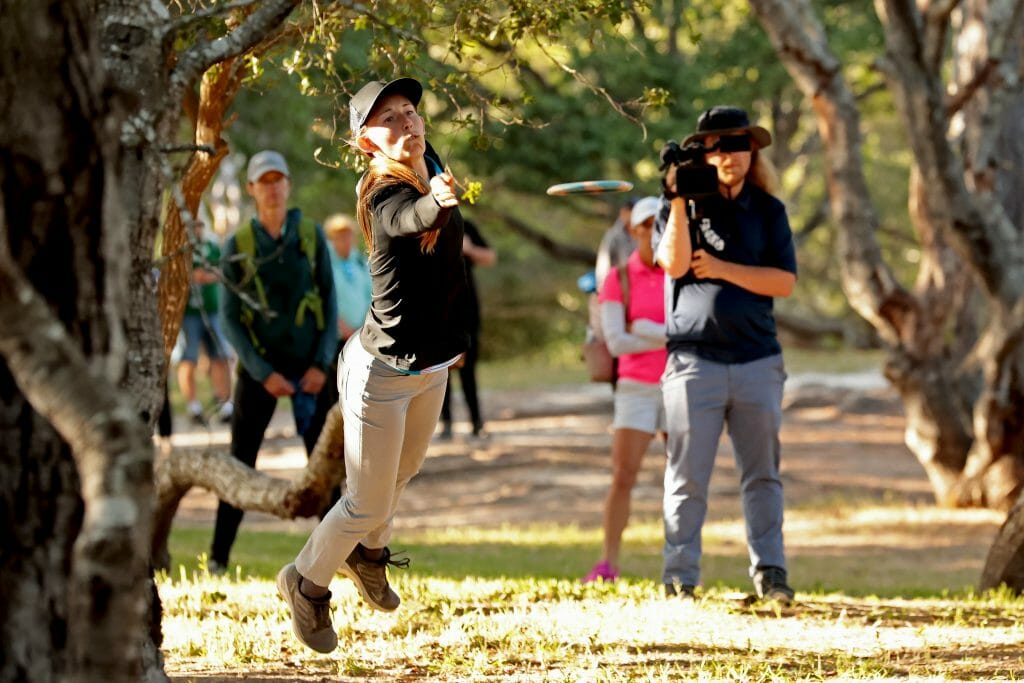 Moving day at the Santa Cruz Masters Cup promised some solid storylines and, as always, DeLaveaga delivered.
With even par coming in as the hot round for the Open Women's division, Paige Pierce maintained her lead from round with an even par of her own and sits in first at 3-under par total, three strokes ahead of second place Kona Panis. Pierce and the other players on the lead card for round 2 — Catrina Allen, Hailey King, Juliana Korver — all had a slow start on Saturday. Pierce was 3-over through five holes and had to dig herself out of the hole. She hit a 60-footer for birdie on one of DeLa's more infamous holes for roll-aways, tournament hole 11.
Panis' even par round moved her up two spots into solo second at even par total. Her work is being done off the tee, as she leads the division in fairway hits (54%) and finding Circle 2 in regulation (50%). Panis has not finished in the top 10 in three tries in Santa Cruz.
The third even par moving day was from Maria Oliva, who shot up 11 spots into a tie for fourth place with Alexis Mandujano and Juliana Korver at 6-over par total. Oliva made 20 C1X putts Saturday, and was one of only three players to birdie hole 12, where she was the only player to find C1 in regulation.
Despite a 7-over par round 2, Allen stays on the lead card for the final round and is currently 5-over par total. King did not fair as well, turning in an 8-over par effort to fall to seventh at 7-over par.
Statline
Hole 16, AKA I-5, was stretched into a par 4, and has still remained ungettable for the Open Women's field. Only Kona Panis and Ella Hansen have reached C1 in regulation through 74 players, and neither could convert the birdie.