Three NorCal courses with a lot of similarities.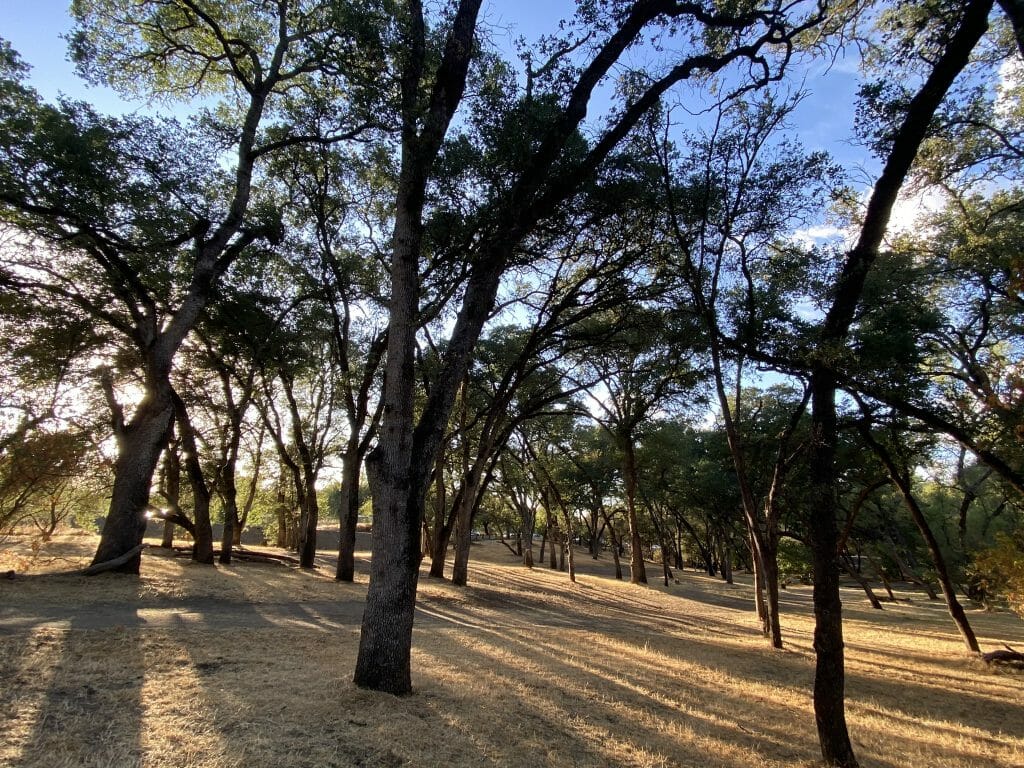 Regardless of the chatter surrounding, the first PDGA Professional Major of the year, the 2021 United States Women's Disc Golf Championship will be played on three courses in the Sacramento, California area May 21-23. The Orangevale (Shady Oaks DGC), Auburn, and Rocklin courses will each see one round of action from the Open Women's division starting Friday.
With the event taking place in Northern California, the 2-meter rule is in effect. The 2-meter rule, for those unaware of the variation allowed within the PDGA rulebook, states, "when a disc has come to rest at least two meters above the in-bounds playing surface (as measured from the lowest point of the disc to the playing surface directly below it), the player receives one penalty throw. The position of the disc is on the playing surface directly below the disc."
Besides the extra hazards of tree branches, here's a look into what the women will be facing this weekend:
Round 1, Friday: Auburn "VII Apparel" Course, Auburn Regional Park 
Course Par: 56 (16 par 3s, 2 par 4s)
Full Course Length: 6,055 feet
Baskets: DGA Mach VII
UDisc Rating: 4.3
Key Features
Woods Golf: This course is littered with low-ceiling shots that call for shot-shaping and angle control. Distance is not the most important factor here, so look for players to pull out slower-speed fairway drivers and even midranges for the bulk of their drives.
Water: There's a creek that runs through a large majority of the course and is playing as OB. If a player misses their line, many tree kicks will be putting players both out of position and out of bounds on this course. Slower-speed discs will be a popular choice to limit the big tree kicks.
Long par 3s: Holes 1, 2, 8, 9, 14, and 17 are all par 3s above 350 feet. I predict that these holes will create decent scoring separation, and birdies here will gain strokes on the field. 
Round 2, Saturday: Orangevale "Zanfel" Course, Shady Oaks DGC
Course Par: 55 (17 par 3s, 1 par 4)
Full Course Length: 5,815 feet
Baskets: DGA Mach X
UDisc Rating: 4.6
Key Features
School Fence: There is a school directly adjacent to the park property. This may be difficult for spectators and players alike, as parents will be picking up their children, busses will be coming in and out, and school zone speed limits will be in effect for Friday. While FPO plays here on Saturday, this is bound to create a ripple effect for the entire event.
Another short course: Players will be dialing in their accuracy on moving day. No hole is above 500 feet, and the lines appear to lack a challenge for today's FPO field. Look out for low scores.
Round 3, Sunday: Rocklin "In-N-Out" Course, Johnson Springview Park
Course Par: 55 (17 par 3s, 1 par 4)
Full Course Length: 5,900 feet
Baskets: Innova Discatcher Pro 28
UDisc Rating: 4.3
Key Features
Mandos: This course may as well be an episode of The Mandalorian, as nearly a third of the holes have mandatories. Many of these holes are wooded, so these obstacles may not take away any easier lines. Yet, the players will have to demonstrate wing and nose angle control through this course in order to come away with the victory.
ANOTHER short course: for all three days, the courses have pars below 60 and no hole above 650 feet in distance. Being directly after the OTB Open, where Leonard Muise's Swenson Park course was over 10,000 feet, there may be a larger-than-expected learning curve for these women.
In-N-Out Sponsorship? It's probably from a local franchisee, but it is always great to see names outside of the sport contributing to the women. Perhaps this event may break the ice on more outside companies putting money into disc golf.
---
Final Thoughts
These courses are not as well known to the general public, so it will be interesting to see how it is perceived by fans. I am a bit surprised that FPO will be playing on such short courses, especially considering low scores at courses like Disc Side of Heaven (Jonesboro Open) and the Airborn Preserve (Preserve Championship) that are increasing in popularity with the Disc Golf Pro Tour and other Elite Series events.
Top FPO players have expressed disdain for the courses, including Paige Pierce, who said on her Instagram story that having to learn three courses is too much for the majority of the touring field, especially for a Major. Many players all traveled directly to USWDGC from a tournament the previous week, not to mention a day of travel in between. Players shared that having to practice three courses in such a short amount of time did not give them ample time to adequately prepare to the best of their abilities.
These courses have also been open to the public during the past few days, causing players currently practicing to take more than four hours to play a round. Hailey King openly shared her disappointment with the courses and practice days on her Instagram.
The prevalence of short tee shots is also something to take note of. There are very few challenging lines comparable to others on tour, and the talent level of the women is increasing year after year. The tournament staff were in a bit of a sticky situation in terms of the layouts, however. A person working the event told Ultiworld Disc Golf that the Open Women's layout was affected by the number of divisions at the USWDGC,
"We had to set up the courses for all of the divisions, going all the way from FPO to juniors," they said. "We tried to find a way to challenge each level of player."
These courses may not showcase the best the FPO division has to offer, but we will still see competitive disc golf where the fewest mistakes and best line-hitting throwers will rise to the top.
Birdie-or-die can be quite the format.
Live coverage of the USWDGC will be on the Disc Golf Network, and post-produced, next-day coverage will be on Central Coast Disc Golf's YouTube Channel.