Final Round Recap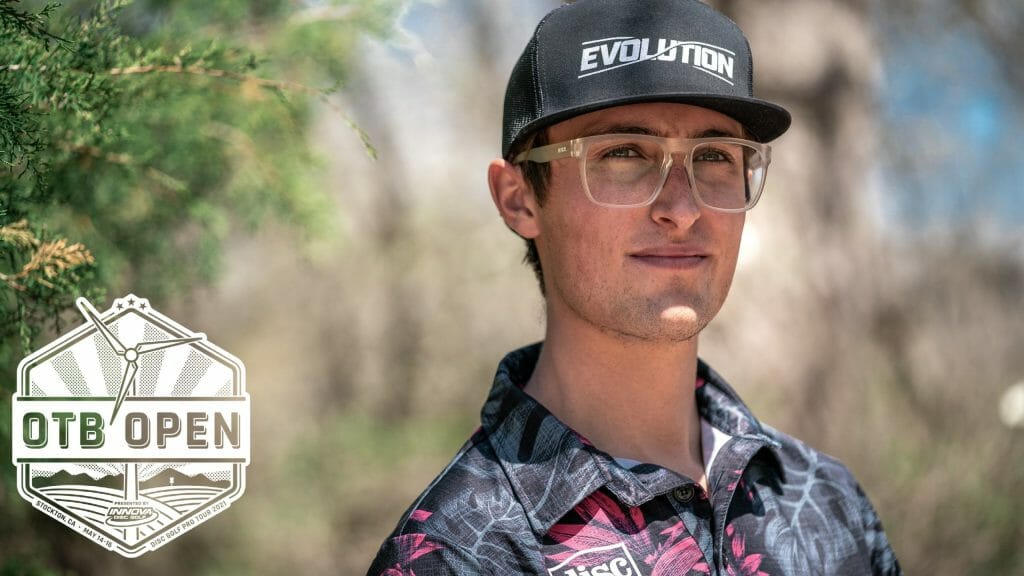 Eagle McMahon is your OTB Open champion, with a wire-to-wire victory over the field. McMahon never trailed in the event, posting a day one hot round of 13-under par and riding that momentum to victory.
Early on Sunday it seemed there may be intrigue brewing, but McMahon did his best to completely box out his competitors from the jump. Despite his final round being his lowest rated, McMahon shook off a slow start and put together a run to start the back 9 that effectively slammed the door, while his competition began to crumble around him. His five birdie streak from holes 11 to 15 was the final nail in the coffin. While McMahon could have laid up putts for safety's sake, he continued to dominate the field, raining in birdie after birdie to pull away.
"The only time I felt a bit turbulent was when [Ricky Wysocki] hole 10 and I missed it," said McMahon. "He cut it to three…three's not that much. If I got on a cold spell and he or [Anthony Barela] starts birdieing they can start closing the gap. Holes 11-15, that whole stretch, I slammed the door on them. That felt good."
McMahon's Strokes Gained from Tee-to-Green stat is jaw-dropping at a monstrous 25.21, which lead the field by a four stroke margin, impressive on a course where fairway hits were easy to come by. He only suffered four OB strokes on the tournament, and led the field in birdie percentage while simultaneously tied for lowest bogey percentage. It was a masterclass in course management this weekend from Eagle, and we'll see if he continues the momentum into the West Coast swing and into Worlds. When he plays like he did this weekend, he would be tough to beat.
"I feel like this is all leading up to Worlds," said McMahon. "I need to turn up the intensity a little bit more to have a chance at Worlds but this was a really great stepping stone."
McMahon finished the tournament at 32-under par after a 9-under par final round to win by four strokes.
For most of the day, it seemed that Sunday would be a redux of last year's USDGC tournament for Calvin Heimburg. Coming from the chase card, Heimburg went 11-for-13 on birdies, and had whittled McMahon's lead down to one at points of the round while playing a couple of holes ahead. However, an untimely OB stroke on hole 14 broke the spell, and a bogey-par-bogey stretch over the next three holes would ultimately knock him out of the title conversation.
A slow start to the tournament left Heimburg with a Herculean task in front of him, and for a while, it seemed like he was going to manage it. With three solid rounds, Heimburg could have challenged McMahon more, and he'll surely try to replicate the highest highs he reached at Swenson going forward. His putter was on fire on Sunday, especially if you eliminate the final stretch, and he nearly followed up his ace on Saturday with another, smashing the pin just below the basket from 378 feet.
Heimburg finished in a tie for fourth at 27-under par and has finished in the top five in every event he's played in 2021.
James Conrad tied the hot round of 11-under with Heimburg on Sunday, which was good enough to vault him into a tie for second place with Anthony Barela at 28-under par. Conrad, while not the distance merchant in the vein of McMahon or Heimburg, got it done with accuracy off the tee and a stellar putting day. The former putting world champion was flashing the ring during the final round, going 100% in C1X, and 75% from Circle 2. We were treated to some excellent displays of putting throughout the weekend in Swenson, but Conrad showed it when he needed it most, culminating in a clutch 38-footer, uphill, on hole 18 to seal his second place finish.
Conrad hasn't been as much of a factor in the tour this season as in year's past, but with the pieces and bag coming together as the season rolls along, he should not be ignored as a potential candidate for a strong finish.
Barela's bogey-free 10-under final round may not have been enough to grab the victory, but it was a statement round and an announcement. He played consistent through the whole round, converting 100% of his scrambles, and sinking every putt inside the circle. He didn't play perfectly, or above his ceiling, but turned in a consistent day that he should look to replicate in rounds going forward. His T-2nd finish builds on his second place finish at Goat Hill the week prior, and he's starting to gain some steam going into the most important stretch of the season.
It took two days, but Ricky Wysocki's putter finally cooled off during the final round. He fell from second to fourth while chasing birdie on hole 18 in a round where he never seemed to get settled in. After watching Wysocki average 75% from C2 over the first two days, his average fell back to that of a mere mortal at just 29%. His game at Swenson seemed to be predicated on long makes, and it just wasn't falling on Sunday. Wysocki struggled to keep pace with McMahon from the jump, losing a stroke on hole 1. This weekend raises the question of how good his putter can truly be, he never spent more than 10 seconds sizing up a putt, and was converting them at an incredible rate.
If he can pair this weekend's putting performance with more accuracy off the tee and from the fairway, look out. It's been a dominant season for Wysocki already, but there were flashes of something truly scary out of him this weekend, victory or no.
We'd also be remiss to not mention Aaron Gossage's seventh place finish. He dropped five places on Sunday after a nervy start, but earned a solo 7th at 23-under by hitting an edge of circle birdie on hole 18 in front of the large gallery on hand.