Round 1 Recap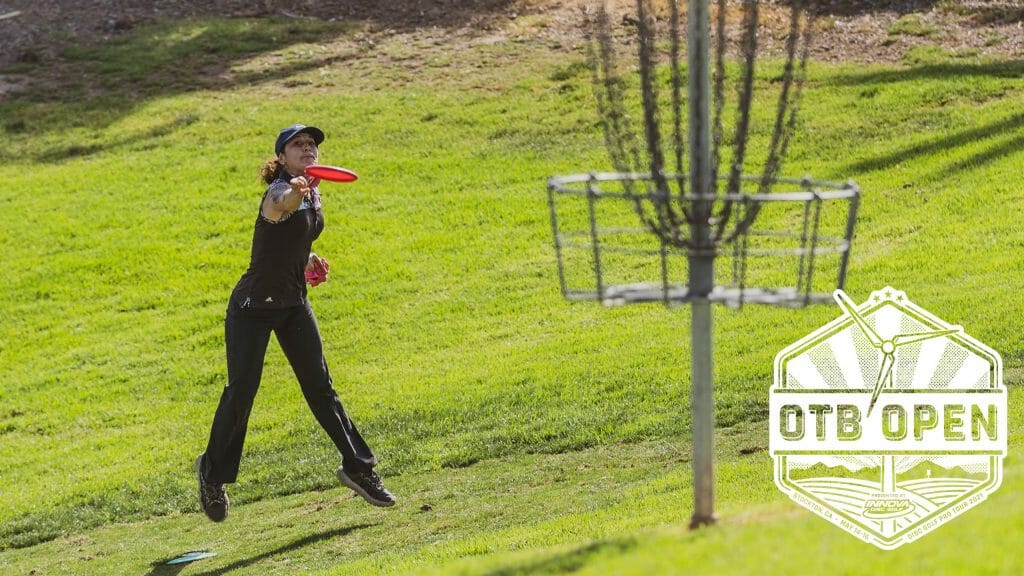 The course at Swenson Park proved why it has multiple personalities. The safari layout at the OTB Open incorporates long holes mixed with technical shots which forces the players to display versatility in their game.
Jessica Weese takes the top position after day one with an impressive 990-rated, 5-under par on the round. The bread and butter of her game was seen on the drives, where she was able to hit 95% of the fairways with zero OB on the day. Her consistency reigned supreme which is why she finds herself leader of the pack. In addition to leading the field in fairway hits, her greens in regulation for both Circle 1 and Circle 2 were tops on Friday, and despite two-putting four times Weese still connected on seven C1X attempts.

The long-awaited (one month) return of Paige Pierce has finally arrived. Although she finds herself in second at 4-under par, she still has a lot left to prove. After hitting the fairway 91% of the time, her C1X putting was 25%, two-putting six times, including the final three holes. Her distance not only saved her strokes on the fairway, but she did land two C2 birdies early on. Pierce enters the second day on a much-anticipated lead card.

Catrina Allen and Lisa Fajkus are tied for third at a score of 3-under par, but both took different paths to get there. Allen saw two OBs in the evening, where Lisa had zero. Allen's putting looked like it was back at Jonesboro and she was consistent on the greens with a C1X percentage of 70% and making a pair of C2 chances. Goat Hill champ Fajkus did not see similar luck on the greens, going 33% from C1X but was able to capture a big C2 look on hole 11 from 60 feet.

Zoe Andyke is right on the heels of the main card at 1-under par. Although she is not going to be on the feature card, she has proved to be a top competitor. After 91% on fairway hits, she also led the field in C1X putting at 100%. She, unfortunately, found three bogeys on the round which all came on the last three holes. Andyke is one of the women to keep an eye out for during the rest of the weekend, but Missy Gannon is tied in fifth with Andyke and also went 100% from C1x on eight attempts to Andyke's four. 

Ellen Widboom had the shot of the day with a throw-in on hole 9. She was able to sink the 200-foot birdie on a massive 1,015-foot par 5. 
Heard
"I would have loved to start the front nine a little hotter, maybe be a few more under par. I thought I managed them well, but I do know that I am capable of getting birdies on some of those. I felt really confident with my game plan on those holes." – Catrina Allen, on how she is going to attack day two.
Statline
OB seemed to play a major factor in the course at Swenson Park. Out of a field of only 33 players, the course caught 105 OB strokes, with the most coming on the most difficult hole to par, hole 17. Due to the distance and hazards, only three holes averaged below par. 
Highlights
Catrina Allen putt on hole 5 during round 1. OTB
Ohn Scoggins putt on hole 8 during round 1. OTB
Juliana Korver drive on hole 10 during round 1. OTB