Round 1 Recap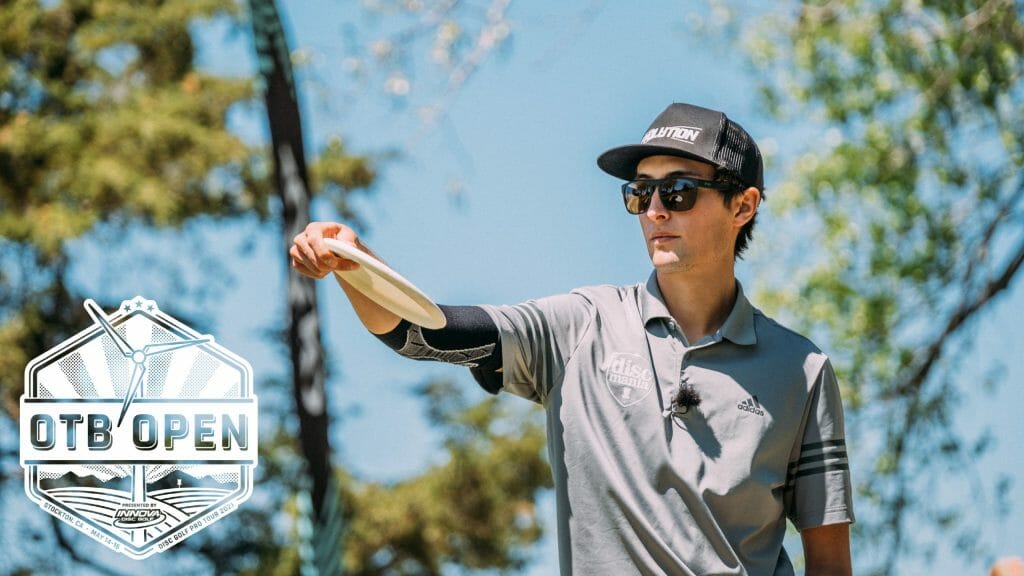 As predicted, the OTB Open has so far proved a bigger challenge to our MPO field than most of the tour played prior. The talented field still found ways to score, but the absolute shredding of events past was not present from top to bottom. Let's take a look at the storylines of the field after day one in Stockton.
Eagle McMahon was off the course before the lead card even teed off, but he left his mark on everyone's minds for the rest of the day. A blistering 1085-rated, 13-under par on a course that was expected to show its teeth against even the best pros changed the complexion of the day, and pushed other players to stay aggressive just to stay within striking distance. McMahon's customary game-breaking distance was in full effect — he called Swenson his "playground" — but most impressive was his accuracy off the tee. McMahon has yet to put himself in a scramble scenario, and while the fairways at Swenson are more open than most, it's an impressive feat that contributed to his great score. He had 11 tap-in putts during the bogey-free round, having done so much work before the greens, and will enter day two with some room for error.

If not for McMahon's herculean effort, Ricky Wysocki may have been the story of the day. After a hiccup on hole 1, Wysocki recorded 12 birdies for the remainder of the round. To watch, he wasn't even as clinical off the tee as some of his greatest rounds, but his putter was scorching on Friday. His 83% Circle 2 putting (5-for-6!!!) made for appointment viewing, including a triumphant 60-footer on hole 8, and makes the case for Wysocki as the best putter in the world right now. No errant upshot could hold Wysocki back, and he'll look to make it even easier on himself through the rest of the tournament. Wysocki is in second place at 11-under par. 

Rounding out the lead card in hot pursuit are division stalwarts Paul McBeth (10-under) and Nate Sexton (9-under). Much like Wysocki (and most of the field at the top), McBeth played a great round that was just a step off the remarkable pace that Eagle McMahon set. McBeth said after his round that he had a "slow start," which cost him the stroke separation that he could have had. McBeth carded a single bogey on the round and missed hole 7, which is playing as the easiest on the course to par, so expect him to find strokes later that he missed on day one.

Sexton started off on fire, going 4-under thru four, but falling off the pace into the back nine. Sexton's putt was strong on Friday, with 100% C1X makes, and 71% from C2, and his customary low driving forehand allowed for great shots underneath the low ceilings of Swenson. Sexton is still in striking distance, and in spots he showcased more daring play than he is usually given credit for. Look for his roller game and forehand to propel him forward if he makes a run.

The talk of the tournament coming in was of course Simon Lizotte. After a lot of time away recuperating an injured elbow, Lizotte made his return to the tour for the first time in 2021, on the feature card no less. While it was clear he was taking it slow with his driving power, Lizotte still was able to keep up even with the reduced distance. One remarkable moment was on the tee of hole 14, where Lizotte flexed his strength and reached far enough on the fairway that the upshot was made routine, which prompted commentator Nate Doss to note that only Lizotte and teammate Eagle Mcmahon could reach that mark. Lizotte understandably had rusty moments, but he still sits in the hunt, at 4-under par in a tie for 19th.

Shoutout to Austin Hannum with the lone eagle of the day, on any hole, with a 333-f00t throw-in on the daunting hole 3. The Ace Whisperer himself Jeremy Koling was there to watch the field ace.

Saturday's chase card is a four-way tie for fifth at 8-under par between James Conrad, Adam Hammes, Anthony Barela, and Aaron Gossage. You'll want to watch that coverage from Gatekeeper Media when it's released.
Heard
"That's one thing I really like about teeing off early, I have way more time to recover than the other guys, so I'm probably just going to go back to the hotel early, eat some good food, and get ready for tomorrow." – Eagle McMahon, on taking advantage of the morning round.

Statline
Swenson's generous fairways were a gift to all, no MPO competitor posted below 50% fairway hits on day one.

While McMahon didn't miss a C1X putt all day, he did most of his work off the tee. Eagle led the field in strokes gained from tee-to-green with a whopping 9.36. Eagle's playground, indeed.
Highlights
Ricky Wysocki putt on hole 8 during round 1. OTB
Simon Lizotte drive on hole 14 during round 1. OTB
Nate Sexton putt on hole 16 during round 1. OTB
Paul McBeth approach on hole 17 during round 1. OTB