Brodie Smith earns USDGC invite in sudden death playoff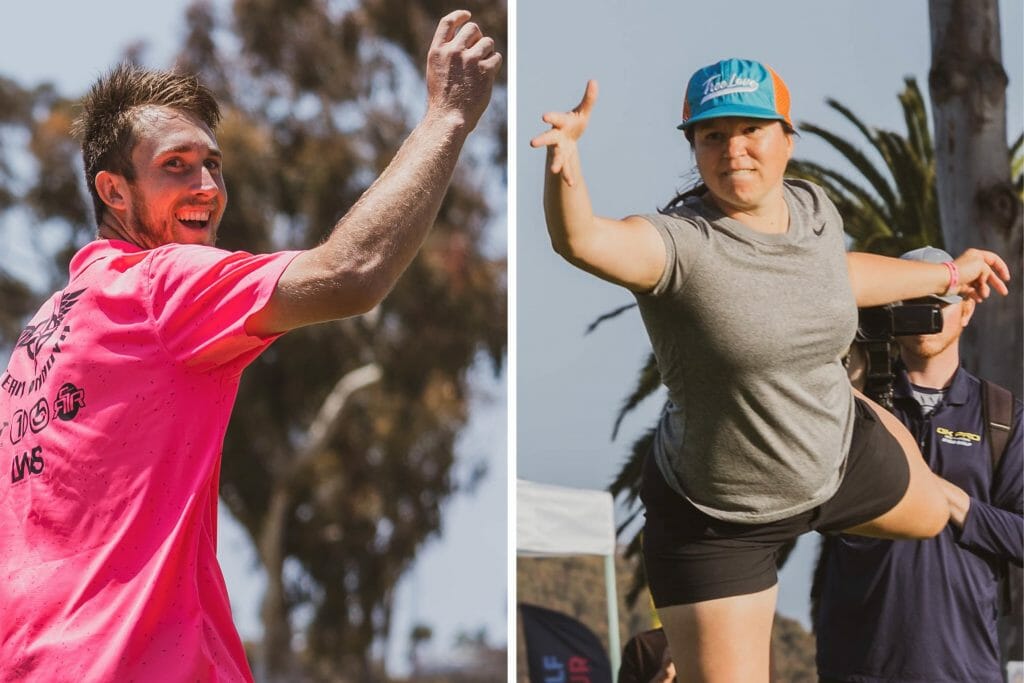 It's a long haul from Emporia, Kansas to Oceanside, California, but the competitive edge was not lost as players crossed the continental divide to take on the Challenge at Goat Hill DGPT Silver Series event.
With a layout at the ball golf track notorious for favoring a big arm, it was a women's player known for her short game that prevailed.
Coming into the final day, Lisa Fajkus and Ohn Scoggins were tied for the lead, about five strokes ahead of the field, and Fajkus pulled away during the final round but made it interesting for the final two holes. Having built-up a three stroke advantage over Scoggins, Fajkus put her drive on the 302-foot hole 17 inside the circle and Scoggins followed suit. Putting first, Fajkus doinked her birdie putt off the top band and had her disc roll away on the sloped green to a similar distance. Her second putt hit the far right side of the chains and fell out for Fajkus to card a three-putt bird-ogey to Scoggins' birdie. It was a two-stroke swing that pulled it back to a one stroke difference with one to play.
Hole 18 was playing as one of the three easiest holes on the course Sunday, and Fajkus had to watch Scoggins hit the fairway on the par 4 and land her approach inside the circle for a good look at birdie. A birdie for Fajkus could seal the win, and after seeing what she had to match from Scoggins' approach, she went full commitment,  parking her own approach into the natural grass backstop near the pin.
"It was really the upshots that were helping me out," said Lisa Fajkus. "I was throwing my Halo Savant a lot — it's a really overstable fairway. Not making me putt very much. My putting was pretty good but I definitely left some out there."
Fajkus won the Challenge at Goat Hill with a total score of 11-under par to Scoggins' 10-under par. It's Fajkus' fourth win of the season, and second A-tier. Holyn Handley moved up two spots to tie Jessica Weese for third at 5-under par total.
---
Even after an emotional week in Emporia, Ricky Wysocki made the trip to SoCal and made a statement as well in a commanding victory.
"I'm proving it time and time again, winning four of my last five tournaments," said Wysocki, when asked if he was the best player in the world right now. "Look at the scoreboard, that's the perfect way to look at it. I'm in a great state right now."
Wysocki took the lead into the final day and protected it, adding to the difference between himself and second place Anthony Barela in the process with a 10-under par back 9 during the final round that included three eagles. He even went as far as letting the rest of the lead card tap-out on hole 18 so he could finish the event by making an edge-of-circle putt to pump up the spectators.
Only hole 1 gave Wysocki any trouble on the weekend — two pars, a bogey, and a two-putt — and his final round 15-under par tied the course record set by Barela during round 2 on the 11,561-foot layout. Wysocki only missed two putts inside 33 feet, and his 94% Circle 1X rate was good for second best in the field. His strokes gained putting was best in the division at 11.61, almost four strokes better than the next closest player. He was only 1.3 strokes behind first place Ezra Aderhold for strokes gained from tee-to-green. Wysocki's 40-under par final score was seven ahead of Barela, and 11 clear of third place Gavin Rathbun at 29-under par total.
While Wysocki's win was well in hand on Sunday, another player who made a lot of noise at Goat Hill needed a late clutch run to save a USDGC invite.
Brodie Smith was one of several MPO and FPO players with an Ultimate background that shot their way onto video coverage. He shared the lead with Wysocki and Eric Oakley after round 1 at 13-under par and maintained a spot on the lead card for the final round. Things weren't looking good for Smith when he started his third round 4-over par through seven holes without a birdie and several missed putting opportunities.
He buckled down, however, and finished his back 9 with five consecutive birdies, all parked, to bring his round 3 total to 3-under par and a tie for eighth overall with Dustin Keegan at 23-under par total. Those two were also in a tie for the final USDGC qualifying spot forcing a playoff between the players for the rights to the invite. Smith would take down the playoff to advance to Winthrop.