Round 1 Recap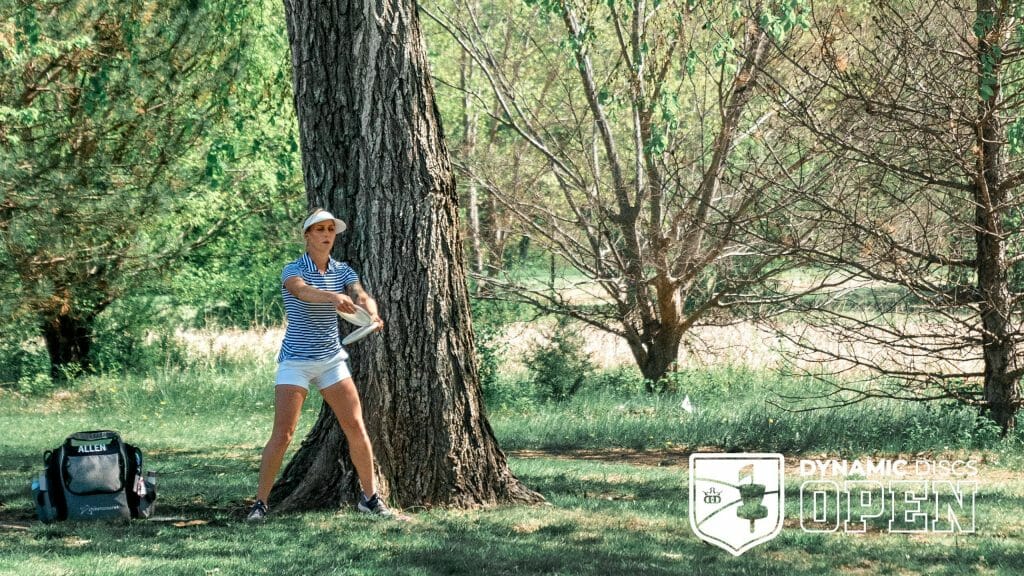 Jones Gold was not very welcoming to the Open Women's division during the opening round of the Dynamic Discs Open. At least the natural elements weren't. After a couple of weather delays on Wednesday afternoon, play was suspended for darkness and resumed on Thursday morning. Six FPO cards finished its first 18 holes this morning with the leader finding a couple more birdies to add to their advantage.
Catrina Allen went to bed Wednesday night at 4-under par with five holes left to play. She was bogey-free on Wednesday, and added two more birdies on holes 14 and 16 Thursday morning before finding her first bogey of the tournament on hole 18. She holds a three-stroke advantage over the field at 5-over par total and looked in control of her plastic in sometimes tough conditions. Her 10.13 strokes gained from tee-to-green is best in the division, and she is also tops in finding Circle 1 in regulation.
Tied in second place at 2-under par are Hailey King and Macie Walker, who both either matched or bested Allen in birdies for the day but weren't able to avoid the errors. Walker, who tied Kat Mertsch (5th, even par), for the most under-par holes in round 1 at seven, never technically parked any hole on Jones Gold, but is currently top three in strokes gained both from the tee (6.67, 3rd) and on the green (3.39, 2nd). King did a little bit of everything, especially around the pin, as she went 10-for-11 from C1X and pitched in two C2 putts.
Jennifer Allen, along with Walker, used the restart on Thursday to get under par for the round. Allen's birdie on hole 18, one of five on the 788-foot par 5, got her to 1-under par. She is in solo fourth place.
In her return to competitive disc golf since giving birth in January, Paige Shue is tied in ninth with five other players at 3-over par. Her long-range putting game was on point, as she hit three consecutive putts from outside C2 on holes 5-7, and got a 38-footer on hole 15 for birdie.
Statline
It will be interesting to see how the FPO scores are affected by the weather. In the first round of true action we've seen on Jones Gold from the elite divisional talent, the course averaged more than 8.5-over par for the 39-player field in sloppy conditions. Only two players, Catrina Allen and Hailey King, did not record a double-bogey or worse. Macie Walker, who is tied with King in second, had two double-bogeys, including one to start her round on hole 1. Allen's opening 5-under par was rated 1007.
Highlights
Ohn Scoggins connects on a tough lie.
ohn scoggins hole 11 putt rnd 1 ddo