Return of the Jones Park course and name change make venerable event feel fresh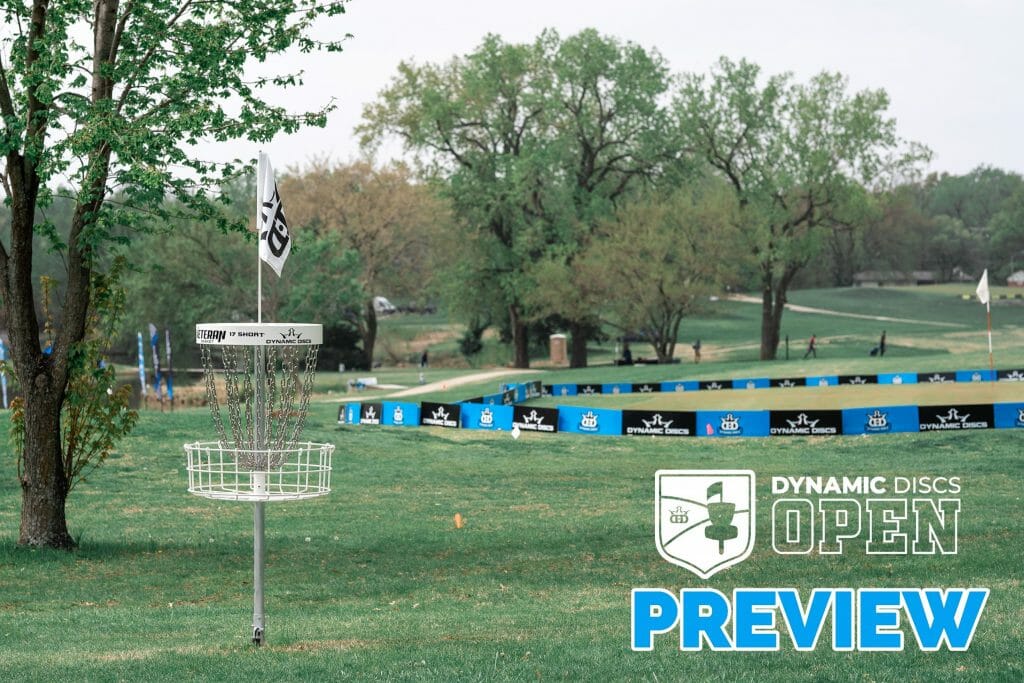 It's the last week in April, which means players once again converge on Emporia, Kansas, transforming the town into the epicenter of the disc golf world for a week-long party.
The Glass Blown Open namesake has made way for the Dynamic Discs Open to take over the PDGA National Tour stop for 2021, and the four-round tournament is set-up to be one of the more exciting tournaments of the season. GBO in the past has gotten an unearned reputation for having "boring courses," specifically at the Emporia Country Club, but the team at Dynamic Discs has shown it is always up for the challenge of making its showcase stand out. In addition to the layout changes ECC has undergone since we saw it last June, the Jones Gold course enters the fray and should give pros an interesting new wrinkle in attempting to conquer the windy midwest.
Since the spring event in Emporia joined the Elite Series in 2015, the tour has played some variation of these courses seven times, including 2016 Pro Worlds. Paul McBeth and Paige Pierce each have four wins over that time, but that doesn't automatically pencil in either of those names under the win column this weekend.
First off, Pierce is taking time away from tour and will not be in attendance. And even if she was here, Catrina Allen is playing probably the best golf in the division at the moment and has won here four times in the past — two NTs and two A-tiers. Valarie Jenkins is the only other FPO player to have won this event since 2010 (2016 Pro Worlds and 2011 GBO), with the exception of Hannah Leatherman's shared 2017 title with Pierce at a rain-shortened event.
McBeth's reign here is impressive, but comes with some notes. His last three wins have been by a combined four strokes, and one win includes the weather-effected 2017. Meanwhile, Ricky Wysocki, who, like Catrina Allen, is probably in peak form, won his first world championship here in 2016, has three second place finishes at past GBOs, and has five top five finishes total in seven Elite Series events in Emporia. The other two finishes are fourth (2020) and ninth (2015).
It's inevitable that Wysocki breaks through this year to add an NT to the world title won in Kansas, right?
Well, you can't forget about how Eagle McMahon is a past GBO winner and obliterates the open skies. There are also direct, power lines all over the courses that Calvin Heimburg will feast on.
Either way, the DDO is going to continue to add to its expanding legacy with what will surely be a week of great golf.
Past Winners
| | PDGA Tier | Open | Open Women |
| --- | --- | --- | --- |
| 2022 | DGPT | Ricky Wysocki | Kristin Tattar |
| 2021 | NT | Paul McBeth | Hailey King |
| 2020 | DGPT | Paul McBeth | Paige Pierce |
| 2019 | NT | Paul McBeth | Catrina Allen |
| 2018 | NT | Eagle McMahon | Paige Pierce |
| 2017 | NT | Paul McBeth | Paige Pierce/Hannah Leatherman |
| 2016 | NT | Cam Todd | Catrina Allen |
| 2015 | NT | Paul McBeth | Paige Pierce |
| 2014 | A | Simon Lizotte | Catrina Allen |
| 2013 | A | Will Schusterick | Paige Pierce |
| 2012 | A | Will Schusterick | Catrina Allen |
| 2011 | A | Cale Leiviska | Valarie Jenkins |
| 2010 | A | Eric McCabe | Liz Lopez |
| 2009 | A | Nate Doss | Robin Reimer |
| 2008 | A | David Hemmeline | Liz Lopez |
| 2007 | A | Eric McCabe | Jennifer Allen |
| 2006 | A | Kevin McCoy | Angela Tschiggfrie |
| 2005 | B | Eric McCabe | Tavish Sanders |
| 2004 | B | Daniel Stacy | Terri Clark |
| 2003 | B | Ron Convers | Shelly Bunch |
What We're Watching
Paige Shue is returning to disc golf action after giving birth to her daughter, Savannah, in January, and is doing so in her former home town. Shue has top five finishes at this event dating back to 2013, including a third place finish at the 2020 DDO. Her husband, Grady, also has a good track record here, finishing 13th in 2020 and sixth at the 2018 GBO.
With Emporia hosting Junior Worlds in 2018 and 2019, several players who competed as amateurs then now compete on the pro tour. Champions Gannon Buhr (2019, Junior ≤15) and Cynthia Ricciotti (2018, Junior Girls ≤18) will be in the field this weekend, as will Kat Mertsch, who finished as a runner-up twice in Junior Girls in 2018 and 2019. Zach Arlinghaus (2019, Junior ≤18) is not registered, but local Isaiah Esquivel (2018, Junior ≤15) is.
GRIP6 Pick 6 Locks Of The Week
We talked about why Catrina Allen is your closest to a sure thing. Despite not having the distance you think would be needed to compete on these long courses, Sarah Hokom has a third, fifth, and seventh place finish in her last three outings to this event.
Eagle McMahon had his coming out party in Emporia at GBO in 2016, followed it up that season with a sixth place effort at Pro Worlds, won here in 2018, and hasn't finished lower than sixth the last two seasons, including a second place showing in 2019. For a deeper pick, go to Kevin Jones who hasn't finished below ninth in the past three years, or Drew Gibson, who plays well in Kansas and was second to McMahon in 2018.
Home of the Hyzer Odds*
+300: Ricky Wysocki, Paul McBeth
+500: Calvin Heimburg
+700: Kevin Jones, Nikko Locastro, Eagle McMahon
+800: Chris Dickerson
+900: Paul Ulibarri, Chris Clemons, Emerson Keith, Nate Sexton, Garrett Gurthie
*No FPO odds provided
The Courses
Jones Park Gold: MPO – 10,511 feet, par 69; FPO – 9,750 feet, par 70
It's been a couple of years since we've gotten to see Jones Park at a premier event, and even then it was not the monster Gold layout that encompasses the entire park. Jones Gold was supposed to be featured at GBO in 2020 before the event was canceled, and the Dynamic Discs team was unable to use it for the DDO last season.
Many of the shots and holes will look familiar if you've watched events of years past on either Jones East or Jones West. We'd recommend just watching course designer Eric McCabe play through 18 holes on the video above to get a good feel for the layout.
Emporia Country Club: MPO – 10,658 feet, par 65; FPO – 9,193 feet, par 67
Like most years, ECC sees a number of changes. Hole 16 is perhaps the signature hole of the course: an island — literally an island — green that epitomizes risk vs. reward. After the addition of a backstop on the island last year, a new long tee pad for the Open divisions was built over the water. The tee pad is visually beautiful and shortens the hole by about 25 feet as compared to 2020.
Hole 6 sees the biggest redesign with a moved tee pad and the pin position being pushed into the woods. Other changes include a moved tee pad on hole 1 and hole 8.
Extended Forecast
Overall it seems the forecast is a typical one for the last week of April in Emporia, KS. One day with a chance of rain and storms, one day with relatively calm conditions, and a couple days with windy conditions. Fortunately, the rain and thunderstorms are expected the first day, which should make planning a bit easier.
A disturbance to the south of the region will bring a chance of rain and thunderstorms Wednesday. Fortunately, any severe storms should stay south of Emporia. That disturbance will move east on Thursday, leading to windy, but dry, conditions. An area of high pressure will move overhead on Friday, leading to very nice conditions for scoring. Low pressure to the north of the region will bring the wind back for championship Saturday.
Wednesday: Mostly cloudy with a chance of showers and thunderstorms in the late morning and afternoon hours. Highs will top out near 75°. Southerly wind of 5 to 10 mph possible.

Thursday: Mostly sunny with a north wind of 10 to 15 mph. Gusts as high as 30 mph possible. Afternoon highs will warm into the low 70s.

Friday: Mostly sunny with relatively calm conditions. An occasional breeze up to 5 or 10 mph can't be ruled out because, Kansas. Afternoon highs will reach the mid 70s.

Saturday: Mostly sunny skies with southerly winds sustained up to 20 mph. Gusts in excess of 35 mph appear possible. Afternoon highs will top out near 80°.
How To Watch
Follow livescoring on UDisc Live. For video round coverage, see our previous post: