Round 2 Recap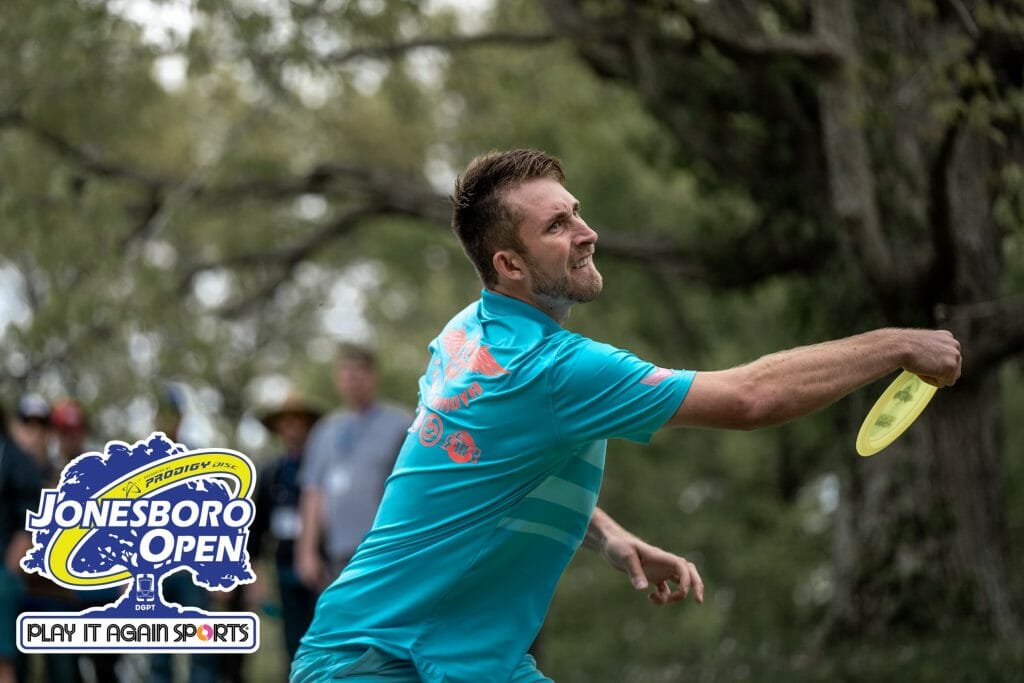 The best of the best excelled during the second round at the Jonesboro Open, and proved again why they are at the top of the game. Impressive performances from Ricky Wysocki, Calvin Heimberg, and Paul McBeth show why they are still the players to beat heading into day three. 
Wysocki continues to put on a clinic amongst the top players in the world at the Disc Side of Heaven. His 11-under par round has him in stand-alone first place after birdieing 61% of his holes. His six birdies through the front 9 came off the back of a Circle 2 look from the start on hole 1. The King of Scramble saw a 100% scramble rate which got him out of three troublesome moments, such as a tricky lie under a tree on hole 16, and was still able to rake it from C1 at 88%, missing just one opportunity from inside the circle. He's the man to catch entering day three at a total of 24-under par, one stroke ahead of Heimburg.

Meanwhile, Heimburg is still searching for a bogey-free round out at Jonesboro.  His 10-under par round was accompanied by two bogeys, both from C1X two-putts, but he was able to birdie eight of nine through the middle portion of the course to keep pace. He was second in strokes gained tee to green at 6.08 in the round, and leads the event through 36 holes at 15.08 strokes gained. He sits at 23-under par.

Rounding out the top three spot, Paul McBeth played elite level golf on day two, matching Wysocki for the hot round 11-under par. He led the field in fairway hits (95%), C1 and C2 in Regulation at 78% and 89%, respectively, and strokes gained tee to green (7.58). After posting no bogeys on the day, McBeth will enter the final day at 21-under par and very much in the hunt for his first DGPT event win of the season.

Despite going 6-under through the first seven holes on Saturday, Drew Gibson, was not able to keep the momentum and dropped from fourth place to 11th after finishing 2-over par over the final 12 holes. James Conrad, meanwhile, moved up 14 spots into a tie for sixth with a 10-under par round. Conrad had one of only two eagles of the day on hole 16.
Last on the lead card is Eagle McMahon. After an 8-under par round on day two, he will be entering the final day a couple strokes back at 18-under par.
Heard
"There are some holes out there that I play for par, and I'm fine with that. I'm going to go with that game plan tomorrow but I'm still going to be attacking a lot of these par 4s and par 3s." – Ricky Wysocki, on his mentality entering the final day.
Statline
The top three competitors on the lead card have all won the tournament before. Wysocki won in '17 and '18, McBeth won in '19, and Heimburg won in '20. This will be the first time, however, that all three of them are on the lead card together for the final day.
Highlights
calvin heimburg hole 1 drive rnd 2 jonesboro
ben callaway hole 5 throw-in rnd 2 jonesboro
ricky wysocki hole 6 drive rnd 2 jonesboro