Aces! Wacky Weather! Arkansas has got it all!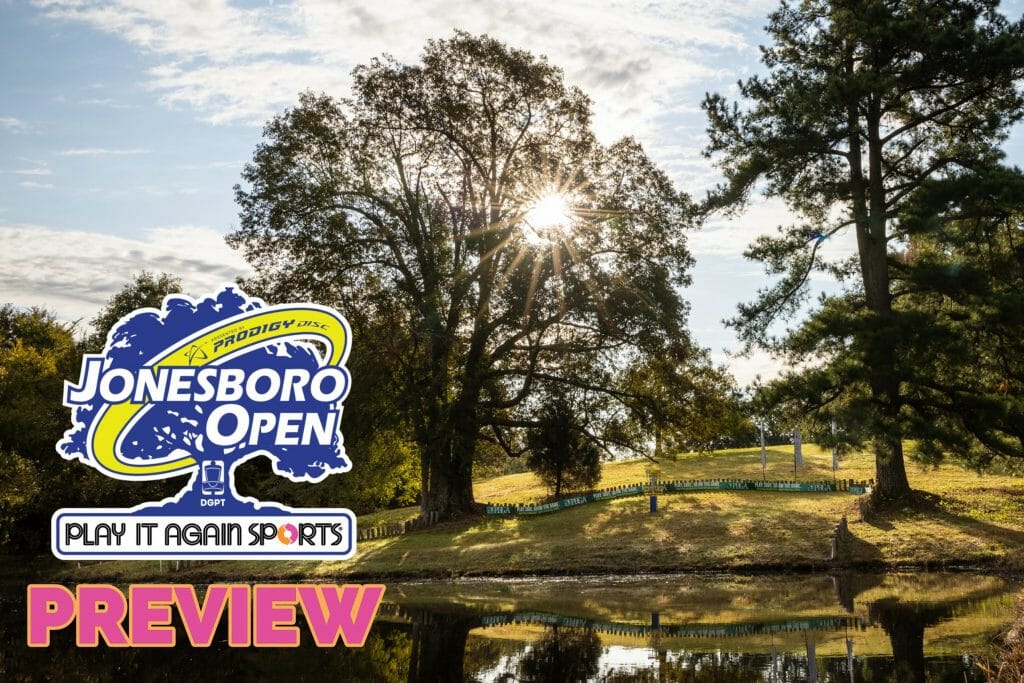 The Jonesboro Open has the innate ability to get us talking.
Last year Jonesboro went from being the first event to be postponed due to the pandemic to the final chance for players to qualify for the 2020 USDGC; there was the snow year; and basically every tournament has either given us aces, dominant performances, or down-to-the-wire finishes.
Arkansas has got it all!
Paige Pierce has been the prime protagonist in Jonesboro since 2017. She's thrown five rounds rated over 1000 on this course, including her highest-rated round ever, a 1059 in 2018, and averaged over 1000-rated golf last season at the event. Pierce is also currently in the midst of the poorest stretch of finishes in her professional career. You'd have to go back to 2011, Pierce's second season playing Open Women full-time, for the last instance Pierce failed to find a podium in three consecutive events. In September of that season, Pierce finished fourth, fifth, and fourth at the Vibram Open, USWDGC, and PDGA Championship, respectively. Those three events were all either PDGA National Tour or Majors.
In 2021, Pierce's last three finishes have been fifth, 11th, and fifth at the Waco Annual Charity Open, Texas State Championship, and Lone Star Classic. Two Elite Series events and a stacked B-tier. Her rating also dropped 19 points to 977 — still the highest Open Women's rating in the world — in the April update earlier this week.
Revisiting a past conquest could be all Pierce needs to turn the mini-slump around.
In Open, the Blue Bloods have also been making a mark in Arkansas. Ricky Wysocki won the first two events, followed by Paul McBeth in 2019. McBeth gave away a final round lead to fellow 1050-an Calvin Heimburg last season making the winners at the event an elite few.
As for consistency, Garrett Gurthie has used his power to his advantage at the Disc Side of Heaven, finishing second or third at every event since 2018. The time may be now to get that second career Elite Series win for Gurthie.
Past Winners
| Year | Tier | MPO | FPO |
| --- | --- | --- | --- |
| 2022 | DGPT | Calvin Heimburg | Kristin Tattar |
| 2021 | DGPT | Ricky Wysocki | Catrina Allen |
| 2020 | DGPT | Calvin Heimburg | Paige Pierce |
| 2019 | DGPT | Paul McBeth | Paige Pierce |
| 2018 | DGPT | Ricky Wysocki | Paige Pierce |
| 2017 | DGPT | Ricky Wysocki | Paige Pierce |
What We'll Be Watching
All eyes are really on Paige Pierce this weekend. Friday afternoon may tell us a lot.
As Dixon Jowers pointed out, talented fields are becoming more commonplace, and the opening round of Jonesboro has six Open cards where every player is rated 1005 or higher. Only four players in the 30-person Open Women's field are rated below 900, whereas in 2019 close to a third of the division was rated under 900. Maybe we'll see a couple career-best Elite Series finishes topped by some of these young, up-and-coming players such as Alden Harris (7th at Jonesboro in 2020) and Cynthia Ricciotti (5th at DDO in 2020) that are part of the rising talent pool.
Arkansas natives Kevin Jones (32nd) and Kat Mertsch (10th) were not able to defend the home turf at last week's Vintage Open but they'll have another shot in Jonesboro.
GRIP6 Pick6 Locks Of The Week
You're not going to go wrong with the 1050 club1 or Garrett Gurthie, but let's not forget about Chris Dickerson. Historically, this was one of the first times we'd see Dickerson join the main circuit as the tour turned back toward the Mississippi, and he has three top five finishes in four outings to show for it. He's got the power and precision to hit the needed landing zones, and with a lot of open greens he has a chance to really work his step-putt.
Catrina Allen is the answer in Open Women after Pierce due to her elite-level power. Jessica Weese is probably good for a top five effort as well. If you're looking for the differentiator though I'd go Kona Panis. Her abilities off the tee should get her in more scoring positions relative to the field, and the re-tooled putt has her looking more confident and should limit roll-aways around the basket. Panis is also the current DGPT Points leader after four eligible events and skipped last year's Jonesboro Open in favor of getting extra practice in around the Women's National Championship. She should be feeling fresh and ready to get after the course.
Home Of The Hyzer Odds*
+200: Ricky Wysocki
+300: Paul McBeth
+400: Calvin Heimburg, Nikko Locastro, Kevin Jones
+700: Garrett Gurthie
+800: Ezra Aderhold, Gavin Rathbun
+1400: Zackeriath Johnson
The Course
Disc Side of Heaven: MPO – par 64, 9,885 feet; FPO – par 66, 8,537 feet
Disc Side of Heaven is a long, hilly, and something of a hybrid between a wooded course, an open course, and a park style course. Players won't be carving lines through thick woods, but there are plenty of tall, deep, dark stands of old growth trees and thick clusters of bushes and briers which, if a player gets careless, can eat up strokes and derail chances at the win.
Extended Forecast
Overall, the weather looks pretty good for the Jonesboro Open. A weak disturbance will bring a chance of showers to the area Friday morning. However, I expect the rest of the tournament to remain dry. If anything, northerly winds will keep conditions a bit on the cool side for mid-April in Arkansas.
Friday: Morning showers possible. Afternoon highs will top out in the low 60s. North to northeast wind around 5 to 10 mph possible.

Saturday: Partly cloudy skies are expected. Afternoon highs will top out in the low 60s. North to northeast wind around 5 to 10 mph.

Sunday: Partly cloudy skies are expected. Afternoon highs will top out in the low 60s. North to northwest wind around 5 to 10 mph.
This is one of the more consistent forecasts I can remember writing for a disc golf event. The temperatures through each day will remain within a few degrees of each other. The wind conditions are expected to be very similar for each day of the event. It will be interesting to see how scores come in Sunday after playing in almost the same conditions all three rounds.
How To Follow
UDisc Live will have live scoring available all weekend. For video coverage, see our other post:
---
this never needs to be mentioned ↩