CDG General Manager John Baker on decisions to host 2021 event and growing college scene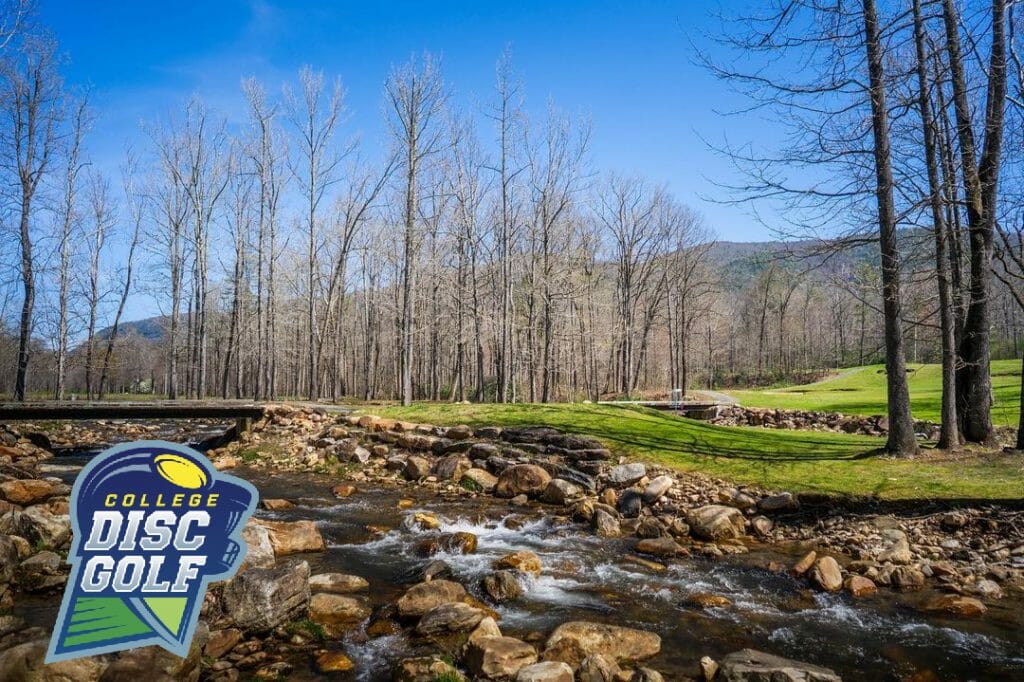 College Disc Golf was set to have a big year in 2020.
Organizers had revamped the qualifying process for the College Disc Golf National Championship, and the tournament itself was moving from the Augusta area to Winthrop University. Then, of course, COVID-19 forced the cancellation of the event.
The return to a Natty in 2021 has also not come without concessions. College Disc Golf was forced to move its premier event to a brand new course complex about 90 minutes away from Charlotte, NC, as uncertainties remained around using Winthrop University, and the traditional qualification process was removed due to the inability for many teams to travel for regional tournaments.
Still, about 40 college teams arrived at the North Cove Disc Golf and Social Club in Marion, North Carolina, this week to take their shot at the collegiate scene's most decorated prize. The two courses designed by USDGC architect Andrew Duvall — River Run: 5,061-foot, par 55 course with rolling hills and stone features; Boulders: 6,020-foot, par 60 with more elevation — are not the only changes to the national championship, as a revised doubles format with two-player teams replaces the four-player teams of year's past. Doubles scores are added to singles scores to determine team national champions. Singles titles are also awarded.
College Disc Golf Course Preview
Ultiworld Disc Golf caught up with College Disc Golf General Manager and CDGNC Tournament Director John Baker to discuss a trying year and the excitement around the return of the College Disc Golf National Championship.
Ultiworld Disc Golf: Did it feel like there was any lost momentum in college disc golf because of the 2020 break?
John Baker: We do not feel like there was any momentum lost. Any momentum we potentially lost was overshadowed by the incredible growth disc golf has experienced during 2020. We are getting more emails than ever from players interested in starting clubs, and we're seeing our established clubs experience substantial growth.
UWDG: How was the decision made to host at new course and venue, North Cove? This will be the first tournament held on the courses, correct? Were schools asked to give input?
JB: The decision to host the event at the North Cove Social Club was made by our organization's management. In other instances, we seek the student organizations' input but this decision was not one where we felt like their input was necessary. There were other options available at the time, but when we were presented with the opportunity to host the event at this picturesque and supportive venue, it was an obvious choice.
In addition to the accommodation and excitement we were hearing from the owners, player and community safety were at the forefront of our minds. With an event on private property, that decision alone would decrease the likelihood of another cancelation and make major inroads toward providing the safest experience for the players.
That's correct, we will be the first event here. Hosting the CDGNC on their two incredible courses, River Run and Boulders, is a huge honor and an opportunity we are incredibly appreciative for.
UWDG: Any insight or info you can give about the courses themselves?
JB: The courses are two very well designed courses by Andrew Duvall with an incredible amount of variety. Andrew is a magnificently creative designer, and I cannot say they were trying to mimic anything, as a few of the holes have very original designs that I have not seen on any other disc golf course. Using the incredible natural features, a gorgeous river, and multiple rock features, Andrew was able to design two very different courses that are sure to challenge our players' scoring and shot shaping ability.
River Run is full of challenging technical holes with a fair mix of must get birdies and bonus holes designed to test every aspect of your game. Boulders is the longer and more challenging of the two with substantial elevation changes and plenty of opportunities to let it fly while needing to find technical landing zones and hit your lines to score well.
UWDG: What the plan for the 2021 fall season start? Are you expecting a return to the prior format once the pandemic lessens, or will North Cove be the new home for college disc golf?
JB: The plan is for the 2021-2022 season to be competed with a full schedule of qualifiers and conference events. We have not yet released a venue for the 2022 College Disc Golf National Championship. 
You can follow the action at the College Disc Golf Championships on UDisc's events page.