From opening press conference to tense final round, Texas States was about the inner game
"I don't mind what happens. That is the essence of inner freedom." – Jiddu Krishnamurti

"Put the thought of hitting right out of your mind! You can be a Master even if every shot does not hit." – Eugen Herrigel

"Nothing else in the world interests you except making this particular putt. There is no future and no past." – Dr. Bob Rotella

"I'm just 'bout that action, boss." – Marshawn Lynch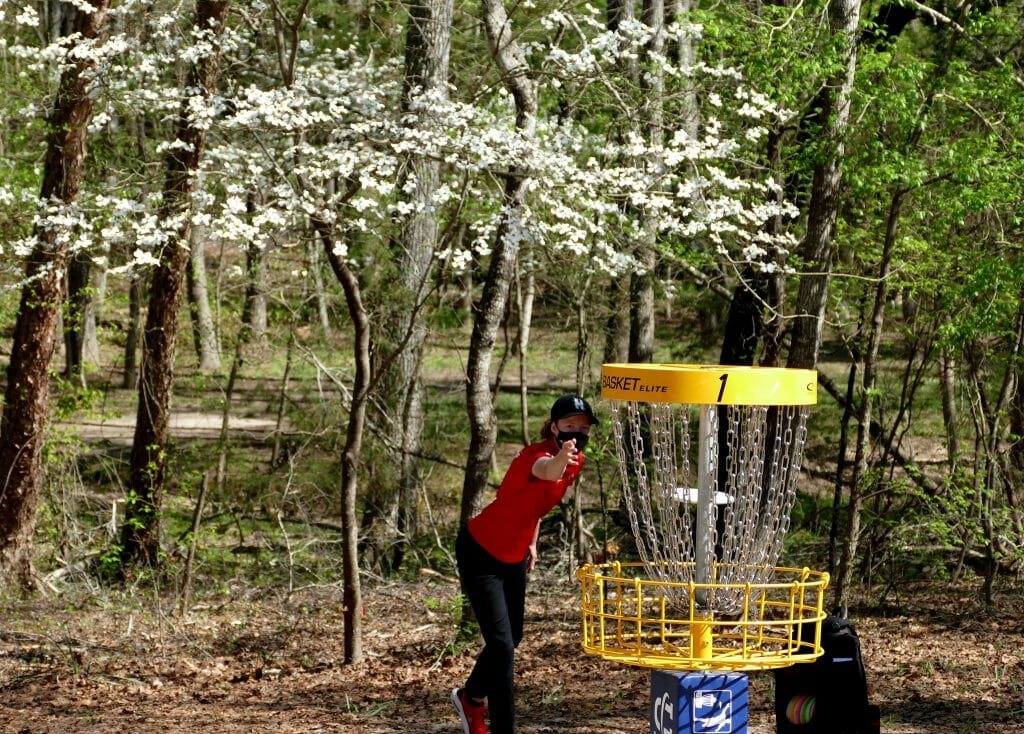 This idea is as old as when humankind first threw a thing at a thing. From ancient Zen texts through to modern behavioral science, and what seems like every sports psychology book ever written, one idea persists above all others. That idea is – focus on the process and let the outcome take care of itself. It's also known as being in the moment: put all else out of your mind but your next throw.   
The 26th Annual Texas State Disc Golf Championship was the first PDGA National Tour event for 2021 and it seemed to highlight this inner game of disc golf, from the opening press conference through to the tense final holes. On the 7,683 foot, par 62, Dogwood course, many touring pros were encountering their first heavily wooded track for the year. Paul McBeth likened it to a short WR Jackson. Rebecca Cox found it similar to Idlewild, while Hailey King compared it to where she won the Disc Golf Pro Tour Championships last year, saying it was like Hornets Nest, but trickier.
"You have to be ok about taking a bogey out here," said King. "If you can't secede to the hole you are going to have a lot of trouble. I honestly love it. It reminds me of Wisconsin golf." 
The occasional cruel luck that tight fairways like this can dish out, had most professionals talking about ways to soothe the mind and stay in control of emotions before the event.
"The best players in the world are going to hit trees out here," said Nikko Locastro. "It's all about scrambling, hitting your putts, taking the birdies when they come. I just want to play to the best of my ability and stay as centered as possible."
Talking about what is now his local course, ex-California native Gregg Barsby summed it up best when he said, "This course will eat you up if you are not in the right headspace."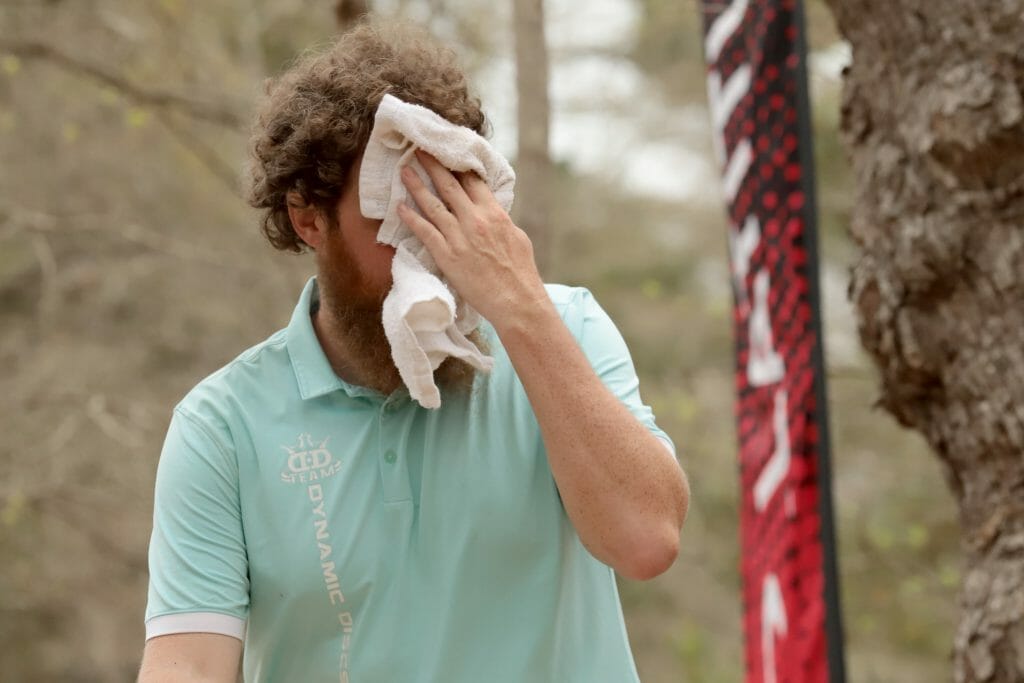 Adding to this was a strong sense that October 2019 seemed like much more than 18 months ago. The PDGA National Tour has returned to a vastly different scene from before the Covid-19 enforced hiatus. It feels like the Disc Golf Pro tour has been house sitting and have said ,"Oh, while you were gone, we've spruced the place up a bit."
Along with seven-figure contracts, there is televised disc golf and a professional tour that sustains much more than just a handful of players. Pros have managers that travel with them, work with nutritionists, do functional strength training, and, as Seth Munsey calls it, they "turn up every day to the job of disc golf." Most have either worked with sports psychologists, read books on the subject, or, in the case of Paige Pierce, sound like they could write one. 
When asked about the pressure to perform, Paige Pierce said, "For sure I feel pressure. I have high expectations for myself. But the companies that I've aligned myself with, they don't care about my successes, they just want to support me, so everything is internal. Every time I stand behind a lie, I want it to be the best shot possible. I've done pretty well over my career with pressure. I think I've developed it more through tournament play. The more competition rounds you get in the better you are going to get in situations like that. The up and comers like Valerie Mandujano and Kona Panis that have all the skill in the world? That's the only thing that I would say they need to experience more of, and it's coming [for them]. The best thing I can take to the tournament this weekend is stick with the game plan. If you get down or you want to try something crazy? Don't do that. Just stick with the game plan."
Sports journalists, on the other hand, are less interested in the internal game. There's no story in that. They want to know about external things like expectations, pressure, and rivalries so they can script a good drama. This slight tension between ideologies can be seen in nearly every sports press conference. 
Catrina Allen was patient and gracious but stuck firmly to her script. When asked what she thought about Dogwood she said, "You could ask me about any other course and I'd probably say the same thing. I try to go out and break the course down and play it to the best of my abilities instead of worrying about whether I think a hole is fair or the course is good." When asked if she thought the course suited her game she said, "I'm not going to think about things like that. Also, I try not to think about what other players will be doing. If I'm thinking 'Oh this is just a sidearm course' then I notice that I get out of my game instead of taking the holes for what they are and doing my best to execute my shots throughout the weekend."
The multiple world champions all seemed to have made some peace with "the externals" and are prepared to talk about them. Ricky Wysocki, exuding confidence and a Hunter S. Thompson-esque swagger in mirror shades and a floral shirt said, "I feel like I've earned the right to be called favorite this week and I'm going to embrace it." On external pressure he said, "Being in a lot of high-pressure situations has taught me that you are going to have pressure and you are going to have nerves, and you've got to go after it and embrace that. If you don't you are going to let the nerves attack you and start letting it affect your shots. So I feel like I've got really good at harnessing the nerves, the energy and the adrenalin into throwing even better shots than in a practice round." 
ricky wysocki press conference sunglasses
Paul McBeth had a different take, but one that also involved embracing the occasion and letting it enhance his play.
"I feel like I have a responsibility when I have fans there. To convert these shots more or to entertain more. I feel like I have more responsibilities on my shoulders to compete, and I love that. I love that added pressure I love that feeling because I'm playing for more than just myself," he said. "When we have no fans out there it feels more like a casual round for money and I don't like that. I like going out there and putting on a show and exceeding people's expectations."
Wysocki's confidence also extended to scrambling. Unlike Hailey King, he wasn't going to give in to any hole. "I feel like I can get up and down from anywhere. Even really weird spots. I can make it look easy. I'm long and lanky and I've got all the shot shapes that I need to get around trees," he said.
This confidence was tested early. After birdieing the first two holes in round 1, his drive on hole 3 caught an early tree and left him well short. Instead of pitching out for par, he threw an aggressive sidearm, hit a tree just in front of him and kicked deeper into the rough on the right side. The double-bogey six for this hole proved to be his only serious lapse for the tournament though, the 32 birdies and only two bogeys that came after that, on the back of 100% Circle 1 putting, was tough to beat.  
Before his course record setting final round, where he closed with a run of seven birdies, Wysocki said, "I think the way my putting is now. If I'm making putts, I can make them from anywhere. I can beat anybody at any course. And that's the biggest confidence for me. Same with scrambling. Another 10 or 11 under will win and that's totally doable." 
The exclamation point came on hole 12 in the final round. Matt Orum, a fan favorite who only played one Pro Tour event last year, had pulled level after one of the rare Wysocki bogeys on hole 8. Matty-O's coolness and experience in the woods of the south east was showing and the tournament was tied up at 20-under. Wysocki gained one throw back by birdieing 10 and then on 12, had his hyzer-skip upshot stopped by a thin tree well outside Circle 2. His jump/step putt had to fly a small gap in front of him before travelling all of 60 feet. He said "yeah" almost as soon as he released it, followed that with another "Yes!" in mid-flight. He started the raptor run well before it struck left chains and was stopped by the back of the basket. This began the streak of seven birdies to close out the tournament.  
"I felt good from start to finish," Wysocki said afterwards. "The clutch putt on 12, in my mind, separated me from the field. I live for long putts. It sparked me. I feel like I'm consistently playing at a high level. I'm excited for the future because this is repeatable." 
In the FPO, Hailey King had only needed to yield to seven holes to bogey in the tournament up until hole 14 in the final round. Apart from an ugly patch of double-bogey, bogey, bogey in the middle of round 2, she had set herself apart from the field and held a comfortable lead with a handful of holes to play. She was relaxed enough to play a game of hangman during a long backup on hole 13. 
When asked afterwards if she was as relaxed as she appeared, she shrugged and said, "If not I'm more relaxed than I look." 
Then on hole 14, the "U-turn" hole, her sidearm hyzer drive hit a tree and didn't quite make the curve. She then threw her backhand turnover into the tree right in front of her and got kicked right into the deep rough. Her pitch out hit a tree and rolled back to the edge of the rough and, after three throws, she was back close to where her drive landed. It was as if all the bad luck the course owed her was being delivered in a single hole. Her next sidearm found more wood and returned her to the rough on the right-hand side. The pitch out stayed clear of the trees but skipped 25 feet wide of the basket to the edge of the rough. She finally hit the putt to save double-bogey but the 6-throw lead over the two who were dueling on the second card  had shrunk to four. Rebecca Cox and Holly Finley, now had an outside chance to catch her.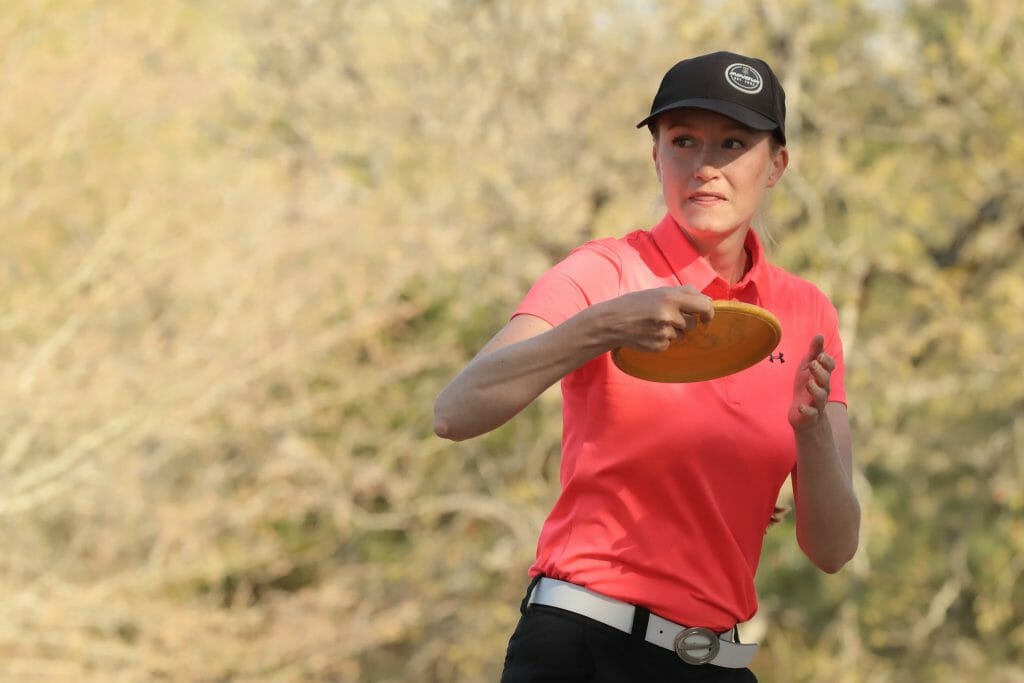 "I'll be keeping my eye on Holly Finley," said Cox before the tournament. "She knows what she's doing in the woods."
The statement was prophetic. With two holes to play, Cox had the advantage over Finley by one. Then on hole 17, Finley hit a nerveless 25-foot putt for birdie, throwing straight at the OB behind the basket while Cox left her putt short and took a par. On the final hole, Finley threw her second shot close to the pin while Cox's approach sailed high and caught trees, allowing Finley to claim second place and the finest performance of her career. 
After her shaky play on hole 14, King stepped up to the hole 15 tee pad and needed a slow turning anhyzer shot that required a deft touch. A sure test for anyone who's confidence might have been shaken by the previous hole. Her throw cleared most of the treacherous early trees and, while it was knocked well short of the basket, gave her an easy look for par to stop the bleeding.

"I was stressed," she said afterwards. "Bad shots are not fun. But I kept pushing and didn't let the hole get to me."

King had her upshot on 16 clip a twig and fall short. Her long putt for par missed and she took a bogey. On 17 her upshot slid into the ditch and out of bounds. She had to execute an awkward leaning putt to save par. She went into the final hole with a three-throw lead on her chasers. She stayed out of trouble and claimed the second big win of her career with, undoubtedly, many more to follow. 
"I'm here. The challenge is about to start. I'm excited," she said. 
Overall, it's easy, in hindsight, to look back on the pre-tournament press conference and pretend to have some insight on how players attitude might have predicted their performance. Rebecca Cox said that she felt very home in the woods and predicted Holly Finley's good showing. Kona Star Panis said that the course didn't suit her game and she had a poor result. Paul McBeth talked as much about his new foundation as he did about the tournament, fell off the pace early and left too little too late. Ricky Wysocki was Ali-like in his confidence, but why wouldn't he be after his performance the week before? Paige Pierce had a bad weekend in what is proving to be a slow start for the year for her. But she's freely admitted her eyes are firmly on another world title.
It is only over the course of the year that we'll see whose mental approach matches their skills.