Round 2 Recap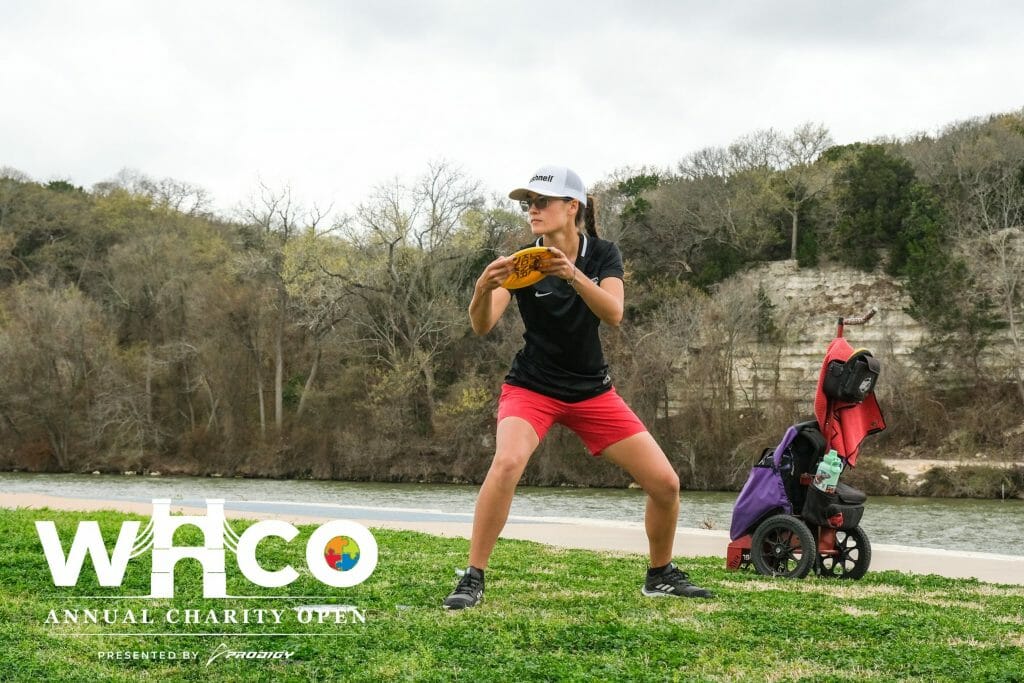 Day two at the Waco Annual Charity Open was filled with unprecedented action. Big names fell, new faces rose, and the real Star stayed shining. With only 18 holes left to play, it looks as if the FPO division is going to be battling for second place.
With a second consecutive round rated over 1000, Kona Star Panis is cruising. Back-to-back 6-under par days have her at 12-under par total, 10 strokes better than the next contender. After a double-bogey on hole one, Panis was able to lead the field in birdies with nine on the evening. Most importantly, Panis was able to limit the big mistakes to hole 1. Panis' lead card mates — Paige Pierce, Catrina Allen, Valerie Mandujano — all had either a triple- or quadruple-bogey on the scorecard. She leads the division in finding both greens in regulation, and is second or third in both putting categories, as well as scramble rate and fairway hits. On a course like the bEast, keeping it on the fairway is a surefire way to finish well.

Madison Walker shot 3-under par to finish the round in sole possession of second place with a score of 2-under par total. Her birdie rate is 30.56%, third among the field, and was crucial in limiting the damage of a double bogey on hole 18. After taking months off from competition due to the COVID-19 pandemic and a lingering injury, Walker's forehand is looking good and is helping dissect the woods in Texas.

Veteran Lisa Fajkus scored 1-over par on Saturday, but it was enough to move her up two spots where she sits tied for third place with Missy Gannon. Usually known as a strong putter, Fajkus has struggled on the greens with the winds, finishing the day with a Circle 1X rate of 58.33%. She had three consecutive two-putts before a three-putt on hole 18. No OBs during the tournament, however, has kept her in the hunt.

Definitely a round to forget for decorated Paige Pierce. Pierce shot 8-over par on the round and only found birdie twice. Her seven bogeys, one triple bogey (hole 18 with a back-and-forth four-putt), and three OBs in the last four holes have her in 14

th

place with a tally of 5-over par. Her worst career professional finish in an FPO division is 13th, set last year in the shortened Waco Annual Charity Open.

The shot of the day was delivered by Hailey King. She cashed in a sidearm on hole 17 that saved her bogey from about 200 feet out. She is tied for 12

th

at 4-over par. 
Statline
Hole nine at Waco is a 519 ft. par 5 that plays +.31 over par. Hailey King and Rebecca Cox were able to eagle this hole and seemed to with ease. Cox left herself a 27 ft. putt whereas King had a much more manageable 16-footer. Those were the lone eagles on the day. 
Heard
"I'm just thinking about tomorrow already and playing pretty safe. Not really doing anything crazy. Today I went for some bigger putts which I knew I wasn't going to make and gave myself some testers. So, tomorrow I'm not really going to be worrying about that. Gonna keep it in the fairway and then, like today, just try and make those short ones." – Kona Panis, on strategizing for the final round with a double-digit advantage.
Highlights
Outside the circle for birdie on hole 5 for Kona Panis.
kona panis hole 5 putt rnd 2 waco