Round 2 Recap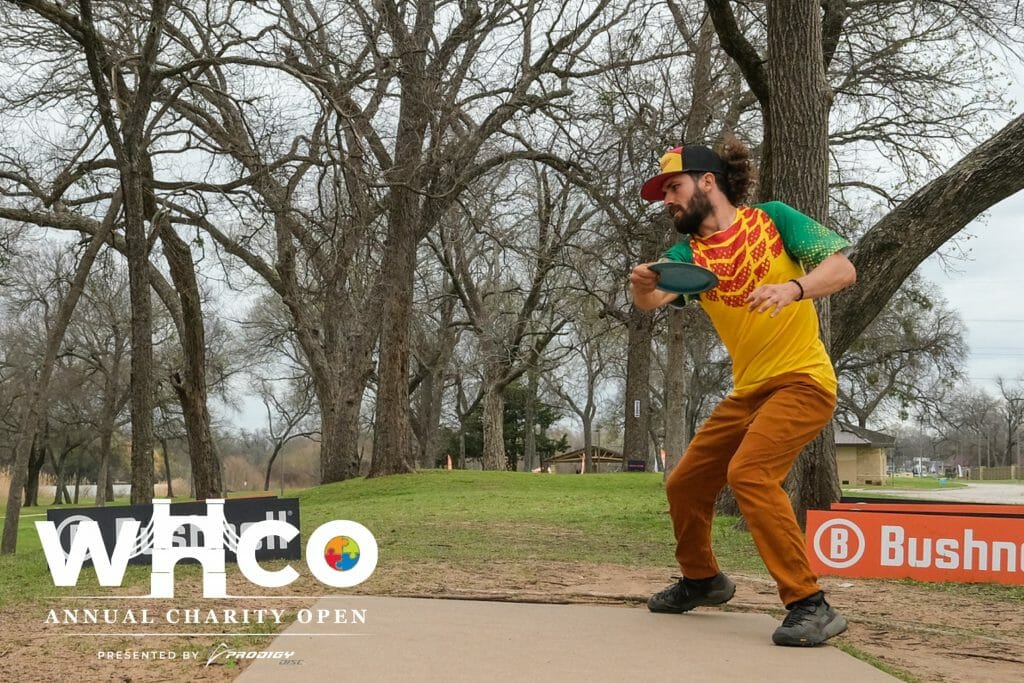 Texas is known for its high winds, and the second round of the Waco Annual Charity Open showed why. With consistent wind speed over 20 mph and gusts over 30 mph, controlled throws were essential. Those who could maintain their composure in the wind and minimize mistakes had strong performances and are poised for another day of tight competition in Sunday's final round.
Nikko Locastro was only 3-under halfway through the round, but charged to take the lead in the back 9. Locastro had five birdies in a row on holes 10 through 14. Taking the aggressive line going for the green on hole 15, Locastro found himself over the fence out-of-bounds and had to take a bogey 4. This did not slow him down, as he went on to birdie the next two holes. Locastro's controlled flex shots and forehands gained him 6.61 strokes from tee to green, leading the field by over one full stroke in this statistic. His injured hand does not seem to be a bother. 
After two rounds, Gavin Rathbun is the only player who has not taken a single bogey. With six birdies and 12 pars, Rathbun had a slower day than his impressive 11-under round one. His 17-under total is still enough to keep him on the final round lead card and only 1 stroke behind Locastro. Rathbun had almost no errors, but did miss three Circle 1 putts for birdie and a chance to grow his day one lead.
Starting slow in the open holes, Bradley Williams picked up the pace in the wooded section going 6-under in seven holes starting with hole 4. Williams handled the wind well on his drives and reduced its effect on the green with a 28% parked percentage. His only blemish came on hole 13 with an out-of-bounds that led to a bogey, but his nine total birdies brought him to a 17-under par total and only one stroke off the lead. Williams did show a bit of his prickly side on a made putt during the front 9 though it didn't seem to stick around.
Cale Leiviska was one of 14 players in the top 26 to jump double-digit places up the leaderboard. He moved up 23 spots to put himself in fourth and earn a spot on the final round lead card. Leiviska had the hot round 10-under par, unofficially rated 1072. Of his 388 career events and over 1,100 rated rounds, 1072 would be tied for his 12th best round. Leiviska only found himself off the fairway one time and managed to save the par. His only bogey came on the always challenging hole 18 after a short missed putt into the wind.
Ricky Wysocki was able to card 10 birdies, but his three bogeys cost him a spot on the final round lead card. Wysocki relied on his aggressive spin putts to keep himself in contention, including two birdie throw-ins from 66 and 74 feet. Going into the final round, Wysocki is tied with Leiviska at 14-under par total, but is on the chase card due to Leiviska having the better second round score.
The young 15-year-old Gannon Buhr struggled on the green early, missing two Circle 1 putts in the first four holes. However, Buhr was able to finish strong, going 3-under in the last 5 holes, the hardest stretch of the course. This finish places Buhr at 13-under total and on the final round chase card along with Wysocki, Calvin Heimburg, and Raven Newsom. Even after a potential disaster on hole 9, Buhr kept his wits about him while playing with players more than twice his age on the livestream.
A day after Ezra Aderhold did it, Garrett Gurthie also eagled hole 13 after finding Circle 1 off the tee. Those two eagles are the only 2-under scores on hole 13 through two rounds.
Statline
Hole 18 used to be a par 4 but was changed to a par 3 this year. Today the hole averaged 0.95 strokes over par for a field average of 3.95. It has been the most difficult hole on the course in both of the first two rounds and is sure to reignite the conversation about par at Brazos Park East. With scores still tight with the leaders it could be a real difference maker on Sunday.
Heard
"I felt like I should have shot a good round yesterday and kind of lost my composure a little bit, so I wanted to do much better, and I definitely did." – Cale Leiviska sounded confident and secure in his performance after missing his final par putt on hole 18.
Highlights
Bradley Williams pure-ing the drive on hole 9.
bradley williams hole 9 drive wace rnd 2
Gavin Rathbun putt on hole 9.
gavin rathbun hole 9 putt rnd 2 waco