Round 1 Recap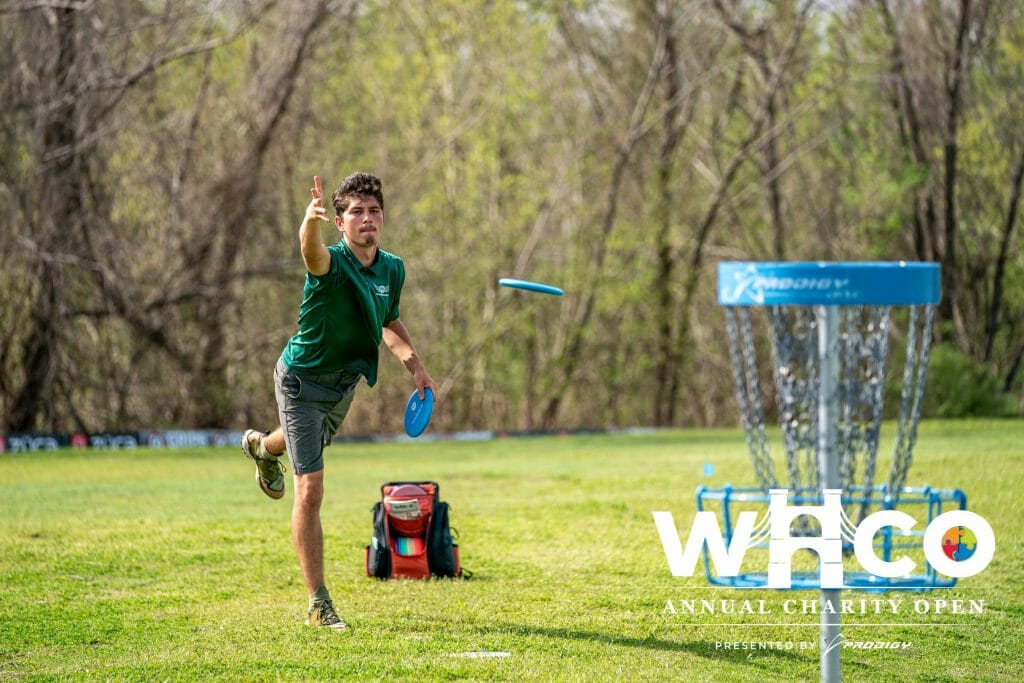 On the first day of the Waco Annual Charity Open, the bEast (Brazos Park East) showed its teeth. Many of the elite professionals could not handle the high winds and tight fairways that make this course so difficult. Their struggle opened the door for plenty of less frequently seen faces. 
The only player able to achieve a double-digit under par round was Gavin Rathbun at 11-under par 52. Rathbun missed just two fairways and was able to save par both times, an impressive feat considering the heavily wooded middle portion of the course. With two consecutive made birdie putts from close to the edge of Circle 2 and only one miss from Circle 1X, he gained 3.59 strokes on the field with his putting. Combining that with a field-leading 5.66 strokes gained from tee to green and zero bogeys allowed Rathbun a two-stroke lead going into day two.

Rathbun's best career Disc Golf Pro Tour finish was at the 2020 WACO, a 14th place showing.
In only his ninth PDGA tournament playing in the Open division, 15-year-old Gannon Buhr threw his best round ever, a 1062-rated effort. In 2019, Buhr competed in the under 15 division of the Junior Disc Golf World Championships and won in a decisive fashion. Now he is only two strokes off of the lead at a DGPT event. With 100% Circle 1 putting, Buhr only missed one putt – one of his two attempts from Circle 2. Buhr matched Rathbun's 11 birdies, but had two bogeys near the end of the round on holes 12 and 15. Buhr was believed to be the youngest player to hit a 1000 rating when he did so for the first time in 2019.
Bradley Williams was also able to card a 9-under round, but did so with zero bogeys. The Texas native is a long-time professional, but typically only plays regionally. Familiarity with the Texas conditions benefited him in getting to the basket. Williams was 72% in Circle 2 in Regulation and was able to convert three putts from Circle 2 range. Nikko Locastro tied Williams and Buhr and rounds out the second day lead card.
Eight of disc golf's top players were featured on the Disc Golf Network livestream Friday, but the best score any of them could accomplish was only 4-under par. The coverage showed how thick the rough can be off the fairway and how high winds can make even the world's best falter on the green. Eagle McMahon was especially frustrated during the round. After a second tough spit-out during a putt on the front 9, McMahon could be seen punching at his bag.
Ricky Wysocki looked strong in the middle of the round, but out-of-bounds throws on holes 2 and 18 led to bogeys on both holes. Going into the second round Wysocki is 7-under, close enough to the lead to make a strong charge on moving day.
We wish a camera had been on Ezra Aderhold's card today. He had the only eagle on the 555-foot par 4 hole 13, and did so by finding Circle 1 off the tee.
Statline
Earlier this week, Eagle McMahon became the highest rated player in the world with a 1056 rating. In round 1, McMahon shot even par and an unofficial round rating of 996. His last PDGA standard round below 1000 was exactly one year ago. McMahon's first round of the 2020 Waco Annual Charity Open was 990 rated.
Heard
"I hit something, but it wasn't out of anger. To tell the honest truth, I was at the skating rink. My friend threw a going-away party for me and I hit this punching bag and I followed through into a soda machine. But life's all about fighting adversity." – Nikko Locastro, explaining his hand injury and why he had to withdraw from the DGPT All-Star Weekend and the Las Vegas Challenge. It did not seem to affect Locastro in the first round.
Highlights
Paul McBeth hits the top of hole 1's basket and skips OB on his opening hole.
paul mcbeth hole 1 rnd 1 metal hit waco
Chris Dickerson stretches out to hit the putt on hole 9.
chris dickerson hole 9 putt rnd 1 waco
Silky smooth approach from Cale Leiviska on hole 12.
cale leiviska hole 12 approach rnd 1 waco