Final Round Recap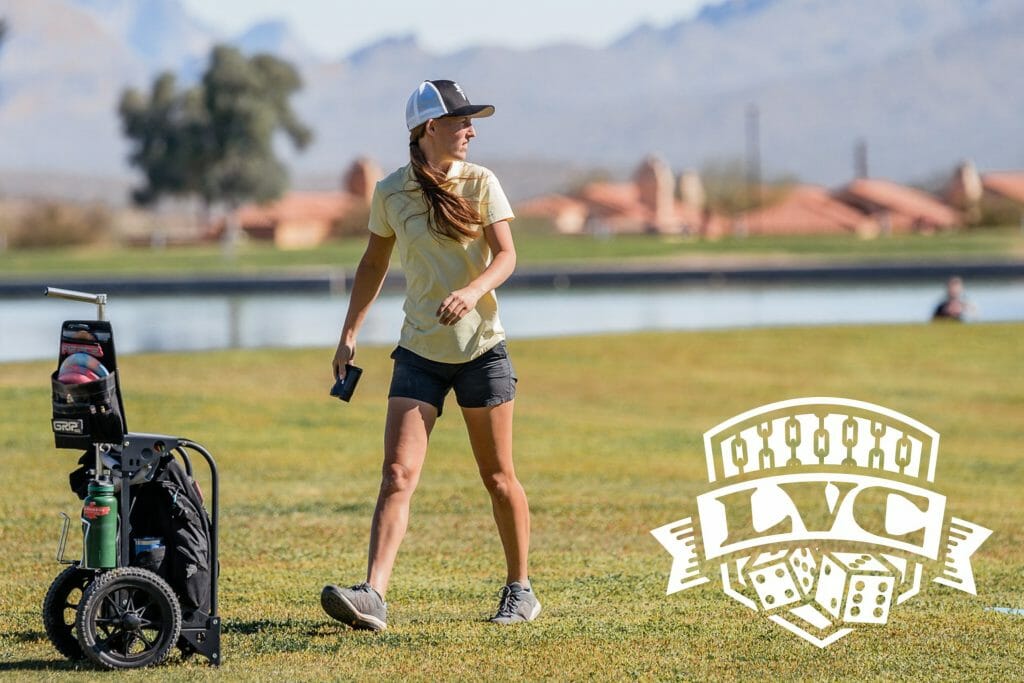 For the final round of the Las Vegas Challenge the top 40% of the field got a second chance at the Innova Course. The wind was not as much of a factor as it was in the second round, allowing for more birdie opportunities and fewer errant drives. 
Paige Pierce was able to correct many of her mistakes from day two and came away with first place in down-to-the-wire fashion, her fourth title in Las Vegas. Pierce finished the tournament 25-under par total after a 6-under final round. Her last round was seven strokes better than her first attempt on the layout Friday. The key difference was cleaning up the out of bounds throws. On Friday, Pierce took 10 out of bounds strokes. That number fell to five in the final round. 
Catrina Allen also improved on her second round score, shooting an FPO best 8-under par. Coming into the final day three strokes behind Pierce, and the hot round was not quite enough to catch the lead. Allen was able to keep her scorecard clear of bogeys and gave herself many opportunities for birdies, but could not convert on the green. In round four, Allen only made 33% of her Circle 1X putts, missing four chances to pick up a stroke on the lead.
Even with these missed putts Allen was able to stay close to Pierce throughout the entire round. Going into hole 9, Pierce had a three stroke lead, which was reduced to just one after Pierce threw her second shot into a hazard sand trap, missed her putt for par, and subsequently missed the comeback for bogey. 
After the back and forth, Pierce let out a shriek of frustration. If anything, this frustration helped her as she was able to eagle the next hole and hole 13. After the round Pierce told Terry Miller, "It was kind of a, 'Get your butt in gear or you're not winning this tournament.'"
With a two stroke lead going into the final hole, Pierce played the safe drive short into the middle of the fairway, a correction from round 2 where she went OB off the tee. However, Pierce did not make her second throw across the water, giving Allen one last opportunity. Allen could tie with an eagle, but also threw her second shot out of bounds. Pierce once again was in complete control, but threw her fourth shot out of bounds again near the basket. Pierce converted the 25-foot tester to card a six and win the tournament.
"That was crazy. Got a little bit of nerves playing the first tournament of the year coming down the stretch battling with my all time rival Catrina and knowing every shot mattered," said Pierce. "I barely squeaked that one out."
Sixteen strokes back from second place, Jessica Weese was able to solidify third after an 82 foot throw-in for par on hole 15 and a Circle 2 putt for birdie on 16. Hailey King ended her round with three straight birdies and a fifth place finish. King moved up more than 30 spots over the final three rounds after a terrible opener. Ohn Scoggins was able to hold off King for fourth with parked upshots for birdie on 17 and 18. 
With their 1-2 finish, Pierce and Allen qualified for the Throw Pink Women's Disc Golf Championship.