FPO event returns to Winthrop; competitors will have to qualify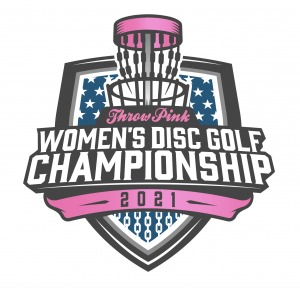 Following last year's successful Women's National Championship event that ran concurrently with the US Disc Golf Championships in Rock Hill, South Carolina, Innova Discs has announced that a new event — the Throw Pink Women's Disc Golf Championship — will replace the WNC as a USDGC counterpart.
Like the USDGC, the TPWDGC will be an invite-only event, with two qualifying spots available at each of 15 different disc golf tournaments this season along with a handful of exemptions, including the US champion, World champion, college singles champion, and Advanced amateur champion.1
"We were excited when the opportunity arose last year to bring high-level FPO competition back to Winthrop," said Innova's Jonathan Poole, who has run the USDGC for years. "Even under pandemic conditions, we felt the energy and enthusiasm the ladies had for that particular experience. The decision was made during the 2020 USDGC to bring professional women's disc golf back to Winthrop permanently. We did not want to take away from the traditional USWDGC, so the 'Women's National Championship' nameplate was retired once again."
For now, the tournament will not have Major status. Poole said that they may seek the designation in the future. "The earliest it would be able to get in as a major would be 2023," said PDGA Media Manager Matt Rothstein. "That's how long it takes to get the bid through and get the major approved."
The tournament will be played at the Winthrop Arena and is likely to look similar to last year's Women's National Championship event, which offered a Major championship opportunity for FPO professionals after the US Women's Disc Golf Championships were canceled due to COVID-19. The original WNC was hosted at Winthrop in 1999 before later becoming the USWDGC.
This year's USDGC field size will be reduced to accommodate the 40-person TPWDGC field. In 2019, there were 21 qualifying events for USDGC; this year there are 15. Poole says that future USDGCs are likely to remain smaller because of the new FPO event.
Sara Nicholson, the founder of the non-profit Throw Pink, will serve as the Event Director for the TPWDGC, which will take place on October 6-9, 2021.
---
The USDGC offers five qualifying spots at those same events. ↩