Fast fingers are required to get into many events this year.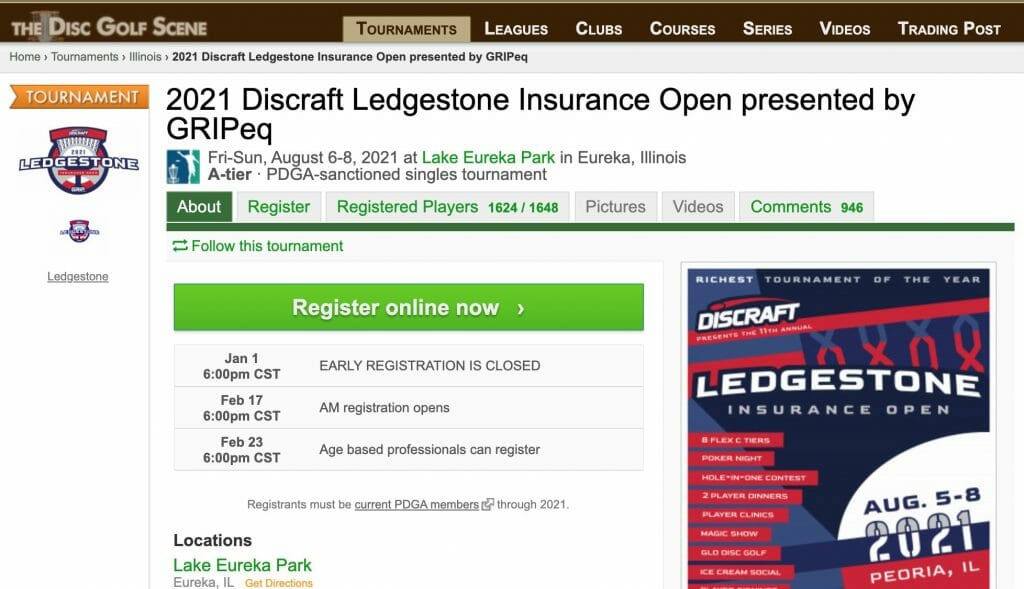 On February 16th at 6 PM Central, registration opened for the amateur divisions of the 2021 Ledgestone Insurance Open on the Disc Golf Scene website. As players clamored for spots in their preferred division, traffic surged and crashed the website for the first time in years.
"Nate Heinold and his team at Ledgestone have done an incredible job building an elite and extremely popular disc golf tournament," said PDGA Director of Technology Pete Crist, the original developer of Disc Golf Scene, which is now owned and operated by the PDGA. "We scaled up its infrastructure to meet expected demand based on our experiences with Ledgestone registration in previous years, as well as our expectations for this year's event. Unfortunately, the demand outpaced our expectations and the website crashed as thousands of enthusiastic disc golfers tried to register for the event simultaneously." Subsequent server upgrades allowed Ledgestone to re-open registration the following evening and smoothly complete the process, but, as of today, over 400 people are on the waitlist.
While this may be an outlier example of the tournament demand the sport has seen this year, it is indicative of a wider trend. Even small local C- and B-tier tournaments are filling in minutes, with quick typing and smart preparation required to claim a spot in events. Disc golf social media platforms are filled with complaints about getting stuck on waitlists.
"We experience something in the neighborhood of about 15% growth every year, but this year we've seen significantly more than that," said PDGA Director of Operations Mike Downes. "The conversations are ongoing about how to mitigate and reduce the bottlenecks in the registration process."
Demand for everything disc golf has outpaced supply. And it's not like there haven't been efforts to accommodate more players: the number of tournaments scheduled is up more than 40% compared to this time last year. More tournaments are splitting divisions across days or separate weekends to make room for more players on the course. And Ledgestone is set to be the largest disc golf tournament in history with around 1,900 competitors this year.
The PDGA already made changes to their tournament registration rules, which used to require a first come, first serve policy for the large majority of tournaments. Last summer, the PDGA announced new exemptions to the first come, first serve rule, including skill-based registration tiers, sponsorship exemptions, and carveouts for PDGA Affiliate Club members. These new options haven't been widely adopted yet, but, given the demand we've seen in recent weeks, expect them to see more use.
"That tiered process is much more defined in that documentation, and our hope was that a lot more TDs would see that," said Downes.
Take The Majestic, a popular A-Tier in Minnesota. Heavy demand for the amateur divisions spilled over into MPO registration, which also filled extremely fast. Only 9 players in the 72-person field are rated 1000+, down from 22 a year ago, leaving some top players in the area on the outside looking in. A tiered registration process — opening up to 1000+ rated players first, for instance — would likely have increased the competitiveness of the event.
Downes said that the PDGA was considering a number of options to make it easier for events to operate and allow for more tournament opportunities. One consideration is reassessing the required minimum distances between tour events, which limits the number of larger tournaments. Historically, this prevented events from cannibalizing one another, but with demand now outpacing supply, changes may be appropriate. The PDGA already reduced the distance requirements last year due to the compressed schedule caused by the COVID-19 pandemic, so there is precedent for such a change.
Additionally, the cost to compete in a tournament could rise, though that's generally not controlled by the PDGA. "We don't want to stifle that individuality and uniqueness that TDs are trying to provide in their events," said Downes.
The goal is to maximize opportunity for PDGA members. The organization plans to continue to focus foremost on expanding their technology team to help meet demand. "We just hired two more software architects recently to help Pete with the influx of traffic," he said.
For now, players may just have to get better about setting their PayPal payment options up ahead of time and using autofill features in order to beat the clock when registration opens. The battle to get into events can be as intense as the competition on the course.