LVC is a first-time DGPT event with a notable history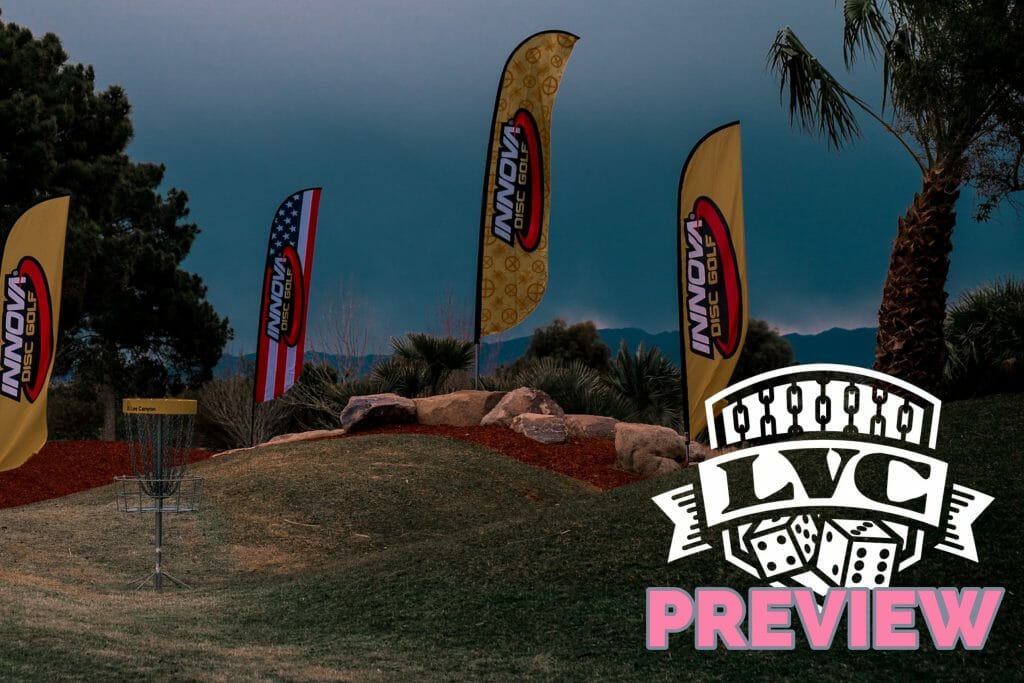 The start of a new season is always something to celebrate. The Disc Golf Pro Tour is kicking off the year with a first-time tournament on its tour, but it comes in the form of a former PDGA National Tour stop with the Las Vegas Challenge.
Over four days, the LVC seems like it has everything a professional tournament should have. Innova really wants to make the LVC a premier event on tour. It just doesn't feel like it yet. The rebranding from the Gentlemen's Club Challenge has helped at least.
The venue is top-notch, and the variety of courses seems like a dream for weekend warriors wanting to cram in as much golf as possible before heading back to the (home) office on Monday, yet it feels like too much for the pros. Paige Pierce is one of the pros who recently chimed in1 as a critic of the course overload, and the layouts have not garnered a ton of love in the past. The LVC has so much going for it, including a major host city, the golf just hasn't caught up.
Or, it doesn't feel like the golf lives up to it, except every year this tournament comes down to the wire. It's a birdie-or-die layout, so the pressure to never be left behind is strong. In the Open division, you need to be shooting around 10-under par a day to be in the mix for a W.
The current top tier of talent in both divisions have all won at this tournament in the past. For the Open division, two players who aren't given credit for having elite distance off the tee have picked up trophies in Nate Sexton (2020) and Philo Brathwaite (2016). So finesse is rewarded more than power. The Open Women's division plays from the same tees as the Open side, and big arms like Catrina Allen and Paige Pierce have taken advantage of that.
Past Winners
| | PDGA Tier | Open | Open Women |
| --- | --- | --- | --- |
| 2021 | DGPT | Eagle McMahon | Paige Pierce |
| 2020 | A-Tier | Nate Sexton | Catrina Allen |
| 2019 | National Tour | Calvin Heimburg | Paige Bjerkaas (Shue) |
| 2018 | National Tour | Eagle McMahon | Paige Pierce |
| 2017 | National Tour | Ricky Wysocki | Paige Pierce |
| 2016 | A-Tier | Philo Brathwaite | Jessica Weese |
| 2015 | A-Tier | Paul McBeth | Paige Pierce |
| 2014 | A-Tier | Nikko Locastro | Catrina Allen |
| 2013 | A-Tier | Dave Feldberg | Catrina Allen |
| 2012 | A-Tier | Nikko Locastro | Valarie Jenkins |
What We'll Be Watching
No player in either division has won this event more than once over the past three events. Paige Pierce and Catrina Allen are multi-time winners, but only Nikko Locastro has more than one victory in the MPO division since 2012, and he last won in 2014. Does that mean we are primed for a new player to start the season on a high note?
Vegas is all about getting off the tee well. Players who were in the running down the stretch in both divisions displayed very high strokes gained in the Tee to Green category.
Weather forecasts have some potentially high winds over the long tournament. Those shots that go from protected tee to protected green over open fairways may be extremely affected by the conditions.
GRIP6 Pick6 Locks Of The Week
Since his win at the event in 2017, Ricky Wysocki has never finished lower than eighth or eight strokes out of the lead. Even as he was struggling with his Lyme diagnosis and treatment early last season, Wysocki kept the score close with an eventual third place finish. Eagle McMahon has had a higher average finish over the same time, but did skip last year's event.
Catrina Allen has a similarly impressive run in Vegas. Before last year's victory, Allen had lost the three previous LVCs by a combined seven strokes, including one sudden death playoff year. She looked sharp during the opening round of the DGPT All-Stars Weekend, and much of the work in Vegas is not done on the green.
Home Of The Hyzer Odds
Paul McBeth: -200
Ricky Wysocki: +100
Calvin Heimburg, Eagle McMahon, Kevin Jones: +300
Nikko Locastro: +400
Garrett Gurthie, Chris Clemons: +500
Nate Sexton, Paul Ulibarri: +700
Jeremy Koling, James Conrad, Adam Hammes, Drew Gibson: +900
*No FPO Odds Available
Courses
The Wildhorse Golf Club has three courses, with every layout utilizing hazards such as greens and sand traps. Otherwise, it's hard to remember sometimes the differences of each course.
Infinite Discs Course: round 1; MPO – 7,470 feet, par 59; FPO – 7,470 feet, par 62
The shortest of the three courses was stretched out on several holes, a hanging basket was added to hole 17, and an entirely new hole 18 awaits competitors. The infamous 294-foot triple island hole 6 will be played during round 1.
https://www.lvcdg.com/wp-content/uploads/2021/01/21LVCInfiniteMiniPacketMinimumSize.pdf
Innova Course: rounds 2 and 4; MPO – 8,813 feet, par 62; FPO – 8,813 feet, par 68
The hardest of the courses to par in 2020, we'll see this course both Friday and Sunday. If there are any holes you picture in Vegas it's probably from the Innova Course. Water is most in play here, and several tees have been altered since 2020. 
https://www.lvcdg.com/wp-content/uploads/2021/01/21LVCInnovaMiniPacketMinimumSize.pdf
Factory Store Course: round 3;  MPO – 8,950 feet, par 61; FPO – 8,950 feet, par 67
The longest of the courses. Several changes made include elevated baskets and changed pin positions, as well as an interesting partial island on hole 18. 
https://www.lvcdg.com/wp-content/uploads/2021/01/21LVCFSMiniPacketMinimumSize.pdf
Extended Forecast
The Disc Golf Pro Tour kicks off at the Wildhorse Golf Club in Las Vegas. This track features a lot of open holes where wind will be a major factor. We're expecting dry conditions for the tournament, but the wind will be felt during the tournament, especially during the first and last rounds.
Thursday: Temperatures in the mid 40s will warm to around 61° by the afternoon. Northerly winds will be stout. Sustained wind speeds in excess of 15 mph will be possible most of the day, with gusts in excess of 30 mph likely.

Friday: Temperatures will be a bit cooler to start the day, but will warm into the mid 60s by the afternoon. The wind will be much more subdued than on Thursday.

Saturday: The wind creeps back into the forecast. Northerly winds in excess of 10 to 15 mph will be possible, with occasional higher gusts as well. Highs will top out in the mid 60s once again.

Sunday: The wind roars back into the forecast for championship Sunday. Northerly winds of 15 to 20 mph will be possible with gusts as high as 30 mph likely. Highs will only top out around 60°.
Looking at the forecast, it appears Friday will feature the best scoring conditions. Can somebody shoot a really hot round? Will it be enough to capture the win? Or, will it come down to who can manage the wind the best? With three of four rounds featuring windy conditions, that's where I would place my money.
How To Follow
UDisc Live will have livescoring available all weekend. For video coverage, see our other post.
---
on an Instagram story ↩