A new disc golf specific shoe is coming to market.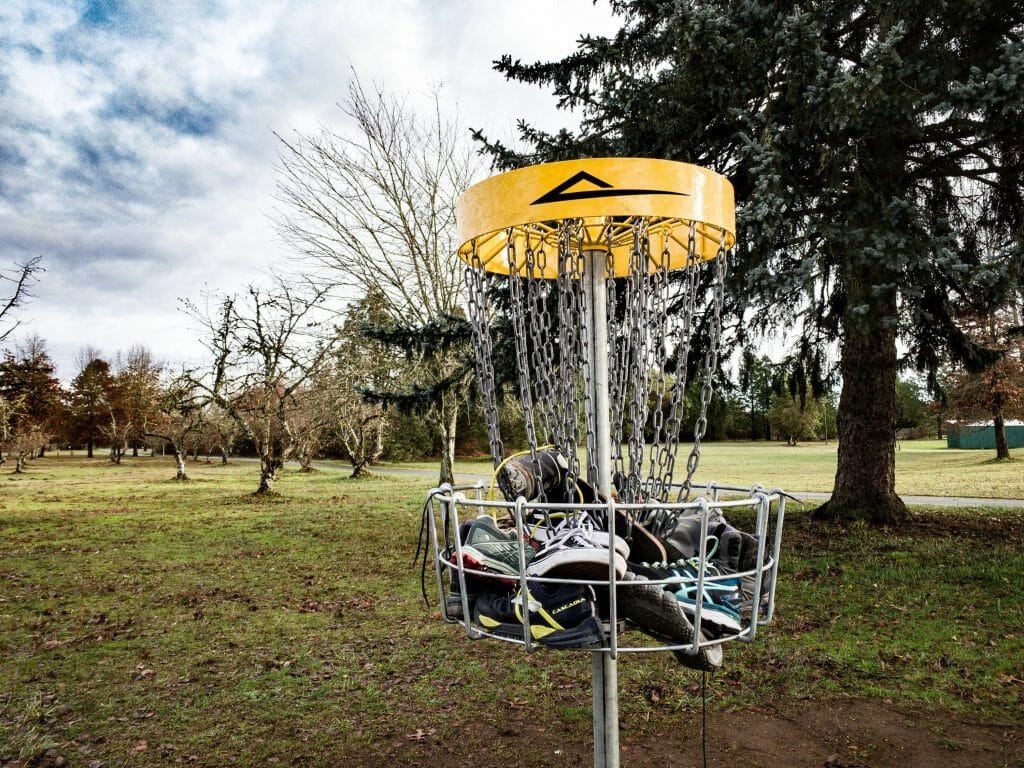 If you ask this one question of any disc golfer, you'll get a different answer: what is the best disc golf shoe?
Adidas Terrex outdoor shoes have become a de facto recommendation as a quality shoe, and some swear by Salomons or Keens. Waterproof construction is almost required for many players. Durability is key as concrete tee pads slowly grind away at shoes on drives. The soles need to be grippy and stable for loose terrain but able to flex for dynamic movements. Because of the variety of courses and varying environmental factors, it's common to see players change their footwear to suit a venue.
Craig Kitchens is venturing into a landscape few others have dared enter, setting out to create the one disc golf shoe to truly incorporate every checklist item players want in a shoe.
Can Idio Sports1 create the unthinkable?
"We think disc golf is at a level where players need a shoe to edge out their competition and allow them to improve their game," said Kitchens. "People are spending money on a pivotal piece of gear in footwear that is not designed or engineered for what they're doing. We are looking to take a very performance-based approach to design."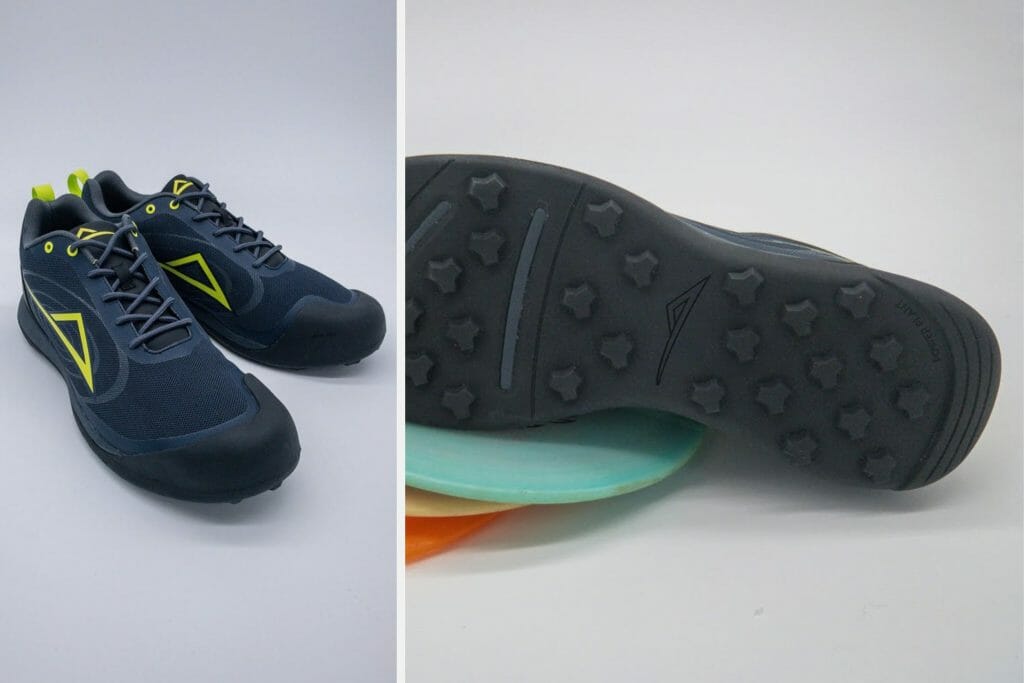 So where does the process begin? From his Oregon headquarters, Kitchens started from the ground up.
"We are taking a very close look at the outsole," said Kitchens. "For our first shoes, we looked at what type of courses and terrains our pros would be playing on. We had to find specific pivot points on the shoe to allow the foot to rotate and perform and grip on grass and dirt fairways, while also being able to comfortably wear them over a three day period."
Another wrinkle in disc golf footwear design comes from the force generated when players shift and brace their weight in run-ups. The side-to-side motion is different than hiking or running, so Kitchens looked to court and wrestling shoes for inspiration.
"That's why we went with a zero drop design," said Kitchens, describing a shoe where the heel is at the same height as the ball of the foot. "The drop allows for good balance, ground feel, and flexibility. The best way to describe this would be to compare it to a running shoe which traditionally has a little drop to the heel which propels you forward. That's kind of the weak spot we see in other shoes used in disc golf."
Idio's current prototype model, the Syncrasy, features a "Power Plant" heel that grips but also pivots, and an "X Flex" area that permits the toe box to move more freely while still providing support. A higher sidewall wrap is intended to limit blowouts and a toe cap is there for the foot draggers. And, yes, it's waterproof.
If the thinking behind the Syncrasy seems fully thought out, it's because Kitchens comes from a long background in outdoor sports and specialized footwear for myriad activities. He took his mechanical 3D design expertise and applied it to his passion for product design and disc golf.
Kitchens and a design team that includes former Adidas employees not only set out to design the model disc golf shoe, but they had to do it with a manufacturing process that still hit the right price point.
"We're looking in the same realm that people seem comfortable paying for, around $120," said Kitchens. "If we want to put something out that is quality with material that lasts, then that's the spot we're looking for. We could make them more inexpensive but companies have tried to go lower and it doesn't work. You see people do it too. They try a cheaper alternative but end up opting the next time for the more expensive model because of the quality."
The Syncrasy isn't the first shoe targeted to disc golfers. Keen had a shoe–the Delaveaga, named after the famous northern California course–that they discontinued in 2013. But disc golf has grown substantially in the last eight years.
Idio's new shoe has recently passed a series of tests that put it through the paces in terms of waterproofing and flexibility. The waterproof membrane held up through the construction process to Kitchens' liking, and now samples have made it out to wear testers for more feedback. A number of players have told Kitchens they would help in the review process, including Nate Sexton.
Kitchens has been developing the Idio concept for more than two years. He said one of the most difficult parts of the design was in the shaping of the shoe form and material selection on the all-important outsole. The rubber selection was key to getting the correct mix of grip, release, and durability.
Now as the shoe is reaching its final form and Idio is planning for a Kickstarter campaign, Kitchens is enjoying the spoils of his work on the course. And the Syncrasy is the last thing on his mind while out tossing discs.
"I think one of the biggest benefits is the lack of awareness of what's on my feet. It's sort of this empty space where I don't have to think about my shoe," said Kitchens. "The less you have to think about your equipment, the more you can focus on the game. And I feel like we've really kind of achieved that with this shoe."
---
pronounced ID-ee-oh ↩