Discraft's putting whiz eclipses 1040 rating, eyeing big season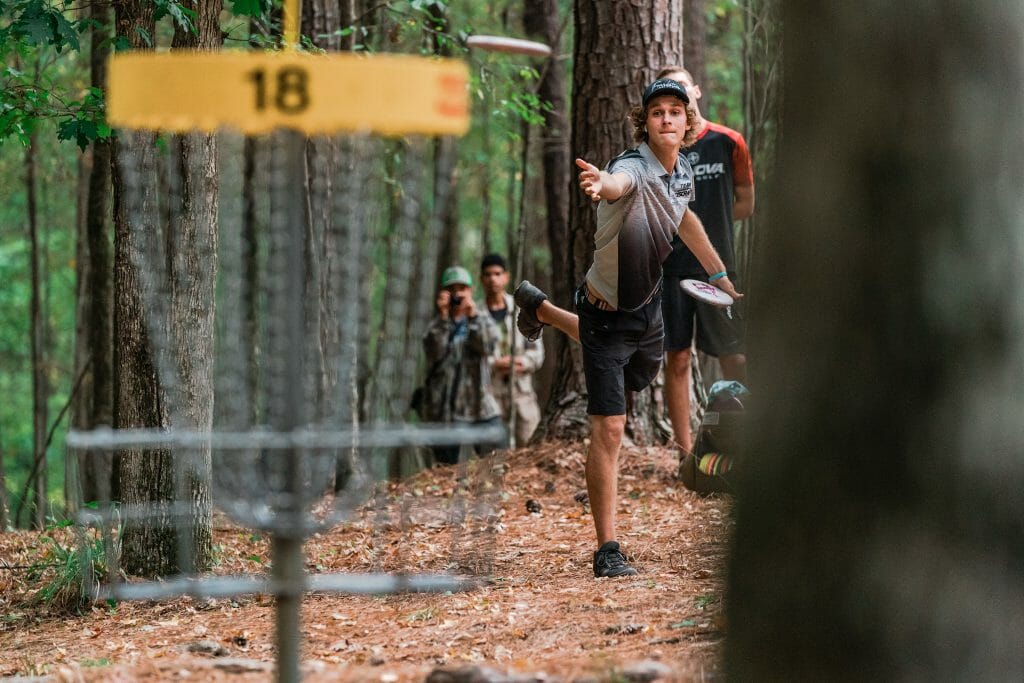 Adam Hammes is looking to catch fire in 2021, and his first two tournaments of the year have set the tone. He took down the Shelly Sharpe Memorial on the famed Vista Del Camino course with a 1091 rated final round, followed by a win at the 8th annual Maricopa Open, with a 1075 rated final round. These stellar performances are a repeat of Hammes's 2020 season start, where he was victorious in both tournaments.
Ultiworld Disc Golf spoke with Hammes about his re-established confidence and how he plans to continue his hot start.
"It feels really good," he said. "…Last year, we got shut down by COVID, and I just didn't really get to finish off what I started, so I was kind of disappointed. I was really excited to come out this year and have the exact same start as I did last year."
Hammes won both tournaments with astronomical putting performances, punctuated by a massive 60 foot birdie on day two at Maricopa. That's no surprise, as he has developed a reputation for being one of the best putters on tour, most notably when he nearly took down the 2019 Hall of Fame Classic at W.R. Jackson in Georgia with a series of stellar putts both inside and outside the circle.
"I have a lot of confidence on the putting green," said Hammes. "I feel that I'm just gifted with it…When I step up to putts, I keep my pre-shot routine the same every single time. Stepping up and knowing you're going to make it is the biggest key."
The Discraft Focus has become Hammes' mainstay as a putter. He feels that the Focus "is the perfect disc. It's everything I look for in a putter, and Discraft gave me the opportunity to make it in a plastic that suited my hand and my feel. That gives me a lot of confidence in my putters."
Despite being known as a bit of a "hothead" in his own words, Hammes made a goal for this season to be more collected on the course. "This offseason I really wanted to focus on being more calm on the course," he said. "People have told me, 'If you fix that head, you'll be deadly,' so I spent a lot of time focusing on being chill and taking every round as it is."
Despite his early success, recent years serve as a reminder of Hammes's lack of a breakout performance during the full touring season: his best Disc Golf Pro Tour finish in 2020 was 5th at Idlewild. However, Hammes feels more confident than in previous years, especially because he feels his offseason has been extremely productive. "I know a lot of pros don't play as much during the offseason. I think the offseason is a great time to just grind. It's the time to grow and get as best you can. It's just you and the course during the offseason, so I try to take advantage of that," he said.
Hammes also alluded to plans for continuing to grow his momentum, pointing out that he "needs to be playing a lot." For him, having multiple reps and developing the muscle memory creates confidence in his game for every shot. "I feel equally confident in my backhand and forehand right now, although I haven't depended on my backhand too much recently." Hammes added that he feels like he has a top-level sidearm with his consistency and confidence.
Just like Hammes's confidence, disc golf has experienced some dramatic growth in the last 12 months, thanks in part to the boundaries that COVID-19 placed on indoor activities and many team sports.
Hammes attributed some of the growth to the sport's social media growth. However, he feels that focusing on his performance and reaching the top of the sport is his number one priority. "I haven't really tapped into the YouTube game, but that's because I really want to focus on my game," Hammes said. "I feel that creating YouTube content would take away time from me playing and getting better, but I definitely plan on doing that in the future."
This growth is not limited to just the community but also to the expanding field of top competitors. Hammes is part of a large crop of young talent in MPO alongside Eagle McMahon, Calvin Heimburg, Anthony Barela, and Kyle Klein. He says that younger disc golfers "are what push the sport." Hammes also acknowledged that there is a lack of young people as fans, and youthful minds will help disc golf with the transition towards becoming a 21st century sport.
Hammes is hopeful that his focus and determination will allow him to get to that next level he has been chasing. His approach is already beginning to pay off, as he reached a PDGA rating career high of 1040 this past week, a key milestone for the elite tier of MPO competition.
Adam Hammes will start his regular season at the Las Vegas Challenge, the first stop on the Disc Golf Pro Tour.