Event will feature skills competition and potential B-tier event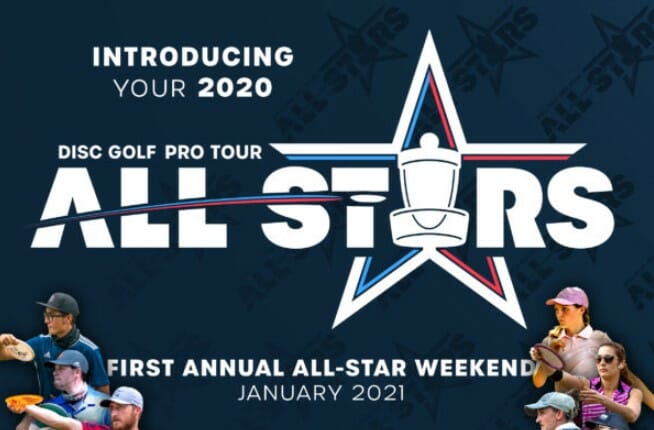 The offseason is getting a showcase event to start off the 2021 tour with the Disc Golf Pro Tour All-Star weekend.
Tentatively scheduled about a month before the DGPT kicks off in Las Vegas, the inaugural all-star weekend in Orlando is pitting the 2020 All-Stars, the top eight regular season points finishers from Open and Open Women, against each other in a Match Play Championship.
"It's going to be one [seed] versus eight, two versus seven, three versus six, four versus five, bracket style elimination match play," said DGPT Director Jeff Spring. "We got a massive, overwhelmingly excited response from almost all the players. I would say 75% of players were in and committed right away."
"I can't think of any cons. They are paying for all my travel, I'm playing for free money…they are going to cover it with cameras — I feel so lucky to be part of disc golf right now," said seven seed and DGPT Championship winner Kevin Jones. "Match play has been on my wish list. It's cool and dynamic, especially in January when we don't need to be worrying about stroke play yet."
Spring said a skills competition will also be a part of the weekend, as well as potentially a B- or C-tier event in the area to entice other players to travel to Florida. If any of the Lead Card — think first team — or Chase Card All-Stars are unable to attend, the DGPT will field replacements in order of 2020 regular season finishes starting with the no. 9 seed. Travel and lodging costs for All-Stars are being covered by the DGPT. Courses have not yet been announced.
Ricky Wysocki, a 2020 Lead Card All-Star, said he'd like to see the match play event at Bill Frederick Park, a three-course complex in the Orlando area that includes "Turkey Lake: The Woods" and "T2 – The Turkeynator." He thinks his all-around game is well-equipped for the skills competition too.
"I feel like I'd do well at them all," said Wysocki. "But specifically the scramble events or, of course, the putting. They are my strong suits."
As coronavirus cases continue to rise throughout the country, and Spring and his team are treating the All-Star planning as a Phase 1 event in accordance with the DGPT COVID-19 Policies and Best Practices put in place after the season restart. Phase 1 events include requirements for face coverings and social distancing, and prohibits spectators. Florida does not currently have any travel restrictions in place.
"It is all based on what's going on. There's always a chance we have to cancel the event. It's far enough away now but we'll probably be making the call before Christmas," said Spring of restrictions, adding, "we're hopeful that we'll be able to do limited spectators."
While lodging and event venues are still being finalized, Spring said he's looking forward to the preseason scheduling of All-Star Weekend.
"We see it more as a NFL Pro Bowl," said Spring, noting that a midseason All-Star event would be difficult with the packed tour. "This is a great exhibition for the sport and it's going to get people excited."
2020 Men's Lead Card All-Stars
1. Paul McBeth
2. Calvin Heimburg
3. Ricky Wysocki
4. Eagle McMahon
2020 Men's Chase Card All-Stars
5. Chris Dickerson
6. Nikko Locastro
7. Kevin Jones*
8. Garrett Gurthie
2020 Women's Lead Card All-Stars
1. Paige Pierce
2. Catrina Allen
3. Sarah Hokom
4. Hailey King*
2020 Women's Chase Card All-Stars
5. Missy Gannon
6. Jessica Weese
7. Kona Panis
8. Heather Young
*2020 DGPT Championship winner