Final Round Recap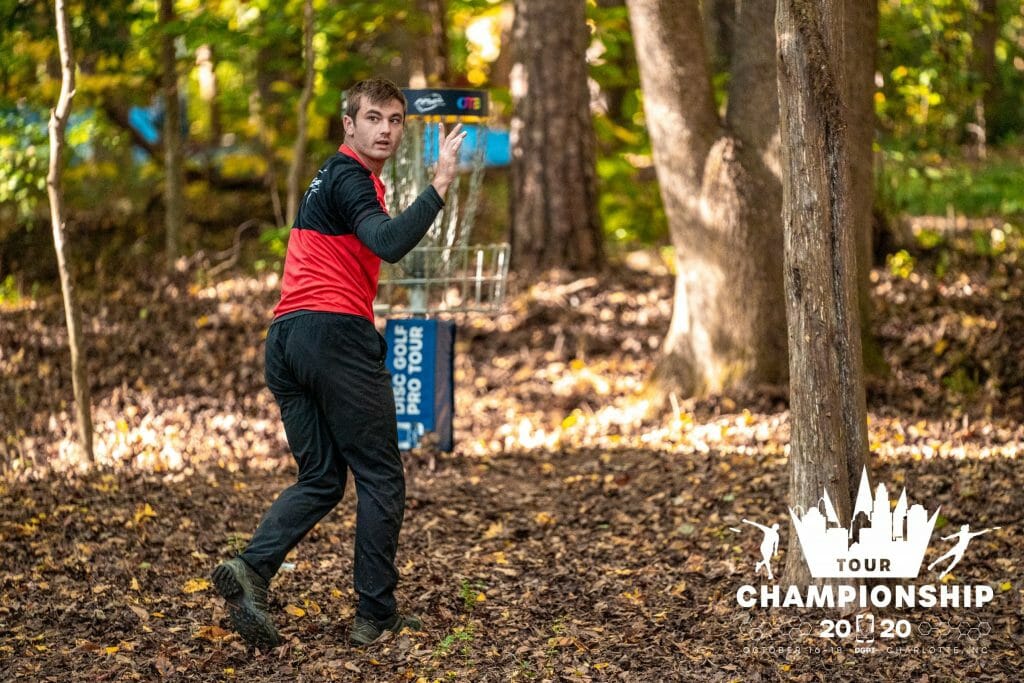 It was a two-horse race early at the Disc Golf Pro Tour Championship as Hornets Nest couldn't stifle the hot rounds of a couple players, including a former champion.
Kevin Jones and Chris Dickerson were on a different level than Austin Hannum and Calvin Heimburg from the start on Sunday. Jones eked into the final card with a 3-under and Dickerson had a comfortable 5-under on Saturday, but it was obvious both knew those scores were not going to win a $20,000 paycheck.
Both players would go bogey-free over the front 9, and Dickerson would actually carry over an eight hole birdie streak to hole 10 to be 8-under par with the more difficult stretch of holes in front of him. Jones would also birdie hole 10 to sit one behind Dickerson for the lead, and Dickerson looked ready to capture his third consecutive DGPT Championship after a couple confident Circle 2 makes for birdie and confidence from last week's USDGC win.
Dickerson would be scrambling soon, however, letting Jones take the lead at 9-under par with birdies on holes 12 and 14 as Dickerson settled for pars. Hole 14 was playing as one of the most difficult holes to par every round. Jones forced over a D2 forehand drive down the narrow fairway, hitting the leaves well inside C1 and briefly flirting with the basket after a soft skip before settling in tap-in range. Dickerson would get the stroke back on the next hole to again tie the contest.
Jones would win the day as Dickerson had an uncharacteristic air ball from C1 on hole 17 to settle for par, and turned his drive on 18 too far over into the rough. Jones only needed to par hole 18, which he did after laying up a C1 look for birdie, for the victory.
The main critique of Jones's game has been consistent putting inside 33 feet. His par make on hole 17 after hitting cage from C2 on his birdie look and rolling away was a steely connection he's not always known to get. He only missed one C1 putt on the round and it came on hole 1; we're not counting the lay-up on hole 18 against him.
This marked the seventh win of Jones's season, and second DGPT victory.
Hannum finished third, collecting $5,000, and while Heimburg was fourth with a $3,000 check, he closed out his impressive Elite Series season with a C2 make for birdie on the elevated hole 18.
Heard
"This is it for me. This is a dream. This is proving to myself that I'm here to stay and will continue doing this as my career for a long time. It's awesome." – Kevin Jones
Coverage
2020 Disc Golf Pro Tour Championship | Final F9 | Heimburg, Jones, Dickerson, Hannum | Jomez
2020 Disc Golf Pro Tour Championship | Final B9 | Heimburg, Jones, Dickerson, Hannum | Jomez