Quarterfinals and Semifinals Recap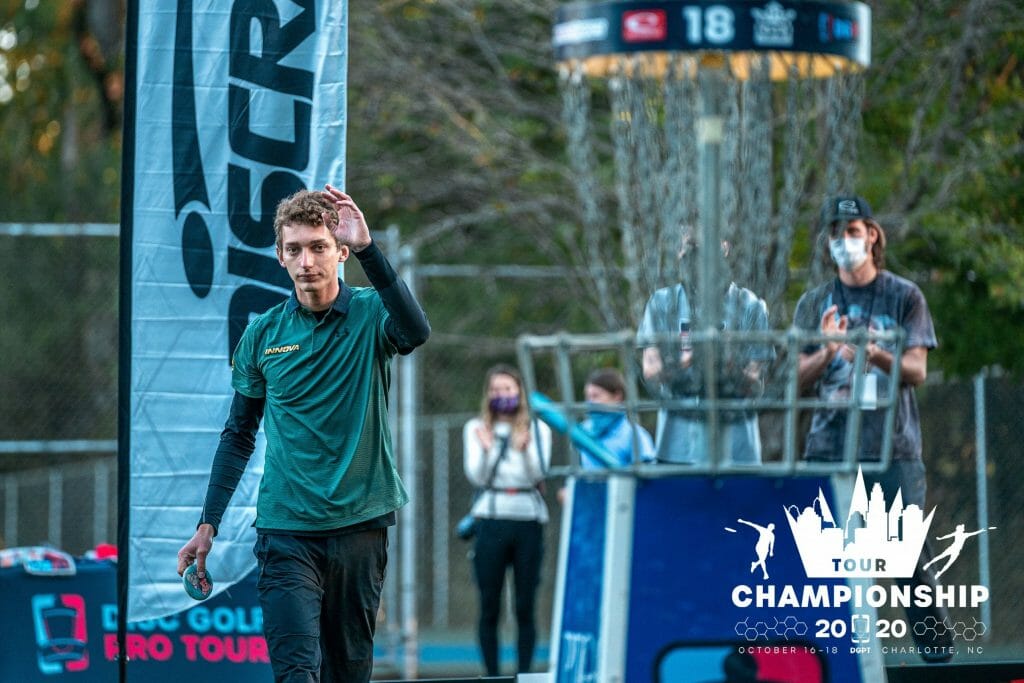 With several of the top seeds knocked out, the finals of the Disc Golf Pro Tour Championship is wide open, but a two-time champ lurks.
Playing his first round since an almost epic final round comeback at the USDGC, Calvin Heimburg posted a hot round 10-under par to advance to the finals. He was the only player on the top card  — sends 1-4 — to advance. Heimburg was bogey-free, and only had six Circle 1X looks all round as he led the field in parked shots.
Austin Hannum, who got a late bye to the quarterfinals after Simon Lizotte's withdrawal, advanced for the second straight day to make the final four card on Sunday. His 4-under par on Saturday was two strokes worse than Friday but still enough to push him clear of the cut line.
Even after starting the round 2-over par through five holes, two-time defending DGPT Championship winner and freshly-crowned USDGC champ Chris Dickerson turned his day around, going bogey-free the rest of the day to finish with the second lowest score at 5-under par.
Kevin Jones looked safe to advance to the finals from the second card until a triple-bogey on hole 17 put his spot on the line. He fell to 3-under par after the blemish and Ricky Wysocki was close behind at 2-under par on the lead card. Wysocki was unable to get scoring looks on either hole 17 or hole 18, thus giving Jones the final spot to Sunday.
Along with Wysocki, Paul McBeth (even) and Eagle McMahon (even) were the other top seeds not to advance to the final round. A triple-bogey on hole 16 was enough to derail McBeth's late push, and McMahon blow-up early on hole 4 was too big of a hole to dig out of.
Eric Oakley made it through the opening round and the quarterfinals but was a stroke off of reaching the finals, as he finished at 2-under par. Due to seeding, he would have needed to finish at 4-under to not be beat in a tiebreaker by Jones.