Round 1 Recap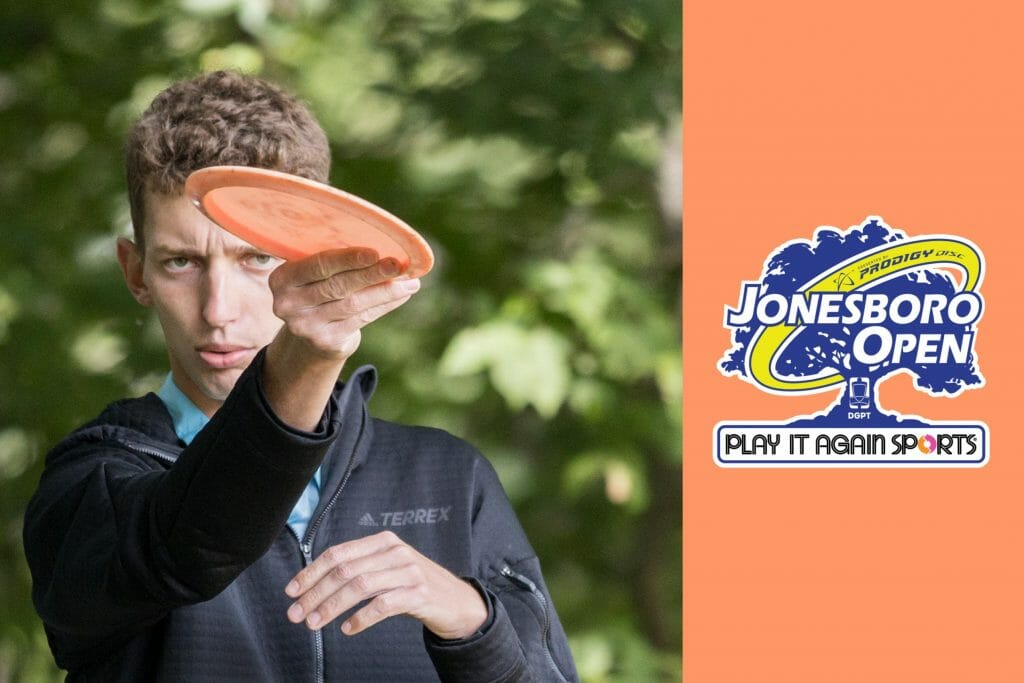 There's more greenery in Jonesboro than we're used to seeing with the change in dates from early spring to fall, but the extra foliage didn't slow down any scoring.
Tying the hot rounds from 2019 with 12-under par opening rounds were Calvin Heimburg and Paul McBeth. Heimburg turned his scorecard in before McBeth had teed off on the livestream, and faced slightly calmer conditions in the morning. The slight gusts didn't bother McBeth, however, as he was bogey-free over his 18 holes compared to Heimburg's 13 birides and single bogey. McBeth and Heimburg are no. 1 and 2 in finding greens in regulation, while McBeth has the advantage on fairway hits, and Heimburg did not miss a putt inside 33 feet.
Garrett Gurthie set the course record on a slightly different layout a couple of years ago with a 14-under par round and has several good showings in Arkansas. He's tied in sixth with Chris Dickerson at 7-under par, but got the day's highlight with an ace on hole 15 as Jeremy Koling shared a card with him. Koling also witnessed Simon Lizotte ace hole 15 a couple of years ago.
Thomas Gilbert did not play in Jonesboro last season, but does have a 49th place showing from 2018. He's already seven strokes lower than his final score two years ago and in third place at 9-under par. He's taking advantage of his world class power on the long course, but it was his putting that was the real MVP Thursday. He was 100% from Circle 1X and added an 82-footer for birdie on hole 7.
Maybe he's peaking at the right time. Reid Frescura's 8-under par has him tied in fourth with Andrew Presnell. Frescura got his first top 10 finish since July last week in Nashville, and the USDGC course is usually friendly to lefties. Frescura and Presnell both need to earn a qualifying spot for the major this weekend, or else will have to face Monday qualifying.
Heard
"I kind of grinded through the round. I wasn't throwing everything perfect. I was throwing well, but I made a lot of a lot of putts that weren't gimmes. I think that's what pushed me over the edge on the back 9." – Calvin Heimburg
Statline
The round 1 leader at Jonesboro has only ever won the event once in three outings. Ricky Wysocki shot a hot round 13-under in 2017 when the event was four rounds. He was up two strokes after the first day and would win by two over Lizotte.
---
Coverage
2020 Jonesboro Open | R1F9 | Dickerson, Koling, Gurthie, Ulibarri | Jomez Disc Golf
2020 Jonesboro Open | R1B9 | Dickerson, Koling, Gurthie, Ulibarri | Jomez Disc Golf